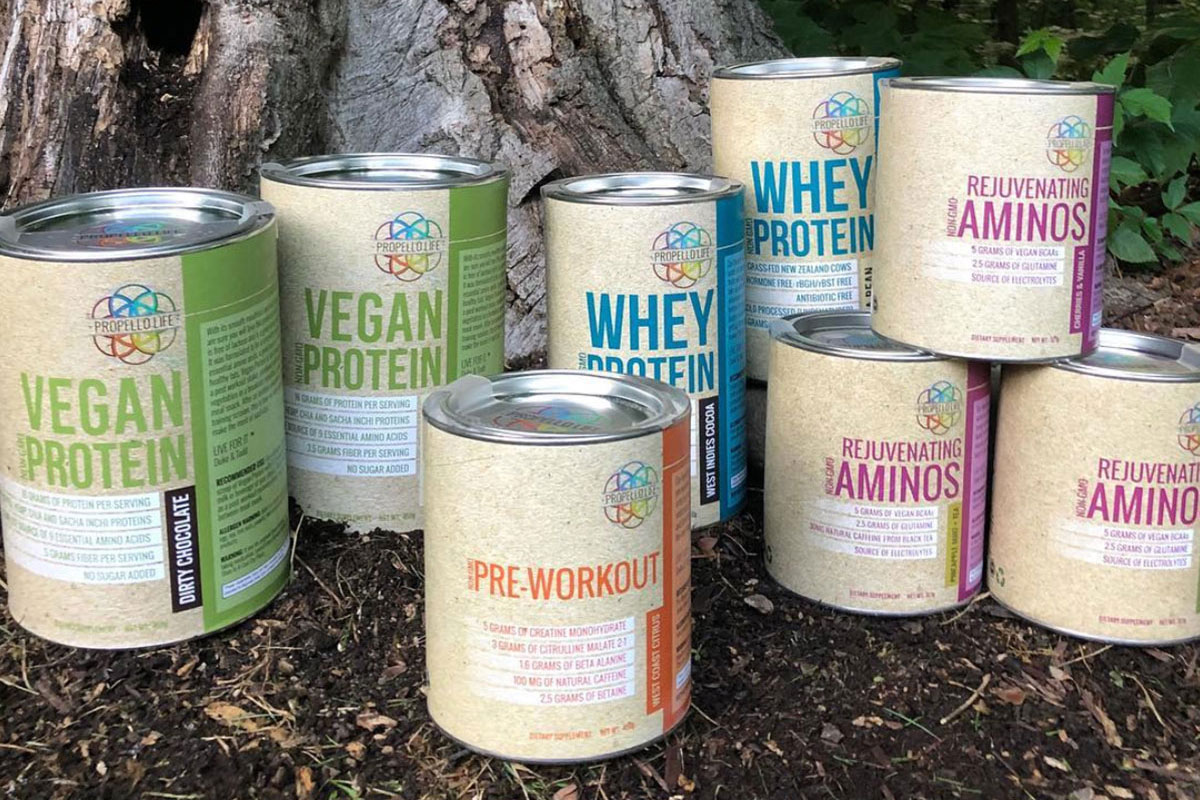 I've had an on again, off again relationship with supplements. Part of me thinks that you should get all the nutrients you need through a diet of whole foods and lean proteins. But, then the other half of me thinks that when you are juggling a job, a family, pets, and a fitness regimen, sometimes you need some help when it comes to nutrition. It's because of this that I started incorporating protein shakes into my daily routine to keep me full during busy days, and to help my muscles rebuild and repair for quick turn arounds between workouts.
I met (and fell in love) with the brand Propello Life back in the fall when Kayla Hansmann (CincyFitFoodie) introduced me to their Vanilla Spiced vegan protein powder. I'm lactose intolerant and have been searching high and low for a vegan powder that packs a good punch of proteins, amino acids and fiber, doesn't have added sweeteners, AND (importantly) doesn't taste like chalk. Propello Life's Vegan Protein is all these things. On the label, their protein powder boasts a "smooth mouthfeel and bold, unique flavors", which is 100% agree with. Bonus? The company was born just up the road in Dublin, Ohio.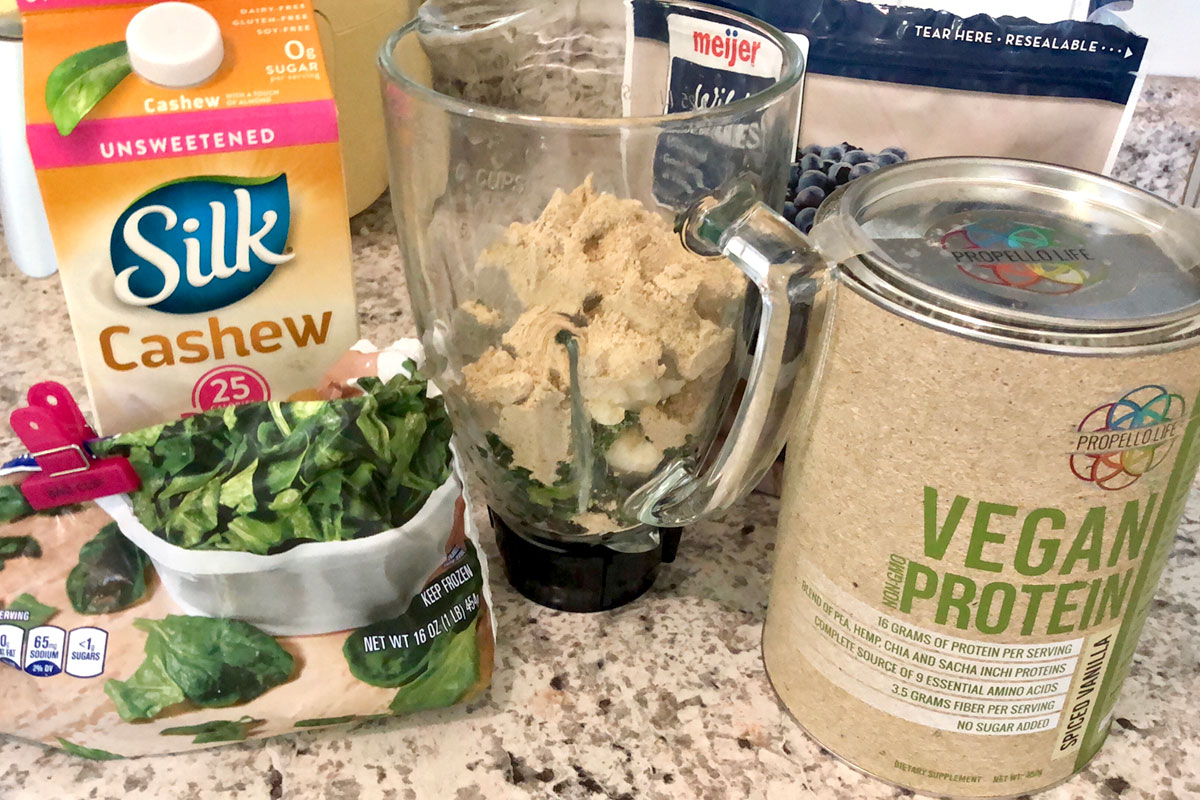 My go-to smoothie concoction:

1 small banana, 1/2 cup of frozen spinach, 1/2 cup frozen cauliflower, 1/4 cup frozen blueberries, 1 cup unsweetened Silk cashew milk, ice, and 1 scoop of Propello Life Spiced Vanilla Vegan Protein.
The Background
Propello Life was started by two passionate brothers, Duke and Todd Armstrong who walk the walk. Meaning, they didn't just start this company because they saw a need for clean ingredient, good tasting nutrition supplements. It's a brand with a lifestyle. I had the chance to chat with Duke, who shared more about what that even means, why they started Propello Life, and where they go from here.
To start, Duke and Todd were always athletes. To follow Duke's story, he played soccer, and like most competitive athletes, he had chronic aches and pains that were his normal. It wasn't until he started working out with a personal trainer that he learned that training is more than just staying fit for sports and to maintain your weight. It's about FEELING BETTER–eliminating or diminishing ailments, managing stress and preventing injury (amen).
At the time, he was working in the supplement industry for one of the largest names in the business, Abbott Nutrition. Over his years with Abbott, and additional exposure of learning more about functional fitness, he learned a ton about nutrition, GMOs, inflammatory foods like dairy and wheat. Through this, he became more and more attracted to the idea of a natural and holistic lifestyle, and he went searching for a company that aligned more with his beliefs.
He came up dry. Since a supplement company with his set of beliefs didn't exist, he and his brother decided to create it. Duke set out to California where he worked with a company to develop the products that were good enough to put his label on them. 18 months later, Propello Life was born: a holistic nutrition company with product formulated based on the standards we hold our food to. Their logo, representing the seed of life, has 7 overlapping concentric circles symbolizing the 7 aspects of a healthy, whole life.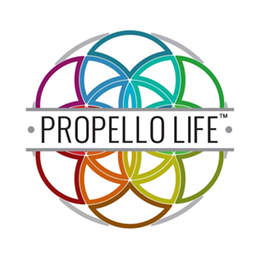 Nourishment – whole foods & simple, minimally processed supplements
Movement – functional fitness (fitness that fits your life!)
Passion – experiences, hobbies & family
Rejuvenation – sleep & relaxation
Love – family, friends, community & self
Mind – consciousness, clarity & personal growth
Spirit – faith & meditation
The Product Lineup
Propello life offers an array of products: from Vegan and Whey Protein, to Pre-Workout. I've sampled the Energy + Focus, as well as the Rejuvenating Aminos, both of which I thought were great at giving you an extra jolt pre workout, or mid-afternoon when you are hitting a slump and know that you need energy after work to hit the gym, pick the kids up from school, or make dinner for your family.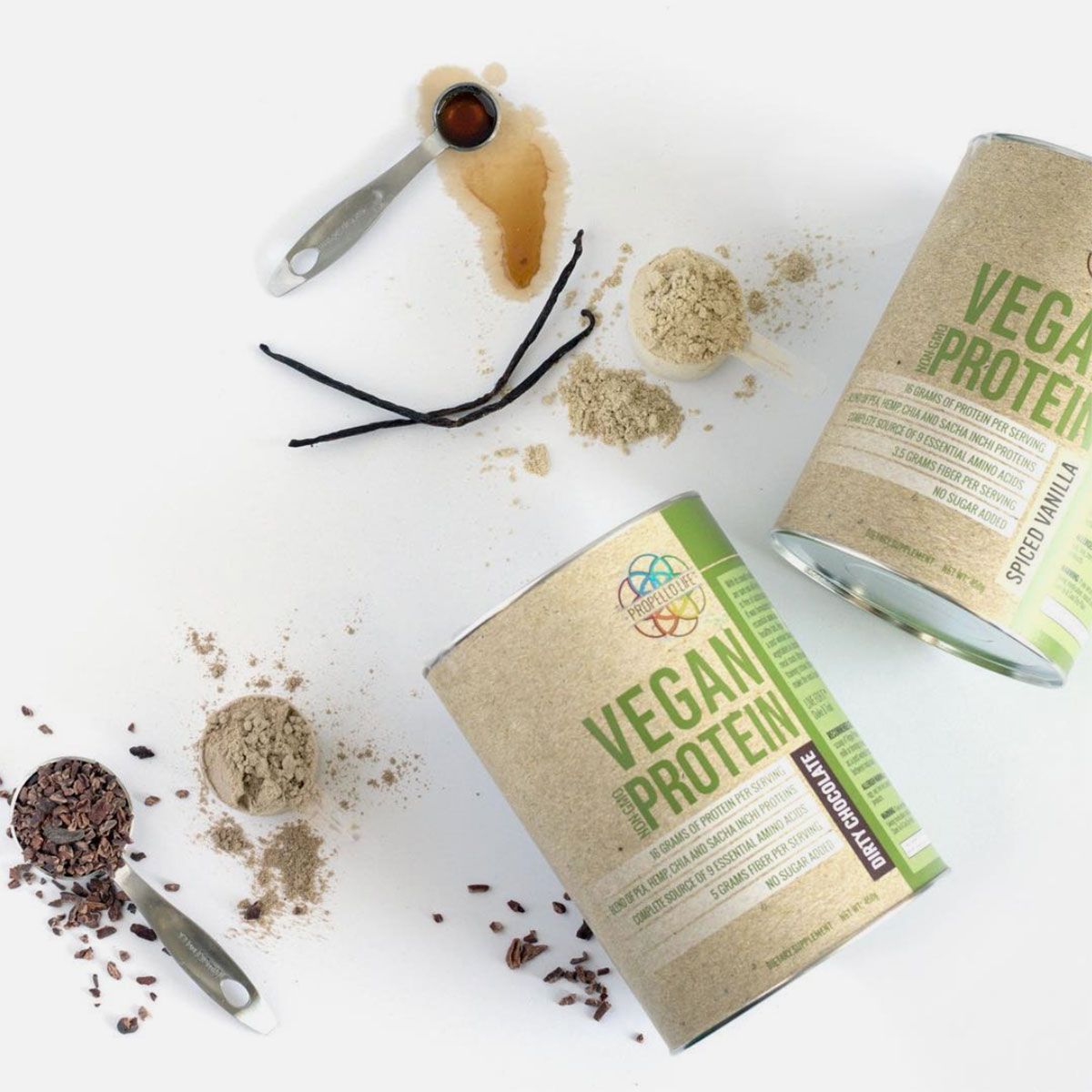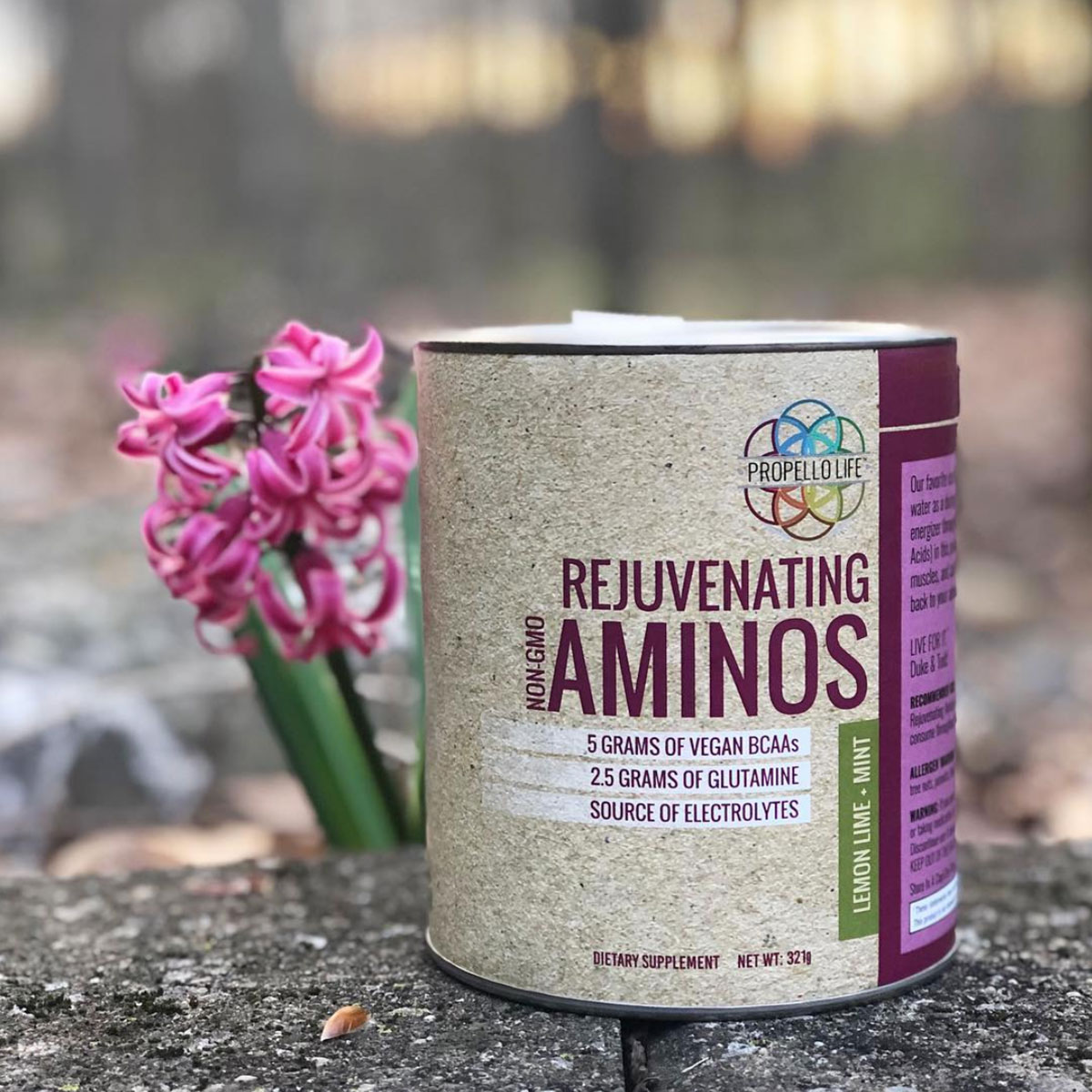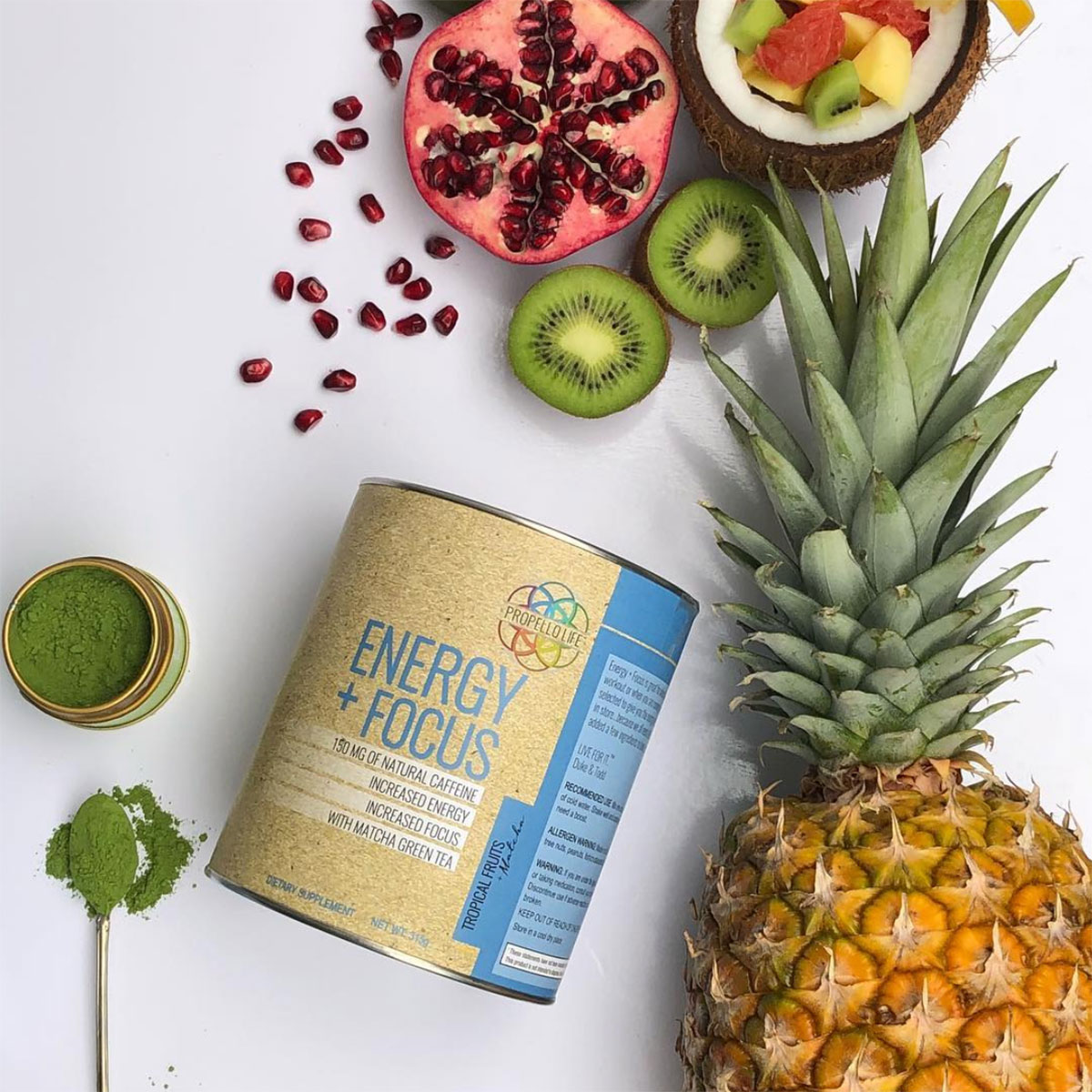 The most refreshing part of our conversation was his outlook on supplements. Like myself, he believes that supplements are made to supplement our whole foods based diet, NOT your workout. If you have time to eat real, clean food pre and post workout, then yes you absolutely should do that. But, if life gets in the way, turn to their products to keep you going. They believe that health is a journey of discovery and improvement, and their products are solutions to turn to along the way.
Fine Details
So, I really did my best to not sound thoroughly obsessed with this company (remaining biased has never been a strong suit of mine). BUT, I love these products so much that I became a brand ambassador for them. You can use the code CSOB10 at checkout for 10% off your order. Pro tip: They have sample packs you can order if you want to give them a try before committing. I also recommend getting on their email list where they send out healthy whole food recipes (this week's was a recipe to make healthy homemade pizza) and feature helpful blog posts like workouts to do in your hotel room —it's one of the few emails that I look forward to receiving every week.
Molly Davis
Molly Davis is the co-founder of Quidwell where she assists women in finding their personalized version of health. Outside of Quidwell, she is an account manager for a local boutique social media agency where she helps businesses grow through creative practices and influencer marketing partnerships. A self-diagnosed fitness junkie, it's hard to find a fitness class that Molly does not enjoy: from boxing to weight training, dance to yoga. In her spare time, you'll find Molly bopping around town to various studios, hanging out at a local coffee shop, or exploring the latest restaurants with healthy eats.