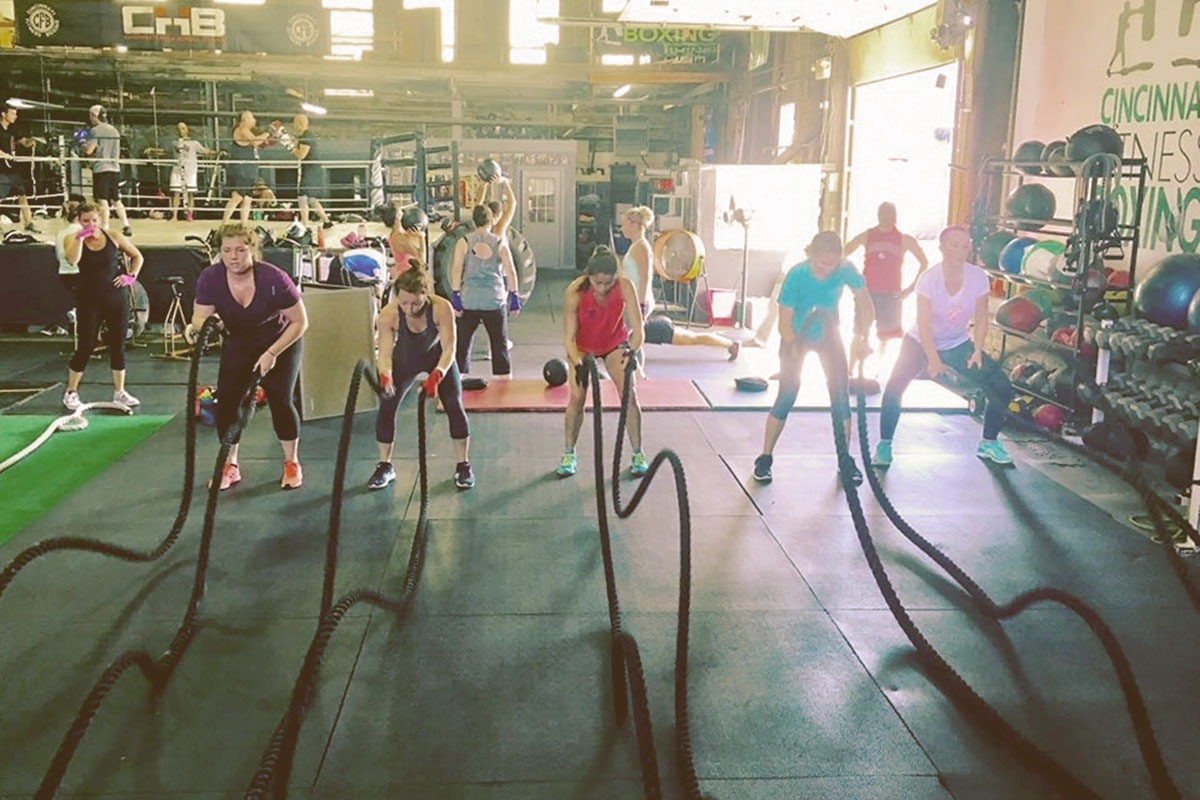 Boxing went from being a grueling, male dominated workout, to hot girl approved whole body fitness trend seemingly overnight. Victoria's Secret models glamorized it a few years back when Gisele Bündchen and the like shared footage of them getting in tip top shape for the VS Fashion Show by boxing. Shortly after, boutique boxing gyms seemed to start popping up across the country. The gym that we are about to talk about is absolutely not one of these places. We leaned on our friend and avid boxer at Cincinnati Fitness Boxing, Natalie Melnyk, to share her experience with us. Here's what she said.
About three years ago I was introduced to Cincinnati Fitness Boxing (CFB), near Clifton, and I have been enamored ever since. Like a lot of females, I was kind of intimidated at the thought of boxing. I had never even picked up a pair of boxing gloves. What was I getting myself into?
My brother assured me that I was going to love the class. He was right.
The Background
CFB is owned by three men, Jeff, Kenny, and Ben. The trio is motivating, charismatic and dedicated. They have a passion for boxing, fitness, and our community.
There are no lavender infused towels, fancy bathrooms, or Instagramably (that should be a word) pleasing aesthetics
In recent years, Cincinnati's boutique fitness scene has exploded. And while I'm definitely a boutique fitness-junkie, there's just something about the grunge feeling I get when leaving a CFB workout that I love. I feel like a complete bad a** (not to mention my arms and abs have gotten in killer shape all thanks to this class). There are no lavender infused towels, fancy bathrooms, or Instagramably (that should be a word) pleasing aesthetics. It's hot as hell in the summer and pretty cold in the winter, but that's what makes it great. CFB keeps it simple and it works.
What also works at CFB is the community feel. People are supportive, welcoming, and encouraging. No one is judging you because they're there for them, not to judge how hard you can hit a bag. Honestly, I've found boxing is more than just a good sweat. It's a way to release emotions like anger, frustration, and stress. It's also a way to gain self-confidence. As women we aren't often taught it's OK to punch the hell out of something. Boxing allows you do that. It allows women to unleash in a safe, supported environment.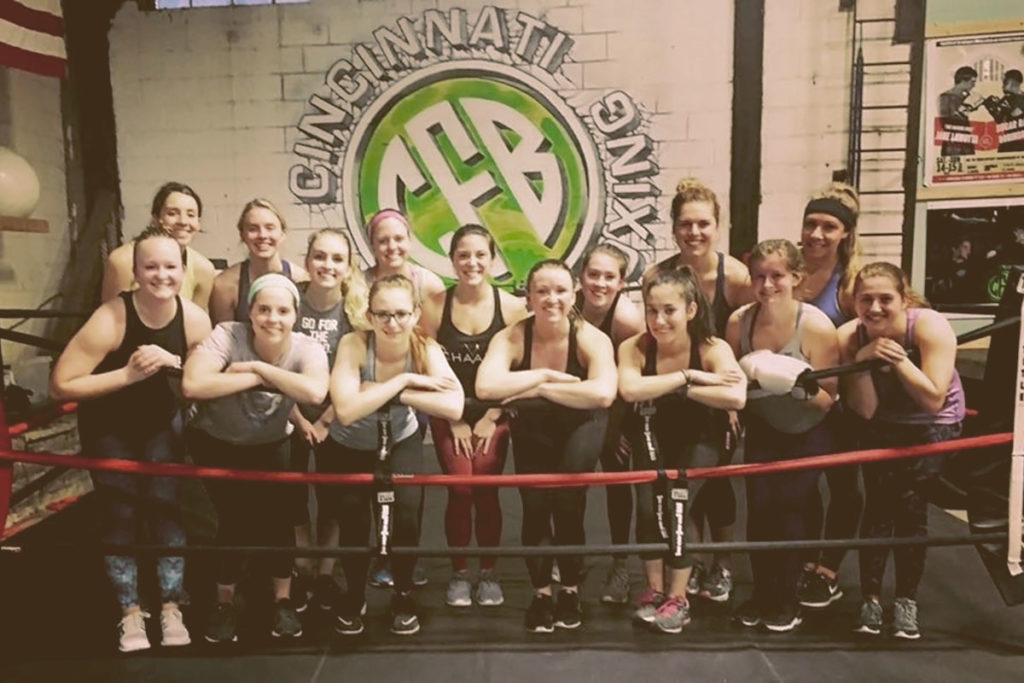 What To Expect
The CFB fitness class is a 60-minute, full body workout class that combines boxing basics, strength, and conditioning. The class structure is set up so that you go at your own pace, and everyone is supported at all levels.
Wear whatever you normally would wear to a high intensity workout–leggings and a tank, shorts and a tee, or whatever you feel comfortable moving and sweating in. If you've got gloves, bring em. If you're like hell no I don't own gloves, I've never even picked up a pair of gloves, don't worry. Gloves and hand wraps are provided for new members, and the staff will help you figure out how to wear said gear.
The first two or three times you come to class you'll be called up into the boxing ring with a few others to learn boxing basics (trust me it's not scary- you'll be fine). A timer will then be set to start the class. You'll move from station to station with a 3-minute work round followed by a 1-minute rest round. After about 8-9 stations, all the attendees will come together as a group for a 10-minute cool down. The stations include a variety of workouts like battling ropes, kettlebells, sledgehammers, tire pulls, sledge pushes, and various body weight exercises. Don't let me forget the best part—this place plays adrenaline pumping music that always gets me in the zone.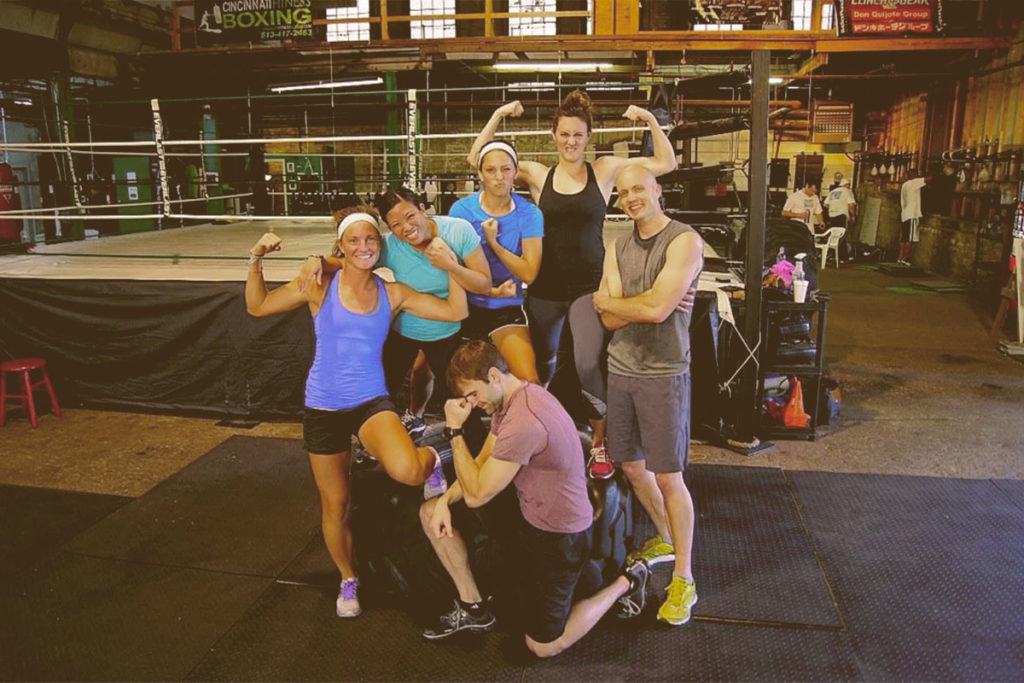 One of my favorite things about this gym is their class pricing. As a fitness-junkie, I love attending a variety of workout classes. But, that can get pretty expensive. Because CFB skips the frills, they can offer pretty cost effective pricing. Everyone's first class is free. After that, the gym offers monthly memberships for unlimited classes at $100 bucks or less a month (depending on how many months you pay for in advance), 11 class or 6 class packs (at $10 a class or less), or single drop-in classes at $15.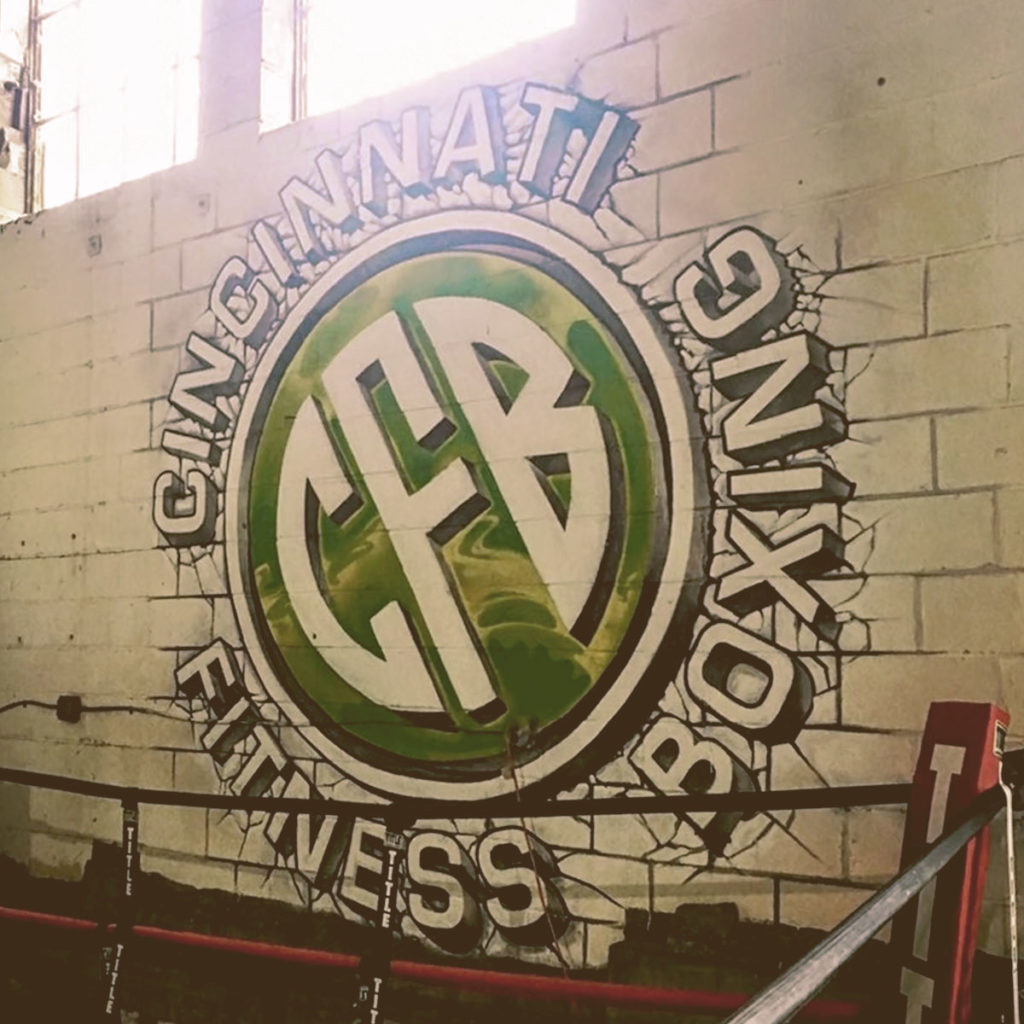 Class times for Fitness boxing class are below. Another great part of CFB is that you don't have to sign up for classes ahead of time, just show up ready to sweat.
Monday: 6 pm
Wednesday: 6:30 pm
Thursday: 6:15 pm
Saturday: 10 am
You can learn more on CFB's website, or on Facebook or Instagram.
Molly McCafferty
Molly McCafferty is the co-founder of Quidwell where she assists women in finding their personalized version of health. Outside of Quidwell, she is an account manager for a local boutique social media agency where she helps businesses grow through creative practices and influencer marketing partnerships. A self-diagnosed fitness junkie, it's hard to find a fitness class that Molly does not enjoy: from boxing to weight training, dance to yoga. In her spare time, you'll find Molly bopping around town to various studios, hanging out at a local coffee shop, or exploring the latest restaurants with healthy eats.