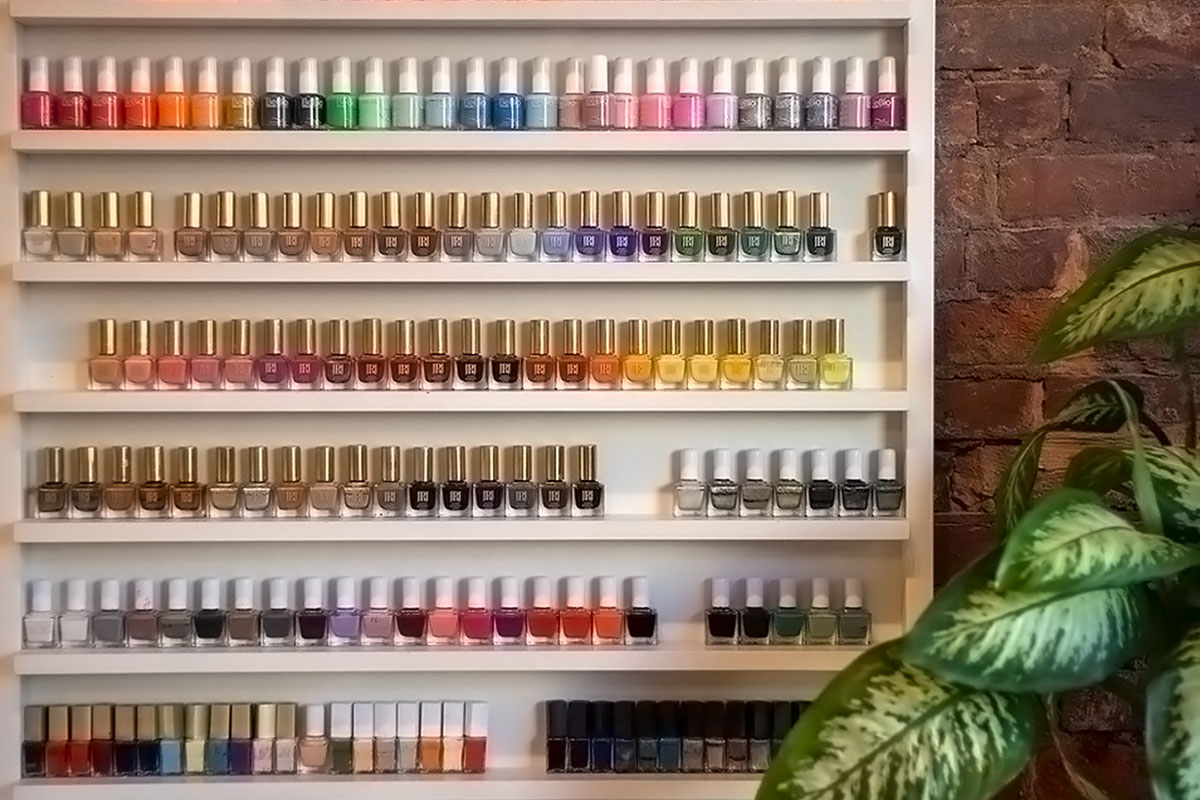 Spruce is a local nail boutique that puts employee and client health needs first. Spruce is a "5-free or more" salon, meaning all polish used is free of the top 5 more harmful chemicals often found in nail salons: formaldehyde, resin, camphor, toluene, and DBP. Spruce technicians also get to know about their clients' health. As a new client, you'll fill out a form that inquires about allergies, skin issues, concerns, and a few other health-related things. Spruce is known locally for its beautiful aesthetic, welcoming atmosphere, natural products, and unique nail art.
Spruce Nail Shop isn't your normal nail salon.
It's a cool nail salon. But, really, it is. You can tell this the moment you walk through the doors. The vibe is effortlessly chic, and it feels way more like stopping by a friend's trendy – yet cool and mellow – NYC loft apartment than soliciting a nail boutique in the midwest. Spruce is different. And this, my friends, is very intentional.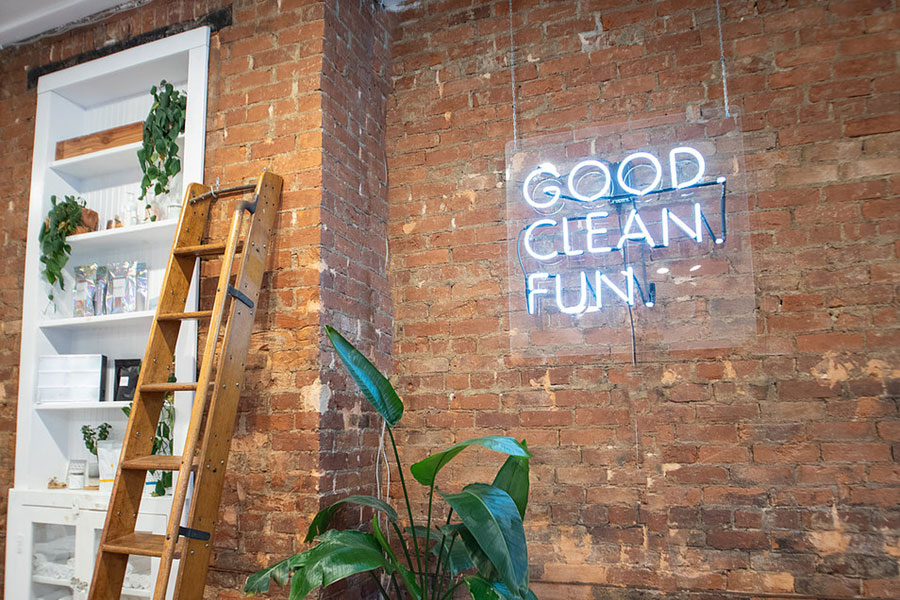 The Background
Molly Reckman-Nagle is a native Cincinnatian and the owner and operator of Spruce.
In 2015, Molly happened to read a New York Times article titled, "The Price of Nice Nails." The exposition put a spotlight on the nail industry; specifically the absence of fair wages, human trafficking, and the health risks involved for employees.
The article peaked Molly's interest and after reading further research on why nail technicians were getting sick (spoiler alert: toxic chemicals), Molly knew she wanted to create a safe and healthy nail salon environment for both clients and staff. One year later, in February of 2016, Molly opened Spruce on Vine Street in Over The Rhine. The shop has since gained a tremendous following of both locals and non-locals alike.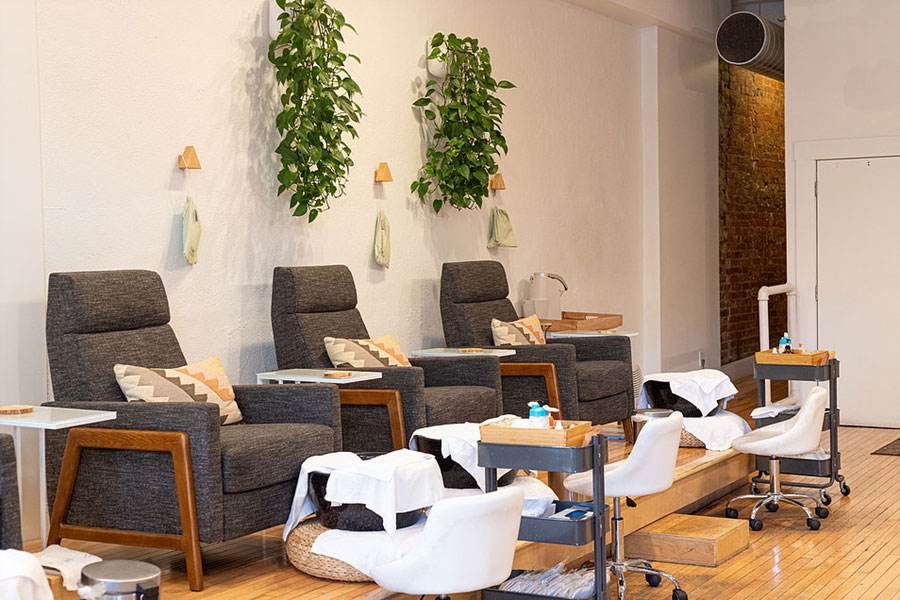 Honestly, I'm not a regular salon-goer, but I do appreciate a good mani-pedi before a big event or the start of summer. In the past, when choosing a salon for these experiences, I've tended to gravitate toward whatever spot is having a special deal at the time. However, as I'm learning more about the chemicals and toxins that we are exposed to through various services, I'm starting to understand how choosing a nail salon only based on price might be at the determinant of my overall health. Mandy, Spruce's Operations Manager, gave me the rundown on what sets Spruce apart in terms of their focus on health and quality.
Spruce is a "5-free or more" salon
This means that all gel and regular polish is free of the top 5 more harmful chemicals often found in nail salons: formaldehyde, resin, camphor, toluene, and DBP.
Don't think these are a big deal? Studies have shown that repeated exposure to phthalates (like DBP) can cause migraines, nausea, and other health problems. Formaldehyde is linked to dermatitis if nails and hands aren't kept clean. Spruce's polishes are free of TPHP as well, which could have a damaging effect on our endocrine system and affect hormone levels.
Safe to say we'd all like to avoid these, yes?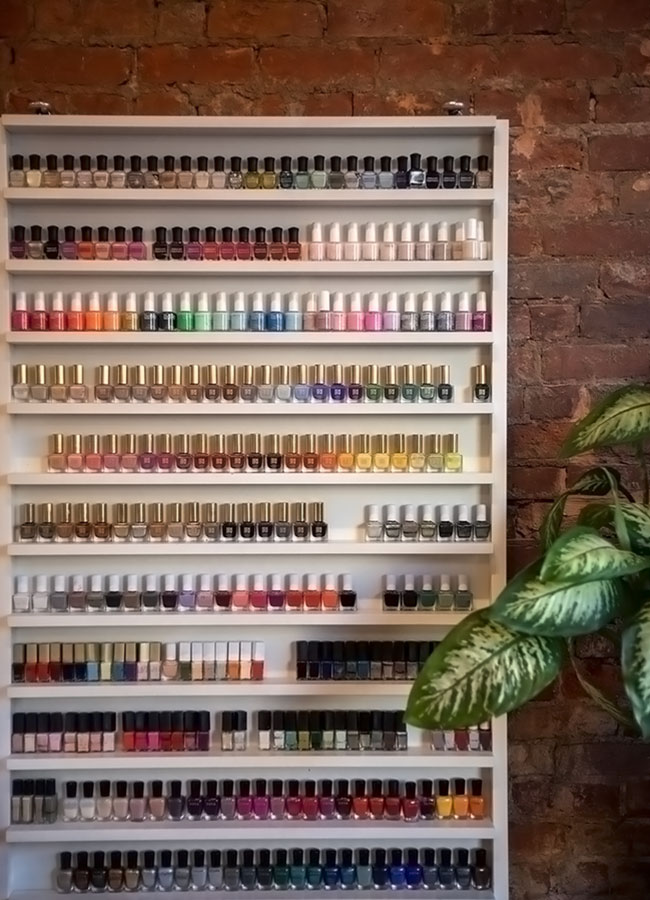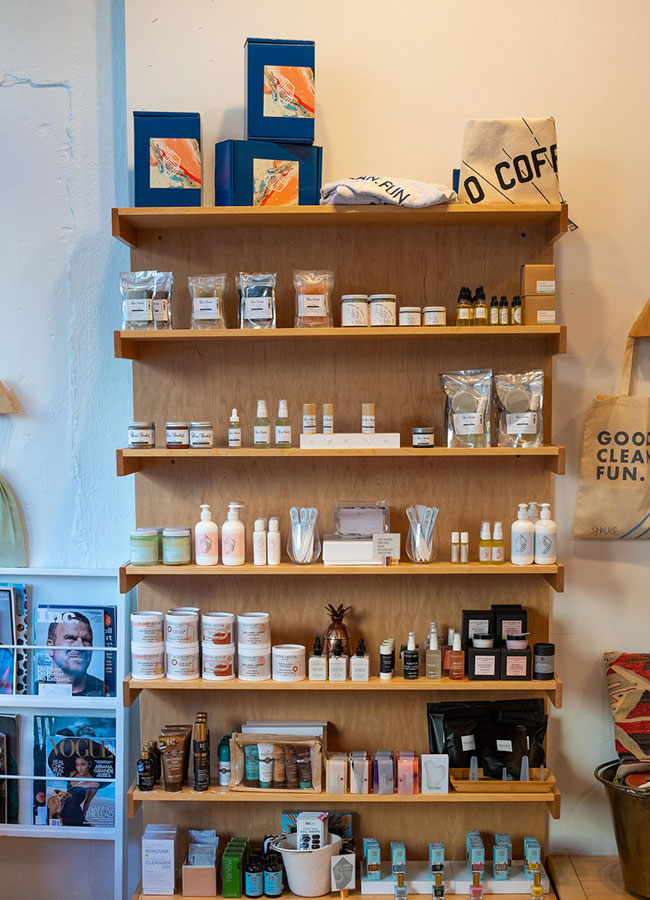 Spruce does services only on the natural nail, so you won't see an offering for acrylics or the like. Their "quickie" mani or pedi option is a favorite for its price and waterless feature (following the coastal trend for environmental-friendliness and lowered risk of fungus from soaking). It's important to mention that Spruce still uses some chemicals for effective treatments and services, but you will not find toxic, harmful ones in the salon. The staff also uses an incredibly rigorous disinfectant and sterilizing process for all of their instruments and surfaces.
And the plants! The shop is filled with beautiful, live plants which help freshen and detoxify the space in addition to creating a lovely aesthetic.
Spruce technicians also get to know about their clients' health. As a new client, you'll fill out a form that inquires about allergies, skin issues, concerns, and a few other health-related things. Your tech will talk with you about the health of your nails and cuticles (and then let you relax, of course!). They are trained to recognize issues and give suggestions if needed. To me, this kind of individualized service is worth paying more for than I would at the corner salon.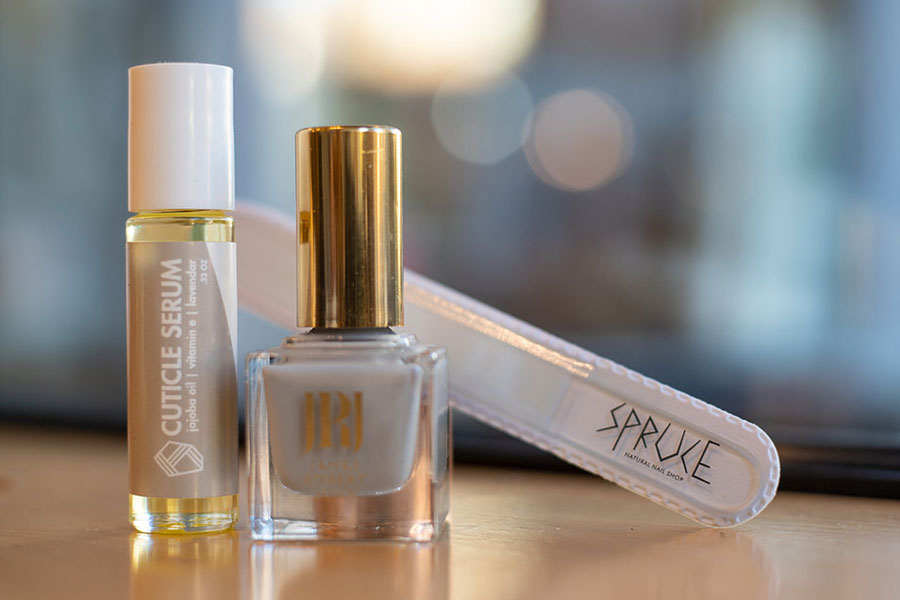 Another big reason Spruce has made quite a splash is the caliber of their nail art. Seriously, check out their instagram stories @sprucenailshop STAT. The techs are coached and trained in order to offer services in three different tiers.
Aside from nails, Spruce also offers services like spray tans, facials, waxing and sugaring, and eyebrow and eyelash tinting. I'm intrigued by their facial options; the oxygen facial, CBD facial, and hydrodermabrasion. The shop is known for gua sha, which is a method of facial massage with a stone that's so effective at reducing puffiness and lifting that it's called the "Eastern facelift." Spruce carries their own line of products that were created and refined with a partner in Columbus and are used in all nail and spa services. They also sell other nontoxic products, many of which are made by local, female-founded businesses.
It wouldn't be right to condense the Spruce experience just to a coastal, hip lounge spot. It's also, in a way, a spa AND a workshop for art and education.
I've heard from clients and staff alike that the space is not only friendly and welcoming, but that the techs and clients form strong relationships. It's not strange for a client to bring in a book they loved reading for Mandy (she's a bookworm, y'all) or their nail tech's favorite beverage before a service. It's hard not to become a regular and return with friends and family for celebrations, wedding events, and pre/post-baby pampering.
You can also have Spruce come to YOU (if you live in Ohio) for nails!
What to Expect
Clients are encouraged to come in with a picture or inspiration from an outfit, a book, jewelry, or an art piece to help the tech create a unique, matching design. Yes, the tiers coordinate with an extra charge to your service, but turning your tiny nails into little pieces of art is a bit #extra (in the best way). Slots for treatments book up super fast. Evenings and weekends are busy and often fill up 1-2 months in advance, so if you're looking to get pampered in a beautiful and nontoxic space with great people, don't forget to book ahead!
Where to Learn More
Join over 10,000 Instagram followers @sprucenailshop. Book any regular appointment through the website or call (513) 818-8749. If you're interested in Spruce coming to you, reach out to mobile@sprucenailshop.com. For private events, parties, or groups of 4+, get in touch with Agnes, here. Operations Manager Mandy can be reached here, if you need anything else!
And as always, do NOT miss out on great deals, promotions, and community that comes with being a Cincy State of Being Insider. If you haven't already, sign up now.
Photos by Steve Heglin @steveheglin
Maggie Hauser
With a background in education and event planning, Maggie Hauser obtained her health coaching certification in 2018 while living abroad in Germany. She has worked one-on-one with (virtual) clients as well as piloted a meal preparation service for families. In addition to nutrition and hormone health, Maggie is passionate about reading, fitness and travel. Her greatest adventure yet is that of becoming a first-time mom!