Food As Medicine: Green Farm Juicery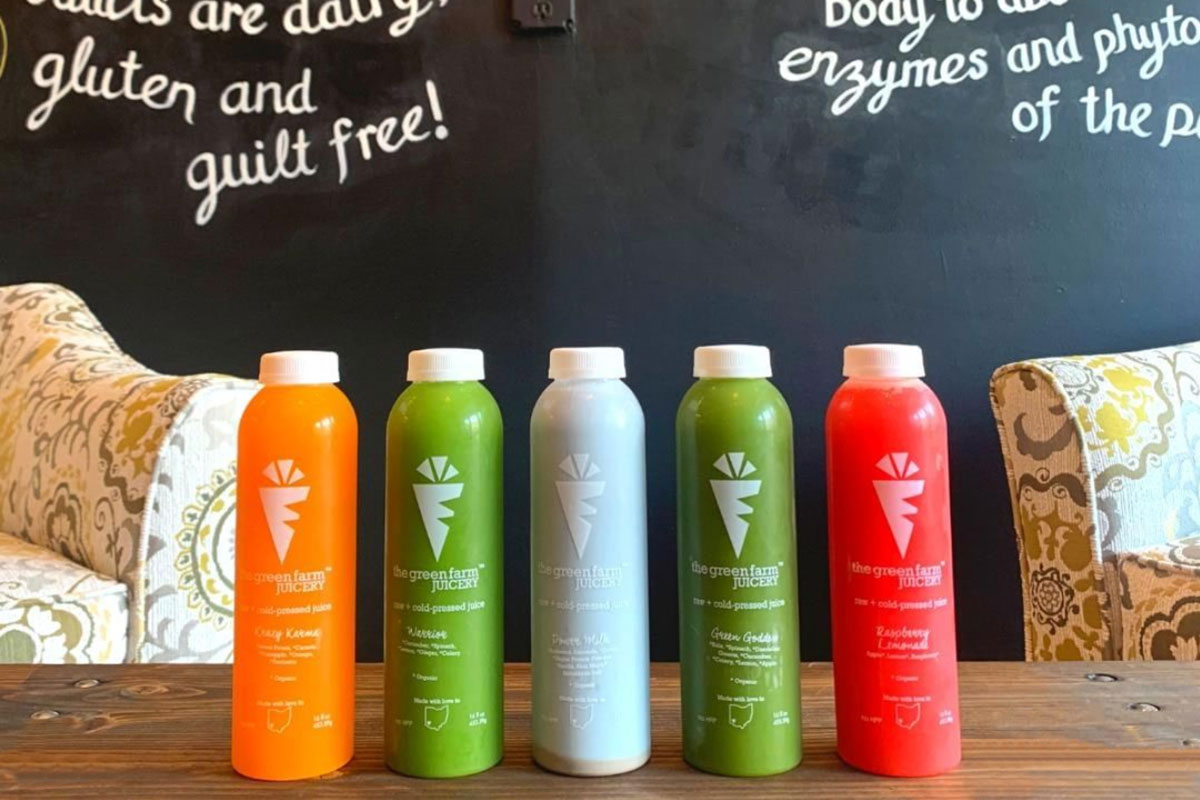 Amanda Bottleson and Mara Boord are two locals who turned great loss into personal transformation and social good. The duo opened Green Farm Juicery in 2017. The juice bar has two locations in Blue Ash and Hyde Park and both offer a variety of fresh-pressed, 100% organic juices along with a plethora of other options including smoothies (my favorite), smoothie bowls, chai lattes, wellness shots, house-made energy balls, kombucha, and more. Beyond snacks and meals, Green Farm Juicery offers education on topics like Ayurveda, juicing, and nutrition, and yoga.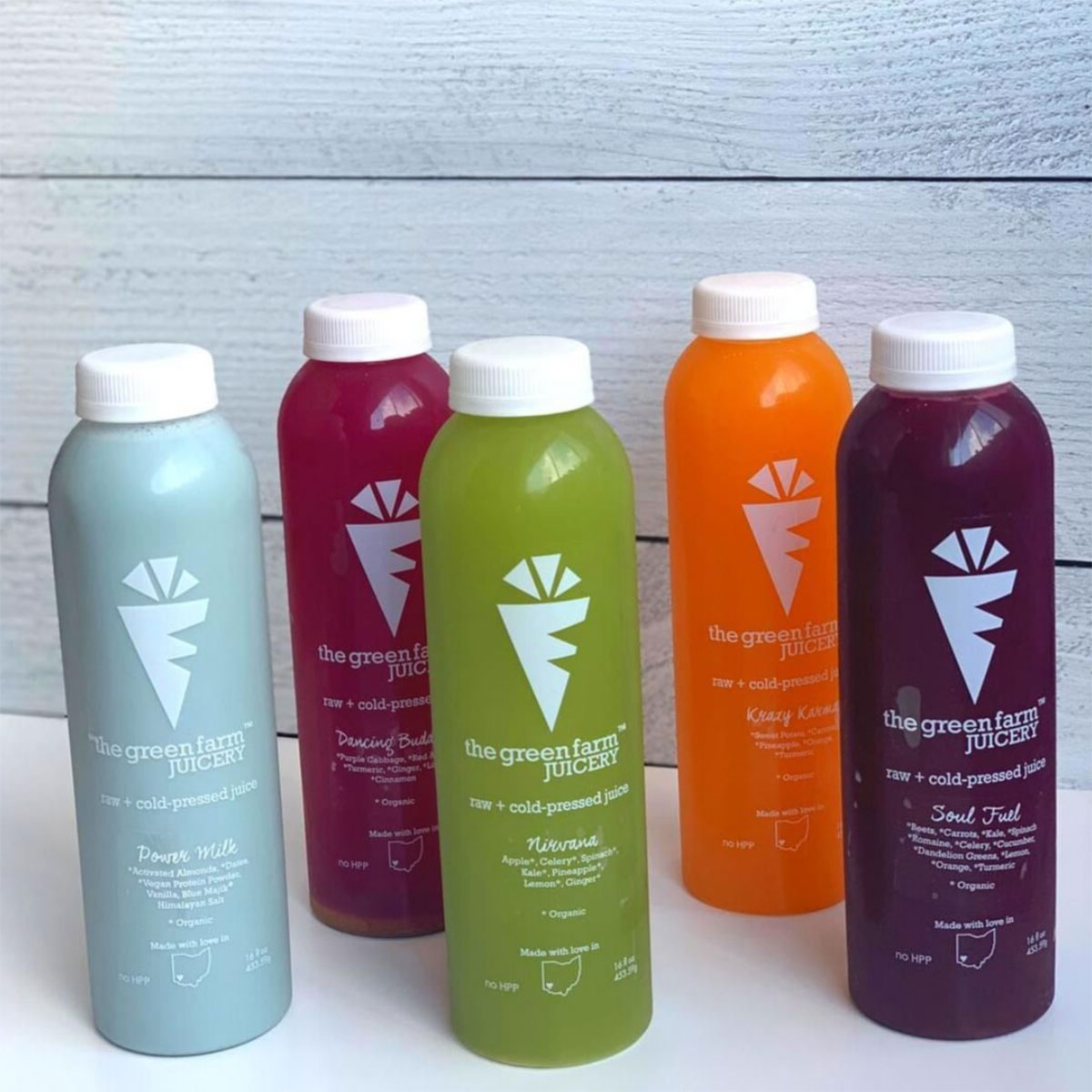 What we put into our bodies matters
It is now widely known that proper nutrition can prevent disease and increase longevity. While once a fringe concept, the food-as-medicine movement has recently exploded thanks to increasing amounts of scientific research and individuals sharing their personal stories of transformation. Amanda Bottleson and Mara Boord are two such individuals.
In their own words, "Our personal journey towards health and well-being began after we both lost our mothers too young from debilitating diseases. As we cared for and loved our moms as their bodies failed them, the connection between food & spirituality and how influential they are to our overall state of health became this profound truth we could not ignore."
After these losses and the losses of other loved ones, Mara and Amanda became health fanatics, researching, reading, and digesting (pun intended) all things related to wellness. They wanted to know; what can we do to protect, maintain, and enhance our health?
Green Farm Juicery is born
Through this journey, Amanda and Mara learned about juicing. The two became hooked after seeing both physical and mental benefits, and like most people with a passion, they wanted to share what they'd experienced with others. So, they decided to open their own juice bar, Green Farm Juicery. The first location opened in November of 2017 in Blue Ash next to one of our other, local favorite spots Sleepy Bee. In late 2019, the duo opened a second location on Hyde Park Square.
Both locations offer a variety of fresh-pressed, 100% organic juices along with a plethora of other options including smoothies (my favorite), smoothie bowls, chai lattes, wellness shots, house-made energy balls, kombucha, and more. Amanda is a certified Ayurvedic Health Coach and infuses Ayurvedic principles into all that Green Farm does and offers.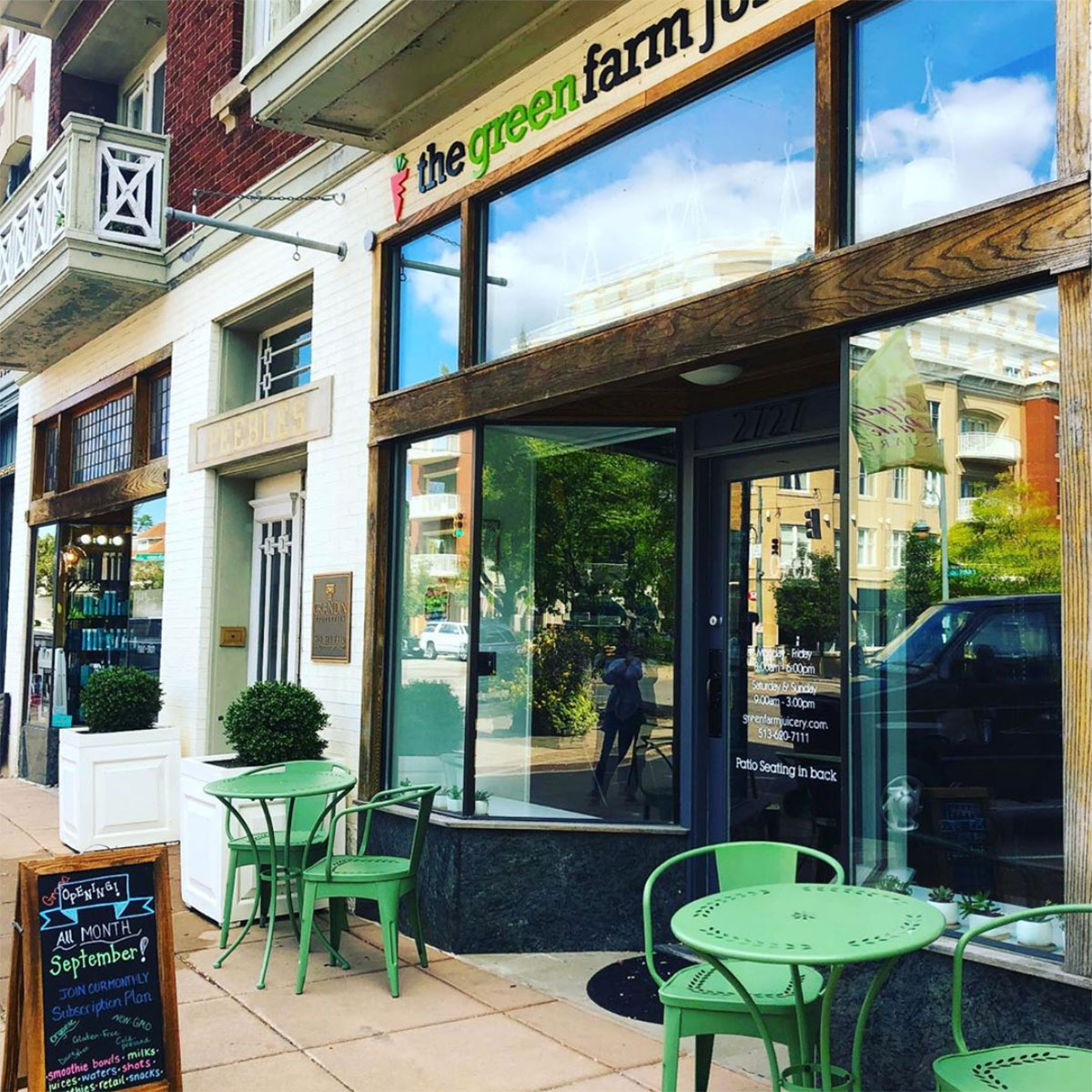 I recommend the Blueberry Matcha Smoothie
I recently sat down with Amy O'Neil, the Regional Manager of Green Farm Juicery to chat. She offered me the Blueberry Matcha smoothie with almond milk, blueberries, matcha, banana, and cocoa nibs. It was fantastic, and so was the conversation. Beyond just offering nutritious food, Green Farm Juicery is really striving (and in my opinion achieving) to be a community resource for health.
Green Farm hosts both community and private educational events on various topics such as juicing, Ayurvedic techniques, and yoga and nutrition. You can also book a "cleansing party," or hire the staff to cater an event. Every single employee I encountered was knowledgable about much more than just what the menu said, and seemed truly passionate about working at Green Farm. Amy was a perfect example of this. As we chatted, numerous customers walked in and greeted Amy like an old friend. The vibe was warm, welcoming, and non-judgemental. Know nothing at all about juicing, smoothies, or using food for health? That's OK.
What to expect
This is an amazing place for a healthy snack or meal. It's also great for those who are striving to learn more about food and health. If you're trying a juice cleanse for the first time, tell them! This staff is highly knowledgeable and will be able to walk you through everything you need to know. Struggling with something specific? Again, tell them, they will make recommendations. To learn more, and to sign up for their newsletters, visit their website here.
Meriden McGraw
Meriden McGraw is the co-founder of Quidwell where she works to optimize the health of women. Outside of Quidwell, Meriden combines her master's level education in mental and public health with her training in mind-body modalities to teach individuals and groups techniques for optimal wellbeing. Meriden holds various certifications in pranayama (breath techniques), positive psychology, mindfulness, and yoga. On an average day, Meriden can be found practicing yoga, drinking kombucha, dragging her husband to strength training workouts, and taking her pup for a walk.