Sweat. Strengthen. Restore: Barre Code Cincinnati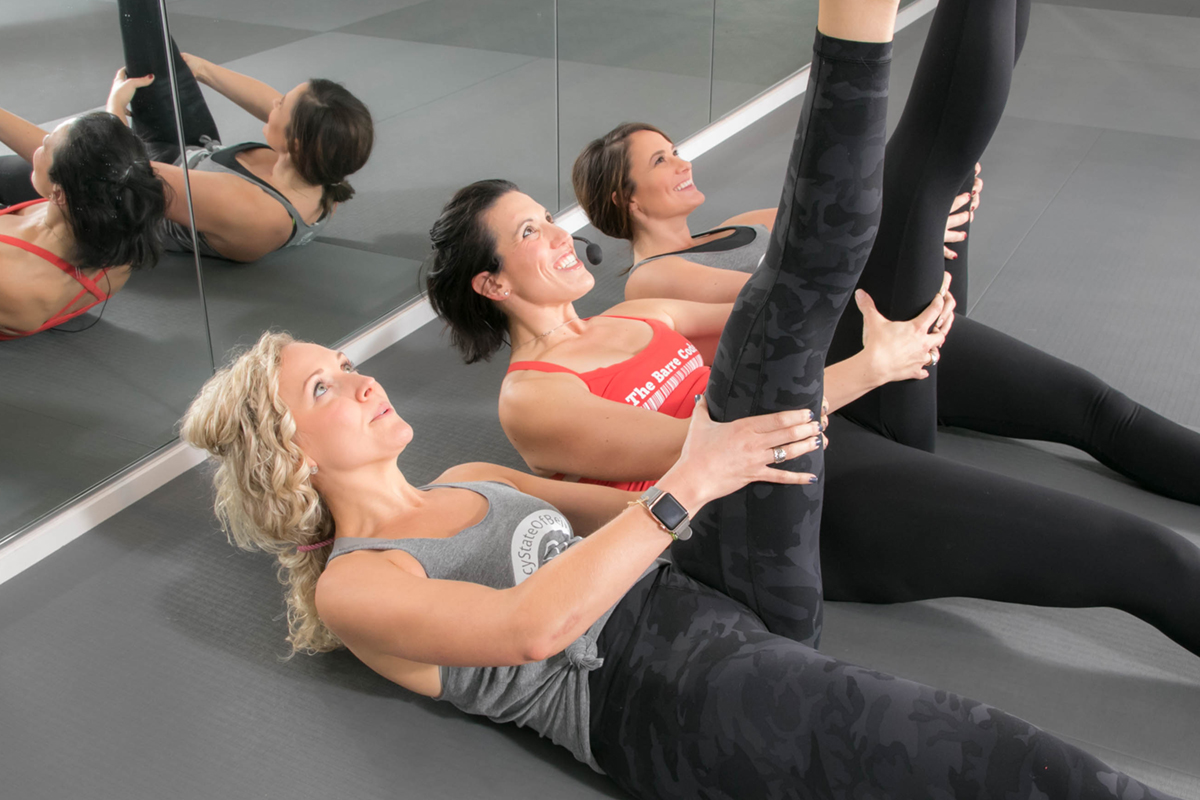 I did zero research before showing up for my first Barre Code class. So, when Molly and I arrived at the new(er) downtown fitness studio, I didn't know much.
I didn't know the Chicago based franchise was started by two female corporate powerhouses turned entrepreneurs in 2010. I didn't know the franchise was founded on a "code" of 8 values (hence the name Barre Code) including: seek growth, embrace evolution, create opportunity, and celebrate success. And, I didn't know Barre Code instructors across the nation are fighting body stigma and shame and encouraging females to embrace strength and confidence.
Without any of that knowledge to frame my experience, I went into class with an open mind, and left pretty damn empowered. While researching the studio later, I learned learned that this is precisely the company's goal, for women to leave class feeling a sense of empowerment, strength, and confidence.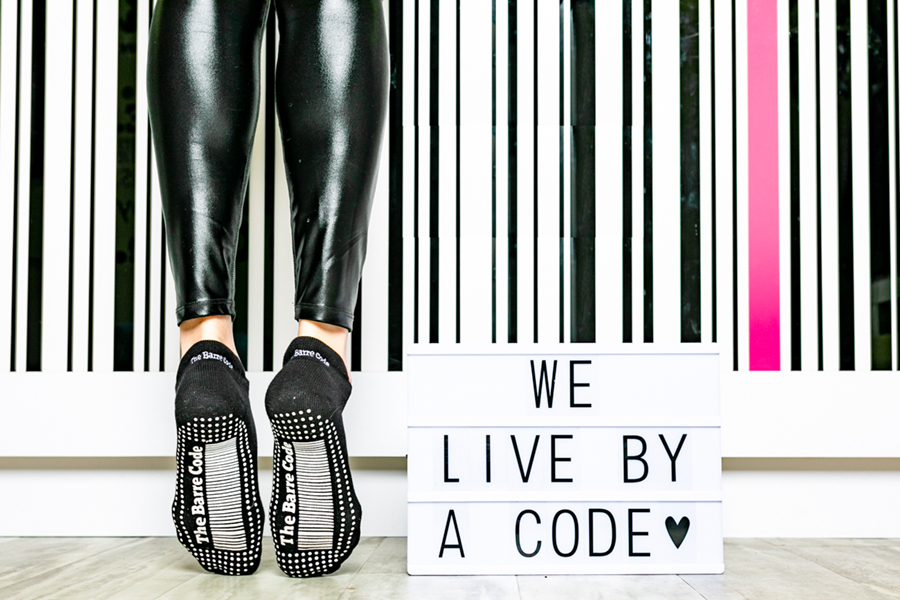 So, what is a Barre Code class like?
Our local Barre Code studio is on Main Street in Downtown Cincinnati, in a building that used to be a convenience store. The classes are all 50 minutes long, and you can choose from three options: TBC (total body cardio), Barre Code Strength, and Interval Brawl. Barre Code differs from other local and national barre studios in a number of ways, but it really depends on what class you attend. The strength class is a total-body workout of isometric holds, heavy repetition and deep stretching. This class will seem most similar to other barre offerings.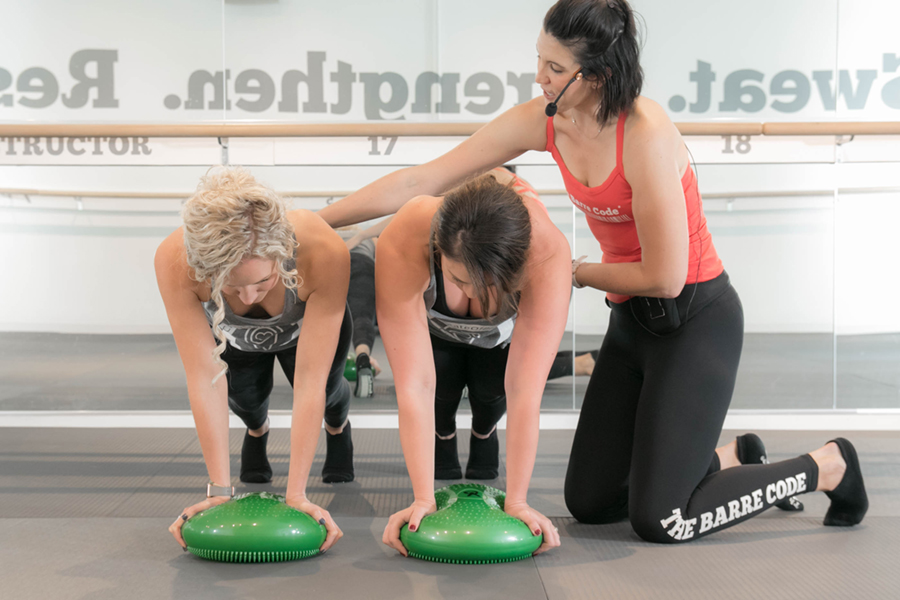 The TBC class is more HIIT focused and mixes in plyometrics, speedwork and agility training with strength work. The newest class offering, Interval Brawl, has been recognized by SELF magazine as one of the best workouts in the country. Interval Brawl is an intense class that combines cardio kickboxing sequences with strengthening work for the thighs and glutes. TBC and Interval Brawl use bigger movements than classic barre classes, similar to kickboxing or dancing. If you attend these classes, don't expect to just be at the barre. You'll be moving. Barre Code instructors also have the option to incorporate a lot more props (thinkkettlebells, a myriad of weights, resistance bands, etc.).
Local owner, Michelle Ziegler's story
The first class we took at Barre Code was Interval Brawl and was by taught by Michelle Ziegler, local studio owner. The series of cardio and strength boxing-esque exercises made me feel a little bit like I could kick someone's ass in a dark alley.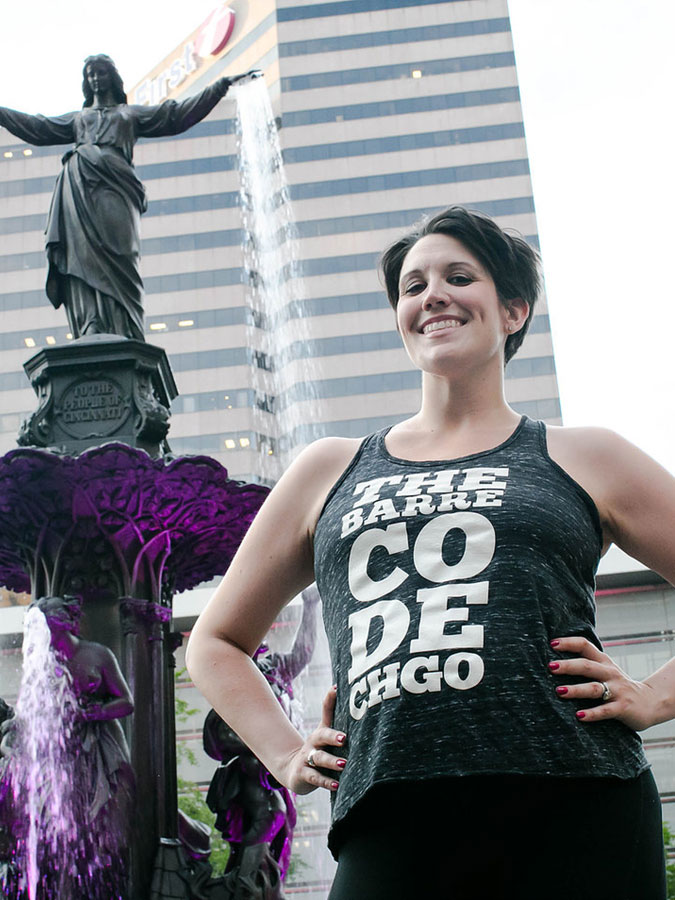 Like Barre Code's founders, Michelle too has a corporate background. Prior to opening a fitness studio, Michelle had a very successful career at Dunnhumby for a number of years. Michelle found Barre Code while living in Chicago and used it as an outlet after her dad passed. The combination of physical activity, community environment, and motivational support helped her cope with the loss. When she and her husband relocated to Cincinnati, (hubby, Nick, is a native) Michelle decided Cincinnatians needed a Barre Code and she opened the first location in the state of Ohio. Michelle has a great head for business, and a professional resume that will no doubt propel her to success. More importantly perhaps, she has amazing passion for what she is doing. She loves the workout, she loves the studio, she loves the people.
What to Expect
Barre Code is at 615 Main St. The location is a great option for downtown workers before heading into the office, on their lunch break, or after work. For those that don't work or live downtown, there are a number of parking garages nearby, and a metered parking on the street out front.
Wear socks, preferably barre socks if you have them. Show up a few minutes early for your first class and let the instructor know you're new. Before walking into the studio room, check the white board to see what props you'll need that day. Find a spot along the mirror with your props and get ready to sweat. If you're looking for a more traditional barre class, try Barre Code Strength. If you want more movement and a higher sweat level try TBC. If you like kickboxing and cardio try Interval Brawl. You can't go wrong with any of the instructors, but we especially love Michelle and Liz. Learn more here.
Updated January 2020: As of 1/1/2020 Barre Code updated it's class names. Class format is identical as before, but names are different. Barre Code Strength is now just Barre and TBC is Bootcamp. Brawl is still Brawl.
Photography by: Nicholas Ziegler
Meriden McGraw
Meriden McGraw is the co-founder of Quidwell where she works to optimize the health of women. Outside of Quidwell, Meriden combines her master's level education in mental and public health with her training in mind-body modalities to teach individuals and groups techniques for optimal wellbeing. Meriden holds various certifications in pranayama (breath techniques), positive psychology, mindfulness, and yoga. On an average day, Meriden can be found practicing yoga, drinking kombucha, dragging her husband to strength training workouts, and taking her pup for a walk.