Take Flight At Cincinnati's First Fly Bungee Fitness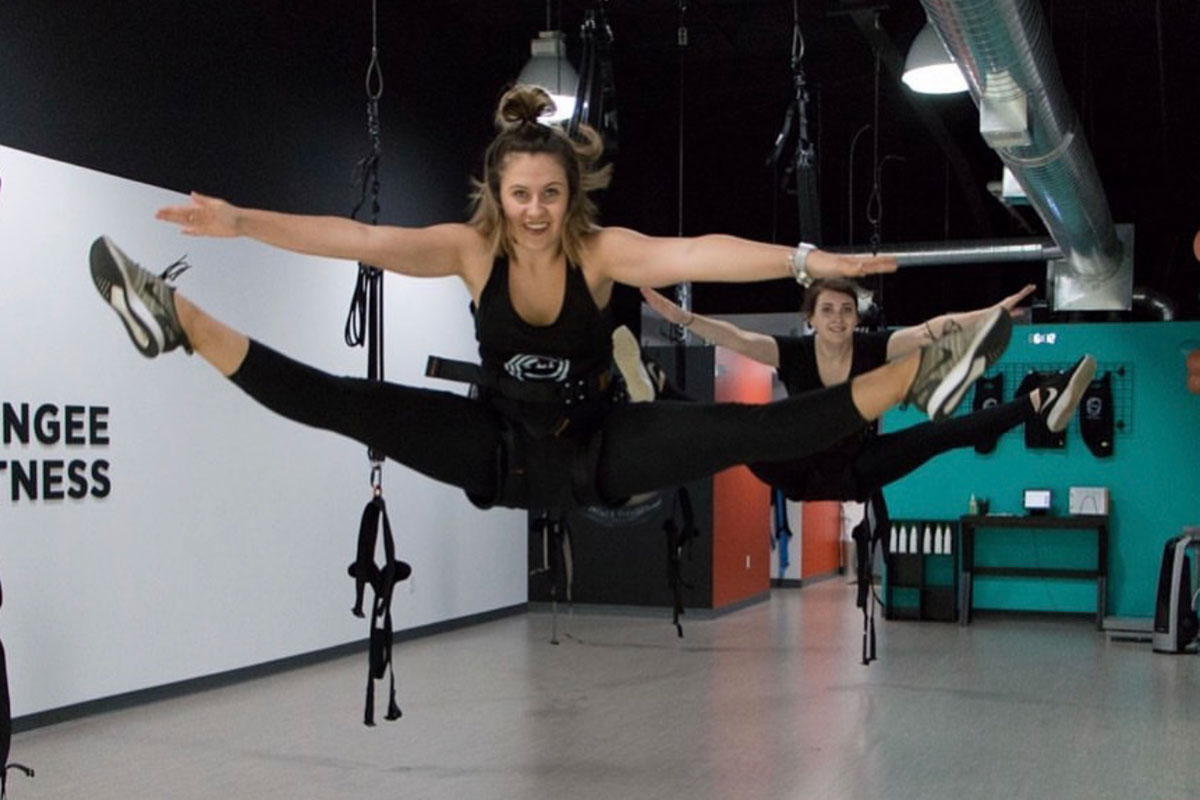 Imagine soaring through the air like Peter Pan, then flinging yourself into a handstand, dropping into a squat, effortlessly cranking through burpees… and enjoying it.  This is just a taste of what a class at Fly Bungee Fitness is like.  When we first heard about Fly Bungee FItness, we could hardly wait to experience it.  And let me tell you, it's worth every bit of the hype.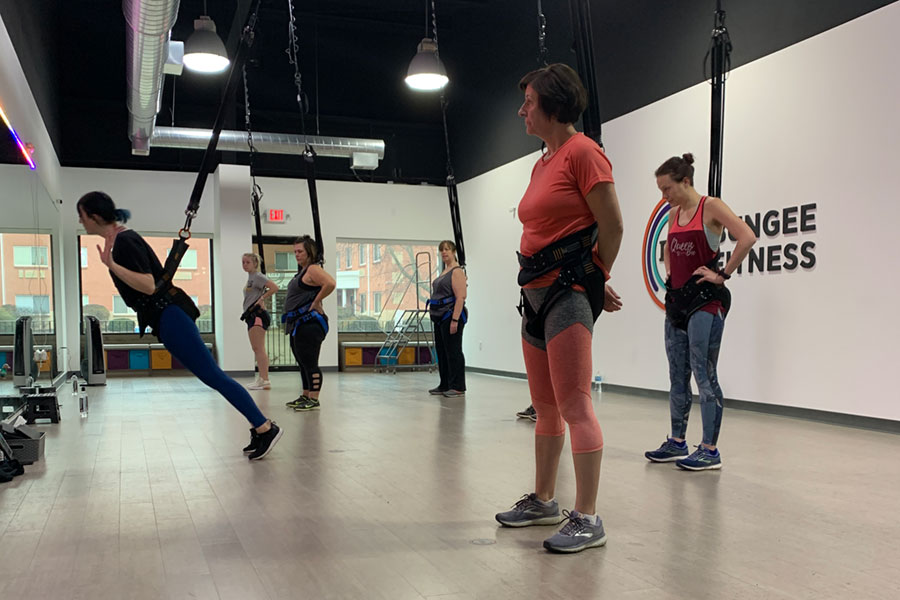 The background
Jaclyn Kolianos is the gal behind this new fitness format that launched (literally) here in Cincinnati in July of 2019. She discovered and fell in love with bungee fitness while on vacation in Florida. Having been a dancer her whole life, she always wanted to open a dance studio. That was until she got a taste of dancing while harnessed to bungee cords.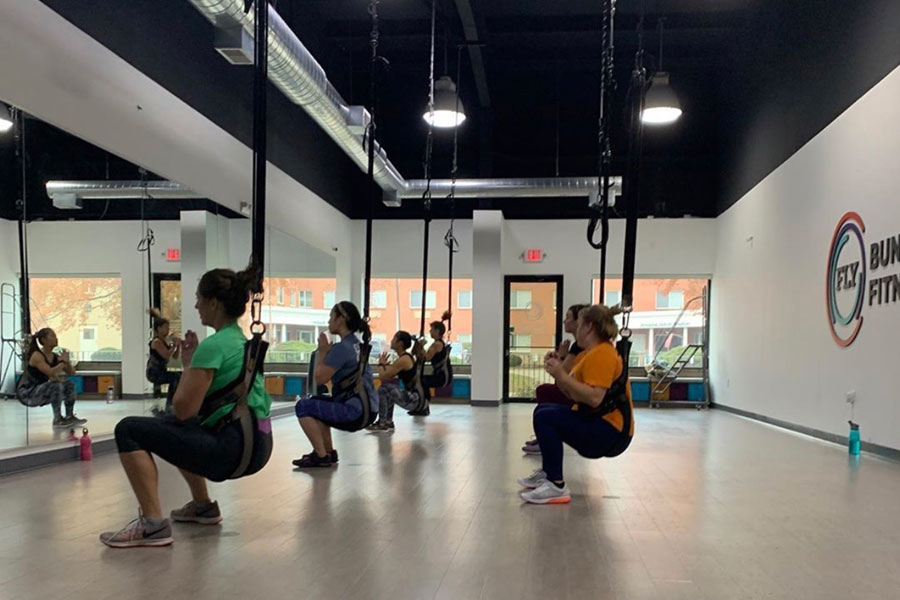 Our experience
The first class you take is a level 1 intro class, and for a valid reason– as you can imagine, there's a bit of a learning curve since it's an experience unlike any other. It's dance-based, with routines developed by Jaclyn herself to today's hits. But, rather than relying on your joints to give you permission to get into positions, you use the assistance of the bungee cords to propel yourself into various movements. So, it's about as low impact as you can get. When you drop down into a burpee, you hardly even graze the floor with your hands and toes before popping back up and softly landing on your feet (it is wild).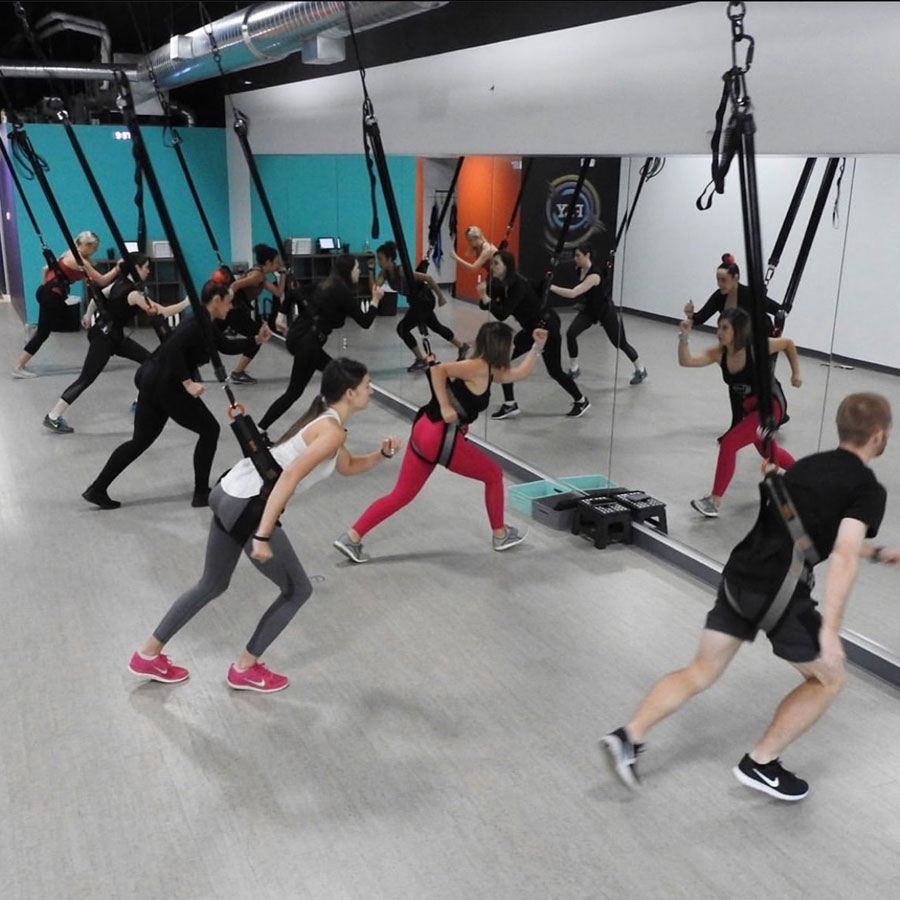 After taking a level one class you can keep coming back to level 1 classes for a while, or move onto level two classes and then eventually level 3 classes. The bungee cords also help give you higher hops. There is a movement called flying where you literally do feel like you're taking flight like Peter Pan. I don't know how else to explain it. You gotta go try it.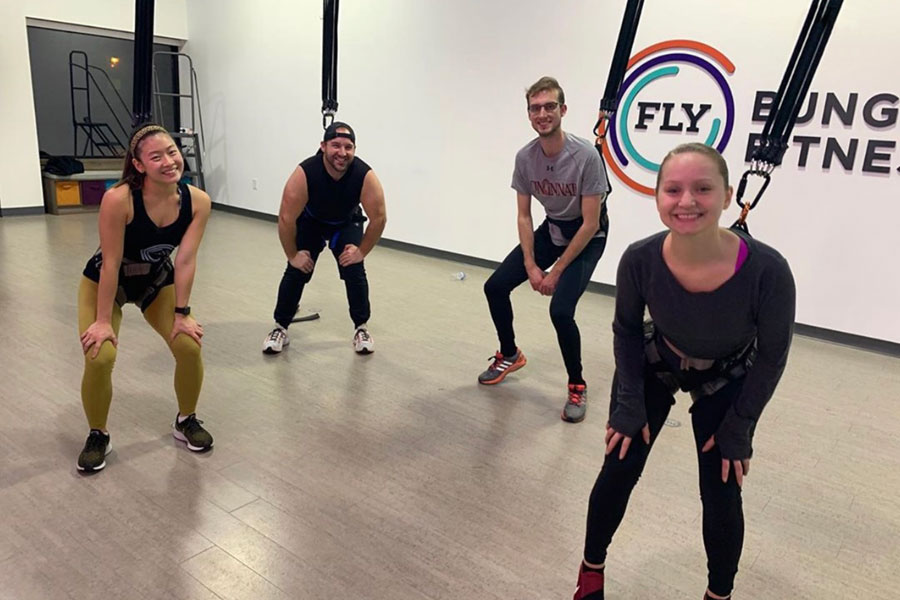 What to expect
So, what's the fitness and skill level requirement? I'd say that this intro class is inviting to people of all levels. Sure, there are certain moves that are more challenging than others, but the great thing about being harnessed in is that it's about impossible to "fall down." Trust me, we tried. There are some moves like the "plunge" that require strong core engagement and stability to prop yourself back up, but this class is really accessible to all. Also, Jaclyn did a great job breaking down each move so nothing was too intimidating.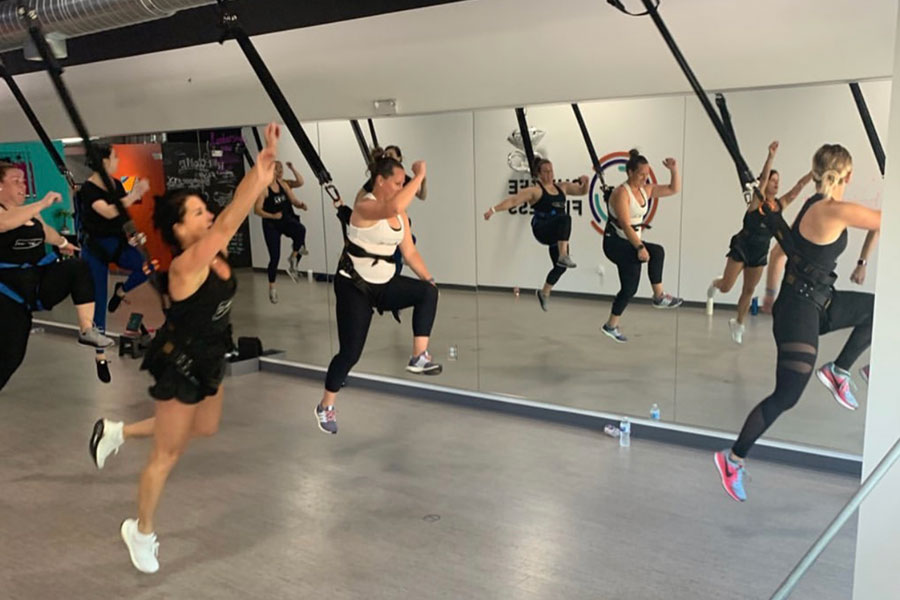 We're excited to go back and try a level two class. The dance routines get a bit more complex and you move quicker since you have the basics down. I can see it being a cardio blast if sped up. As for muscle engagement, the bungee assists you to get deep into your squats and lunges and aids in your movement. I felt like I could have done a million squats. You can also adjust the bungees depending on your skill level to crank up the resistance and cause it to be more of a burn for your muscles.
Fine details
If you've ever wanted to join the circus, become an acrobat or try out for the Cirque Du Soleil, this will probably be your new studio of choice. If you've never had any of those life aspirations but just want to try something new and fun, we also recommend giving it a whirl. Wear workout clothes and athletic shoes and show up a few minutes early so that they can assist you in getting strapped into your harness. There are just 7 spots in the class, so signing up in advance is a must. You can also rent the studio out for special events like bachelorette parties or work "happy hours." Let us know what you think!
Molly Davis
Molly Davis is the co-founder of Quidwell where she assists women in finding their personalized version of health. Outside of Quidwell, she is an account manager for a local boutique social media agency where she helps businesses grow through creative practices and influencer marketing partnerships. A self-diagnosed fitness junkie, it's hard to find a fitness class that Molly does not enjoy: from boxing to weight training, dance to yoga. In her spare time, you'll find Molly bopping around town to various studios, hanging out at a local coffee shop, or exploring the latest restaurants with healthy eats.