Workout Modifications: How To Honor Your Body for Pregnancy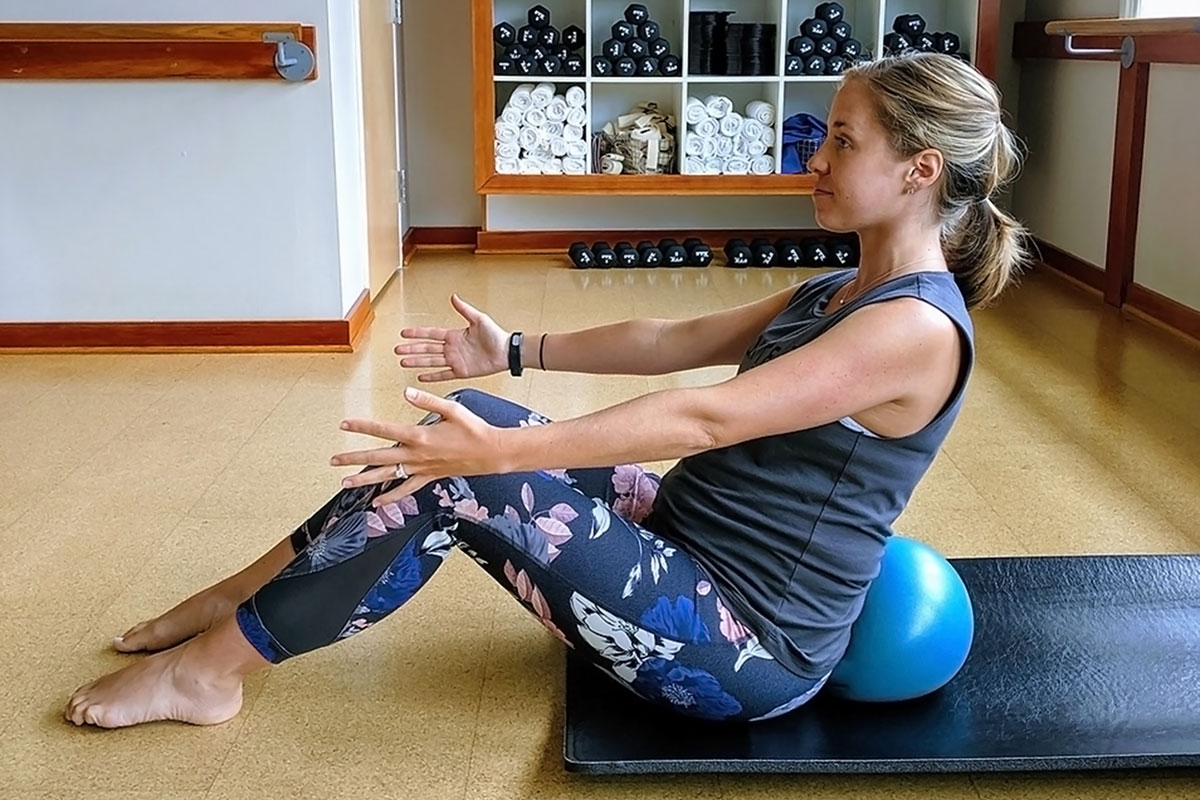 There are certain phases of life where we may need to modify certain aspects of our workouts and pregnancy can be one of those times. Here, Maggie Hauser interviews Michelle Ziegler of The Barre Code Cincy and Katie Farry of Pure Barre Fort Wright, both fitness instructors and moms, on modifications and best practices for pregnancy.
Movement is really good for us
You don't need me to tell you that. Studies have repeatedly proven the benefits for healthy weight, heart and brain health, chronic disease prevention, heightened energy levels, and general happiness. However, there are certain phases of life where we may need to modify certain aspects of our workouts.
Almost six months pregnant, I'm starting to hone in on the pressure I'm putting on my core, my (lack of) balance, and my faster heart rate among other things. Along with guidance from my instructors at Barre3, I spoke with CSOB's very own Michelle Ziegler of The Barre Code Cincy and Katie Farry of Pure Barre Fort Wright to get a full rundown on modifications and best practices. Not only are Michelle and Katie excellent instructors but they've both experienced working out while pregnant and making modifications themselves. Michelle has a toddler and Katie is due very soon!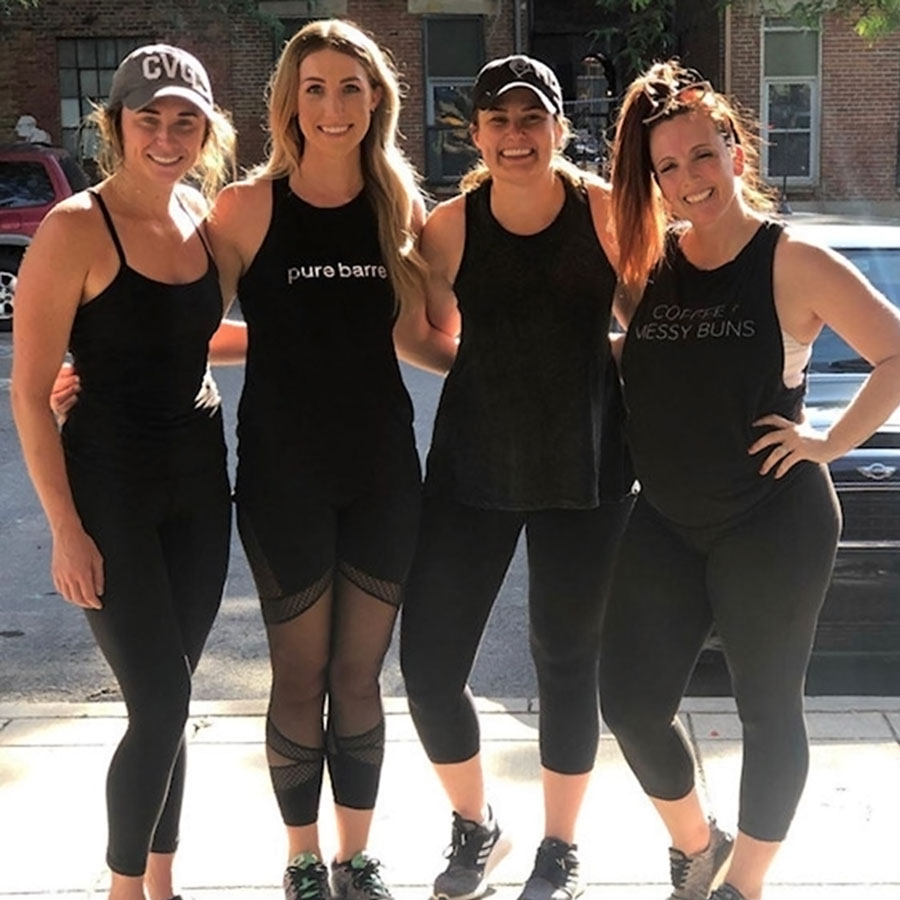 The most common reason for modifications at studios that offer barre, yoga, and pilates is pregnancy. A number of other clients have lower back issues, knee pain, and/or shoulder pain. Others have recently undergone minor surgery or are working through something like plantar fasciitis or arthritis pain. With any and all of these situations, Michelle of TBC reminded me that it's very important to speak with a medical professional before you start. Some studio instructors have specific training in pre/postnatal exercise; a major asset as you learn how to modify and safely challenge yourself.
Specifically, why are barre, yoga, or pilates style workouts valuable for pregnancy?
I know from my time at Barre3 that the benefits are pretty much endless. When done appropriately, exercise can lower the risk of high blood pressure, gestational diabetes, preeclampsia, pain, and anxiety. A number of fellow clients have told me that the focus on alignment and breath at Barre3 definitely reduced discomfort during their labor, delivery, and postpartum recovery (yes, please!). The focus for The Barre Code, Pure Barre, and Barre3 across the board is on the CORE: targeting glutes, abdominal muscles, and a stable spine to deepen our core strength. This is incredibly helpful for injury and recovery as well.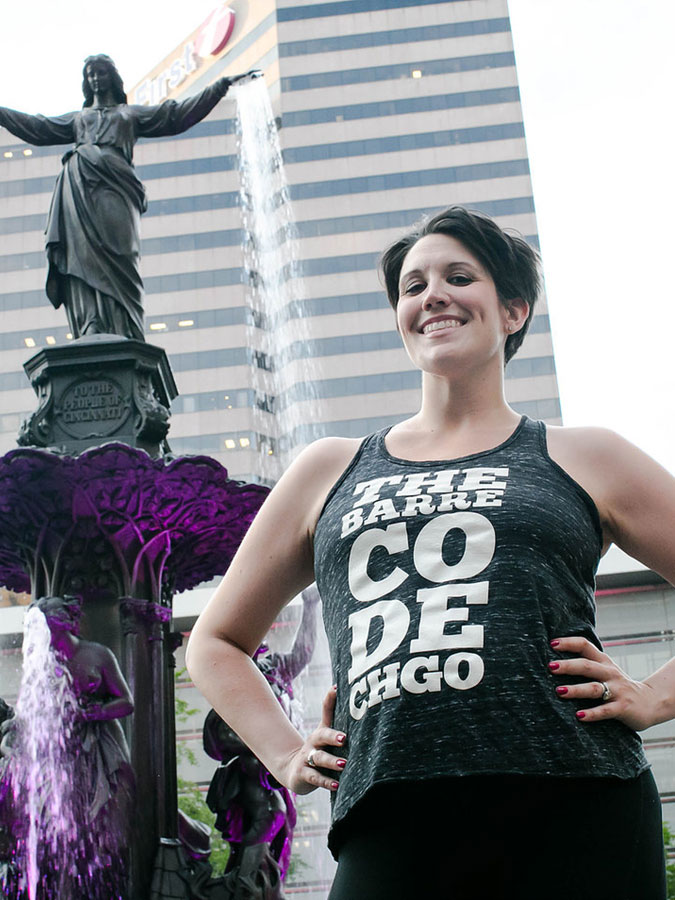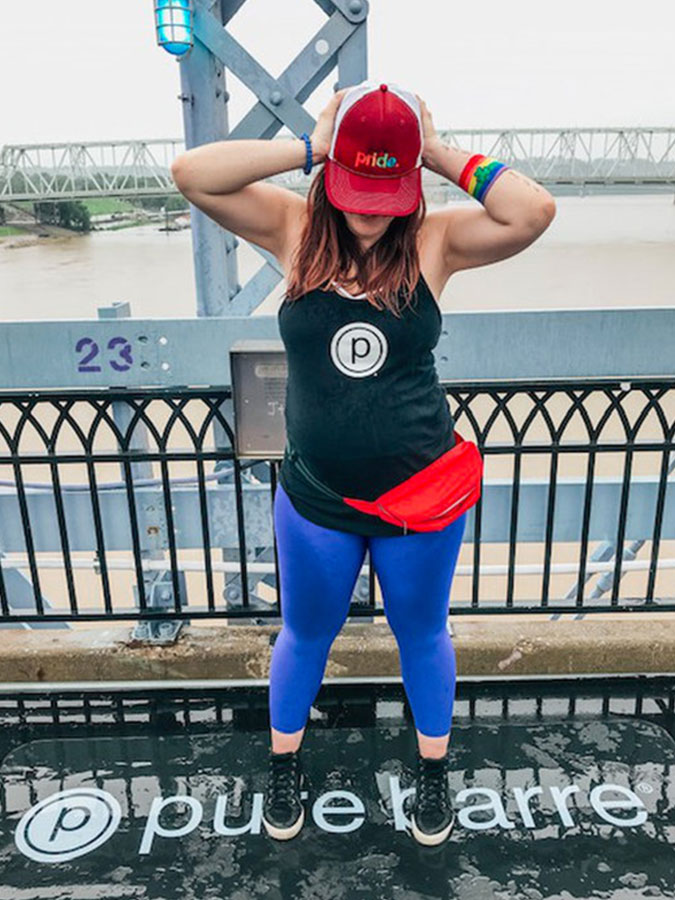 As pregnancy progresses or injury creates inflammation in certain parts of the body, it's a good reminder that we know our bodies best. Everyone is different, so we've got to give ourselves grace in experimentation. The most common discomfort is in the lower back. For pregnancy, this is caused by a shift in the center of gravity, weakening of muscles, and compression of the spine. Other common issues are round ligament pain, pubic bone pain, sciatic and pelvic floor issues. After research and conversation with some experts, I could write an entire article on our pelvic floor (it's fascinating …and frightening!). For now, let's stick to exploring my top modifications for feeling the burn.
In general, the best options to have in your arsenal when you are looking to modify are 1) changing the angle of your body, 2) reducing impact with the ground, 3) reducing your range of motion, 4) and increasing your stability.
Instead of full body planks or push ups, which can put too much strain on weakened abdominal muscles, try planking or doing push ups at the barre or against a wall at an angle.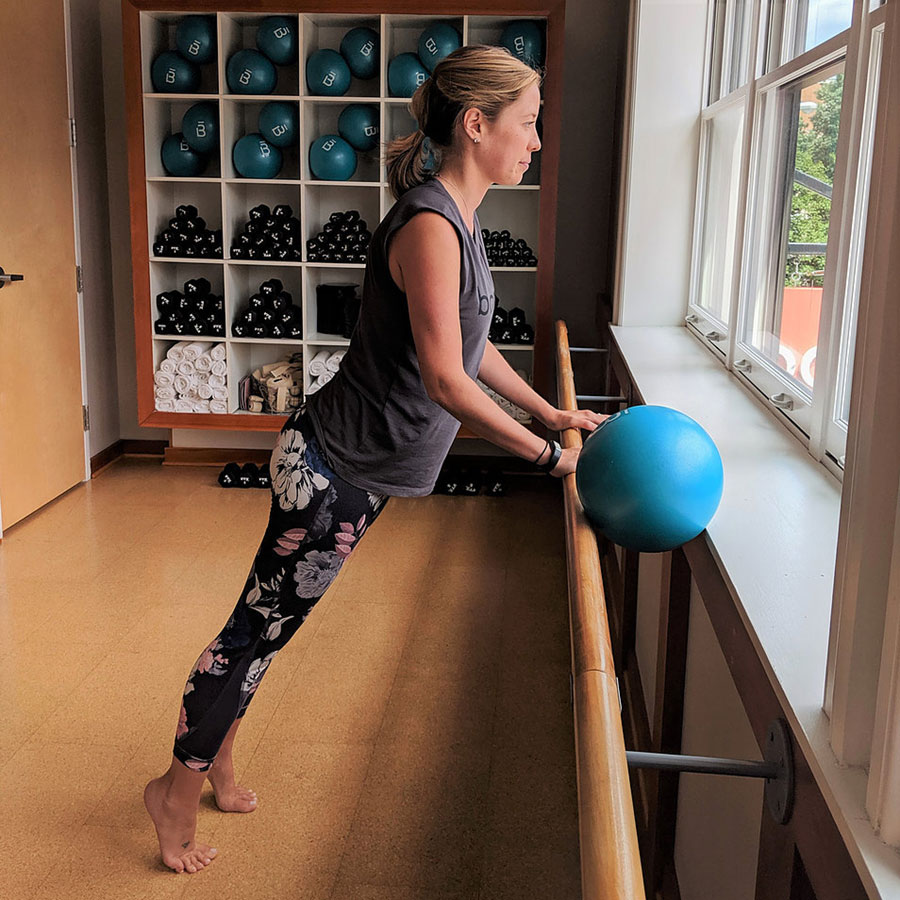 It may look like a much easier option, but if I am in the correct position and add reps, I can feel my arms, shoulders AND abs working.
Instead of crunching, boat pose, or uncomfortable ab work on hands and knees, try upright core with the ball and work on curving and straightening your spine with a ball for support.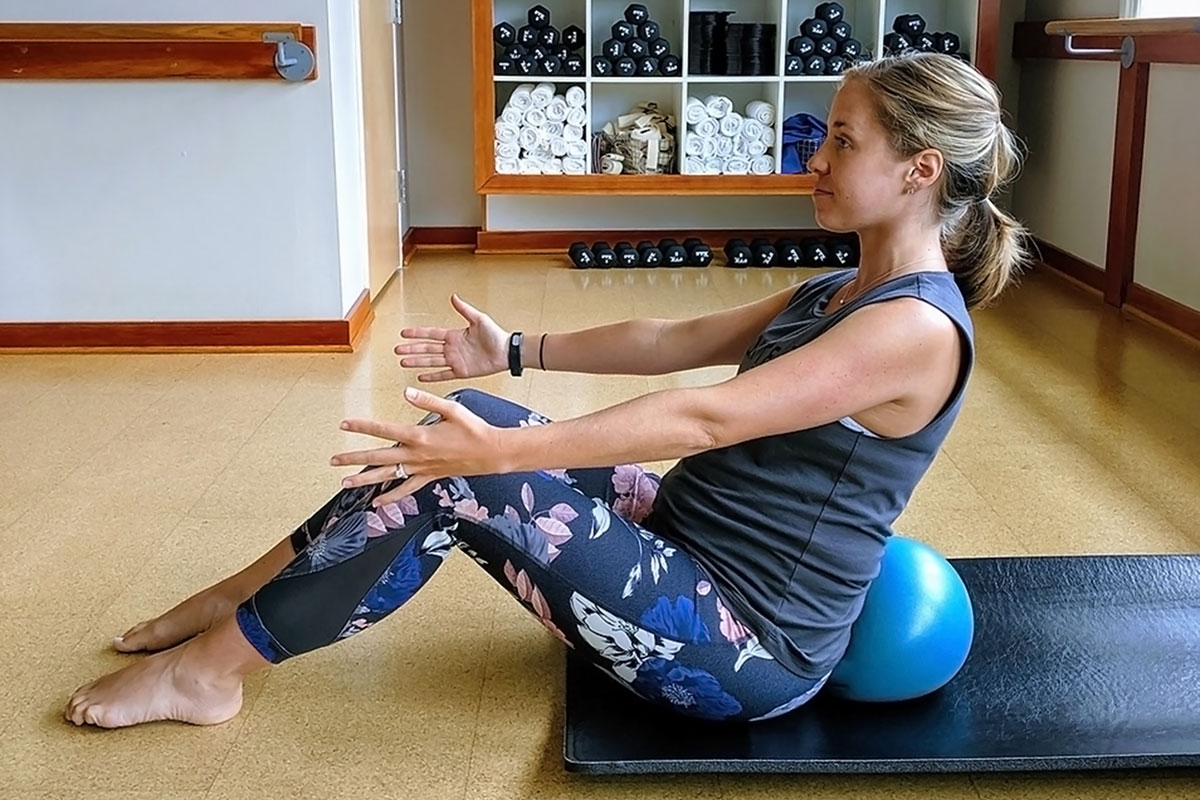 Being in this upright core position takes pressure off my back but fires up the entire abdominal wall and pelvic floor.
Instead of bridge lifts or if you are uncomfortable on your back (especially in late pregnancy), try kneeling with a ball between your ankles and squeezing your heels together. This can be done with or without a ball.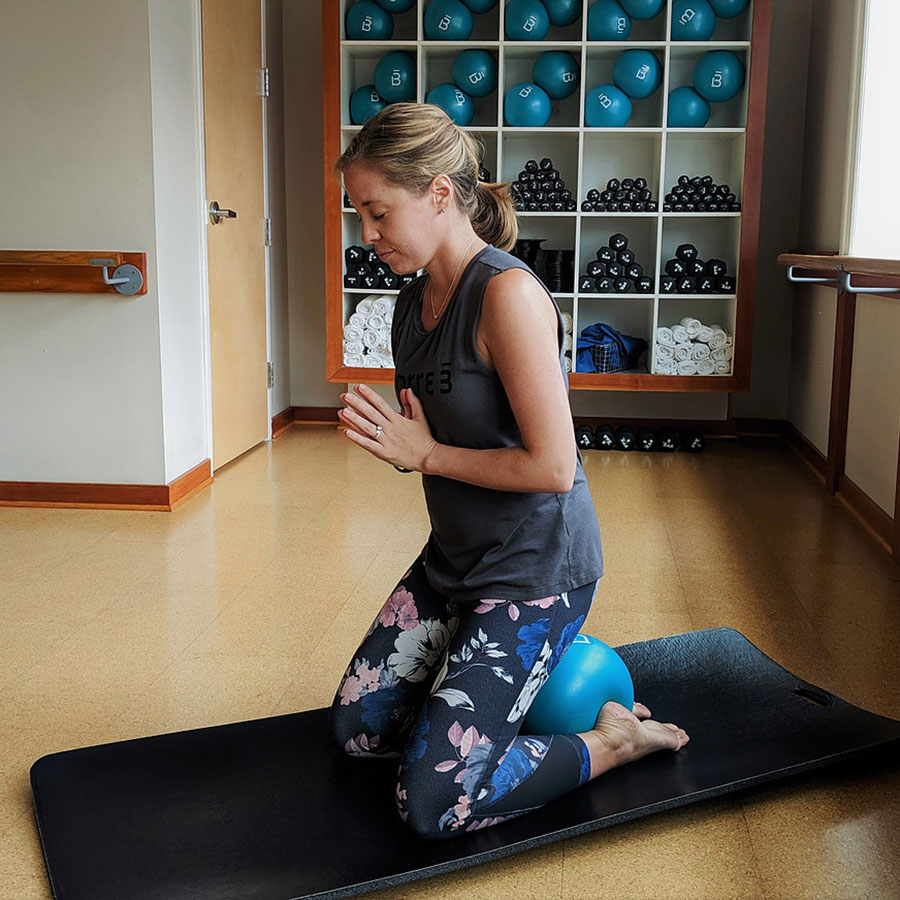 The heel-glute connection is so real!
Instead of working through back pain during lunges, pulses, or other standing "seat" work, try a slight incline and make sure your spine is straight.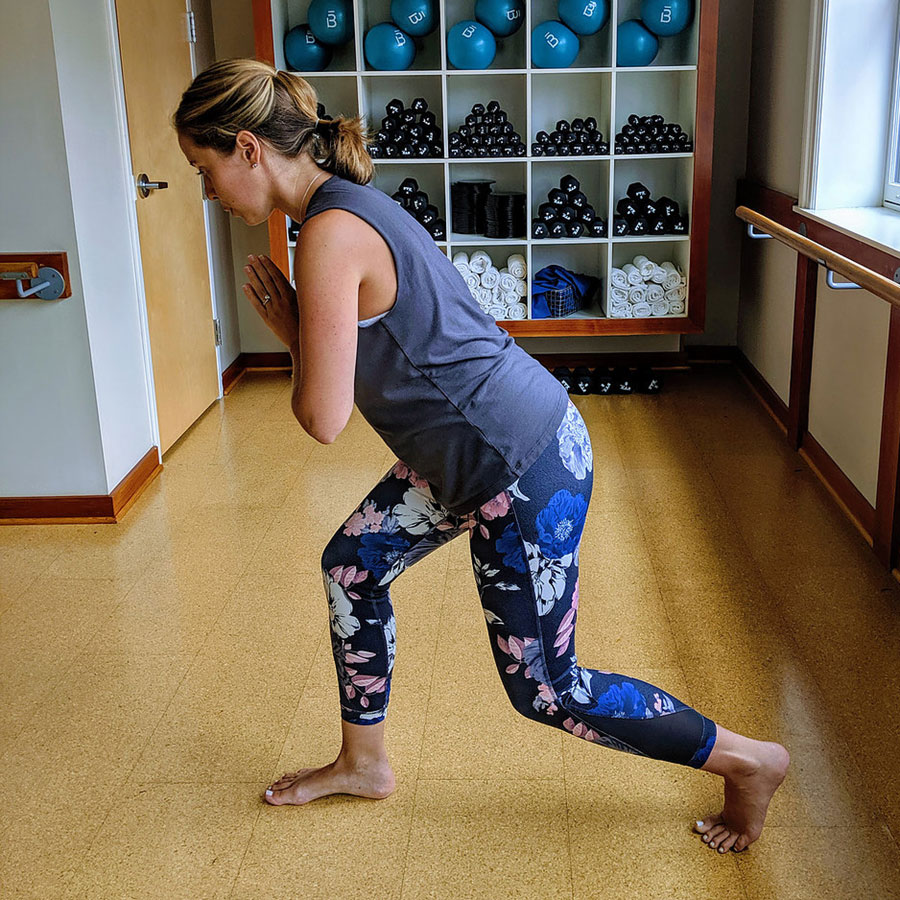 My booty actually burns much faster when I'm tilted both in standing seat work and at the barre than when I try to remain "straight up."
Other quick modification tips that I like to keep in mind:
It's okay to narrow or widen your stance to help with stability.
When a move calls for a big twist, keep it a bit smaller or switch to an open twist or side body stretch instead.
When doing floor work on hands and knees, a slightly smaller range of motion will keep the back from popping and losing alignment.
A great one from Michelle… Props should never be a distraction so much so that you're focused on the prop over the movement. Don't let it hinder you.
Taking breaks, drinking water, and focusing on breathwork is not for the weak.
Lastly, if you're like me, the mentality of modifying might be your biggest hurdle. I've recently caught myself thinking things like,"Do the other women in class know I'm pregnant? What if they just think I'm taking the easy option?"
Girl, WHO CARES?
Katie of Pure Barre Fort Wright said it best, "I always tell my clients that by modifying they are making it effective, not easy.It's quality over quantity and by making the exercise accessible – no matter their situation – we are giving ourselves the full opportunity to see the results we came for." Amen to that! Utilize your "coaches" and their knowledge. They are there to empower and support you as you become more aware of what you need and what you are capable of achieving.
For a full list of modification exercises unique to each studio, see the amazing owners/instructors at our local Quidwell partners The Barre Code Cincinnati, Pure Barre Fort Wright, and Barre3 Montgomery.
Maggie Hauser
With a background in education and event planning, Maggie Hauser obtained her health coaching certification in 2018 while living abroad in Germany. She has worked one-on-one with (virtual) clients as well as piloted a meal preparation service for families. In addition to nutrition and hormone health, Maggie is passionate about reading, fitness and travel. Her greatest adventure yet is that of becoming a first-time mom!