Want to workout with your kid in tow? We've got a place for you!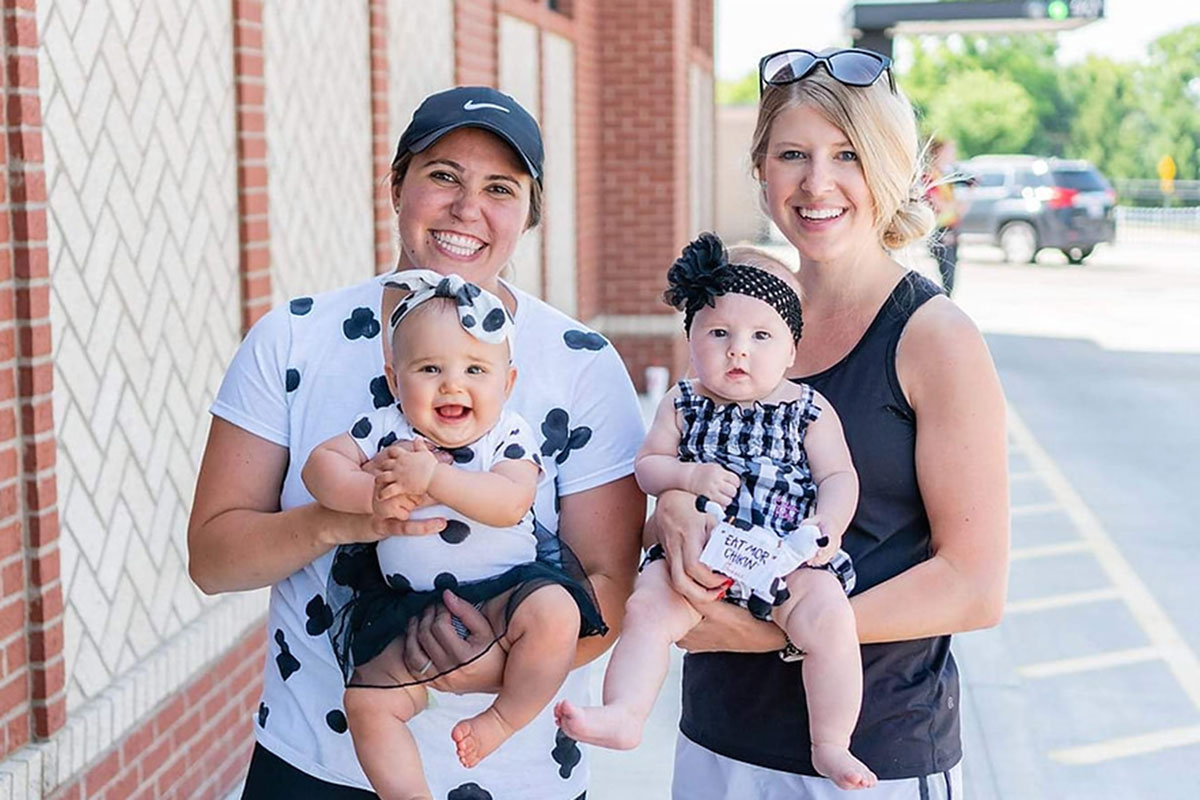 Fit4Mom is a national franchise that was brought local by Colleen O'Connell. Fit4Mom Cincinnati offers a variety of programs for all stages of motherhood. Classes are held across the city both indoors and outdoors. Children are welcome and often included in class (think using the stroller bar as a barre for class). First class is free. As Colleen puts it, "You just show up in whatever state you and the kids are in and we'll take care of the rest."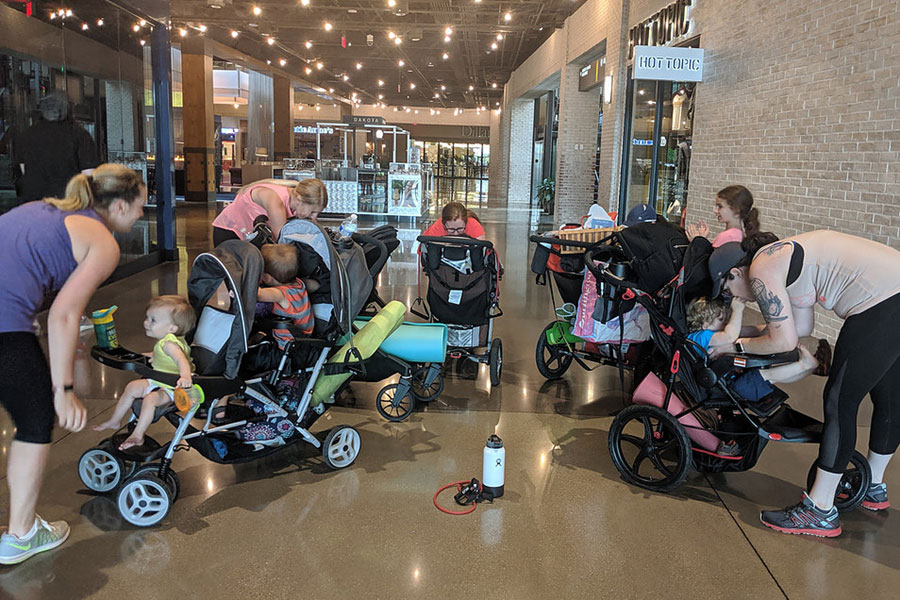 On a hot and sticky July morning, I rolled up to Liberty Center in northern Cincinnati for my first ever Fit4Mom workout class. Not yet a mom myself, the only experience I'd had incorporating kids and fitness was running after – and sometimes away from – my nieces and nephews. The class was called Stroller Strides, which I imagined would mostly be jogging with cute babies and kids around the mall. Well, I was TOTALLY wrong (except for the cuteness factor!).
The class was not only challenging, but the hour flew by as we moved around to different stations with strollers in tow. Our awesome instructor Brittany had the moms in class using their strollers for balance and as part of several circuits. In between ladders, squat work, and shuffling, we incorporated the kids with singing and clapping. They loved it! We had moved inside Liberty Center to beat the heat before the mall opened and it felt like we utilized every inch of the first floor. It was impressive… and fun.
The Background
Fit4Mom began eighteen years ago in San Diego, California. Today, there are over 310 franchises across the U.S… and one in England! San Diego is where Colleen O'Connell, Fit4Mom Central Cincinnati Owner, began her journey. After the birth of her son Jay, she moved back to Cincinnati to be close to family but could not find the same kind of mom's fitness community that she had experienced in San Diego.
"I had been working full-time 60 hours a week, Jay was in daycare and sick a lot of his first year, and I was dealing with some postpartum depression and anxiety. I realized that what I really wanted was a career that was supportive of motherhood; where I could be a mom and spend time with Jay but also be working."
So, she brought Fit4Mom back to her hometown. In May of 2016, Colleen opened her first Fit4Mom location in Montgomery (Weller Park and Swaim Park). As time went on, Colleen added more classes to the schedule and began running programs in Hyde Park (Ault Park) as well as Liberty Township (Liberty Center). As the schedule became more and more full, she hired four more trained instructors to teach and coach.
"I think the best piece for me is including Jay. He's my why; he's my reason for opening this business. He has learned so much; that fitness is fun and a part of everyday life. He's learned social skills from our play groups, how to count backwards and forwards, and the ABCs. Watching the ripple effect on him and the other kids is one of my favorite things."
A (very) close second? Seeing moms connect and make life-long friendships. "Motherhood is very isolating. There's nothing better than hearing the mom chatter before, during, and after classes."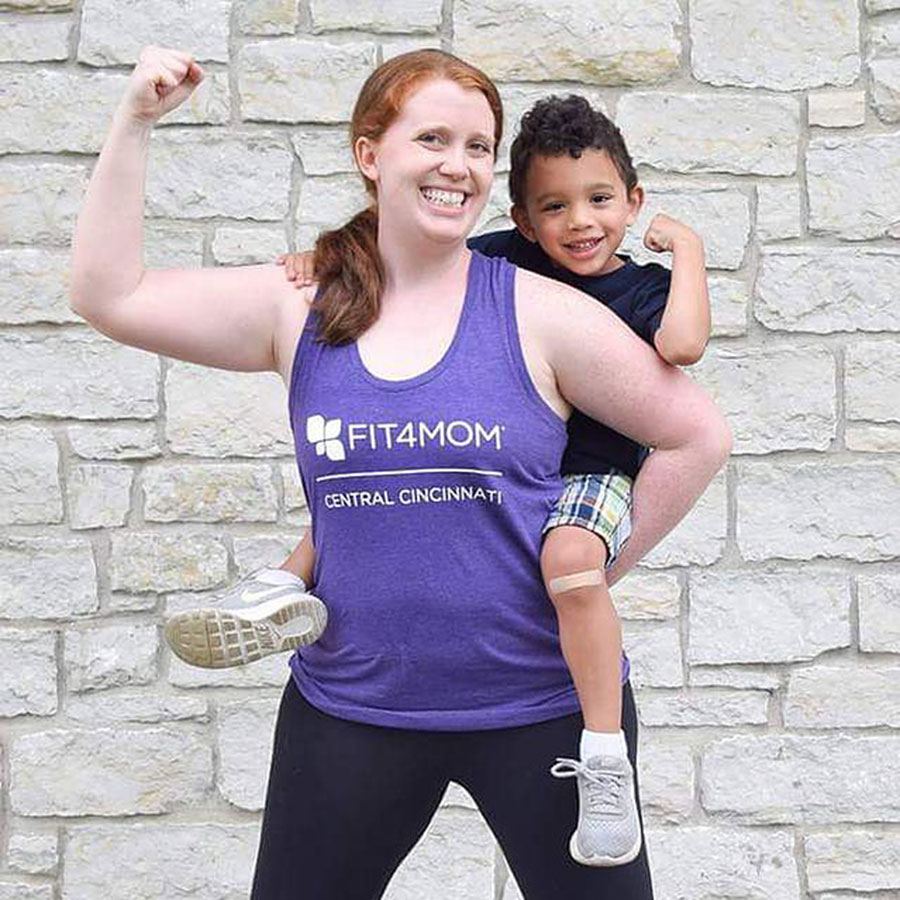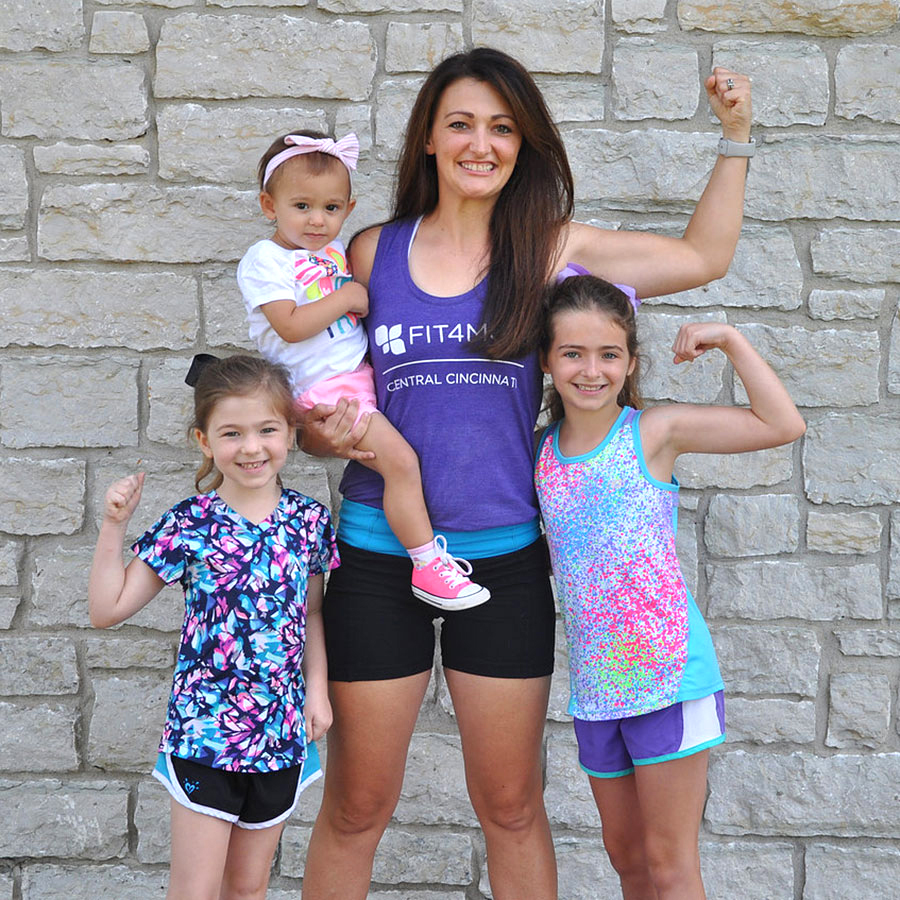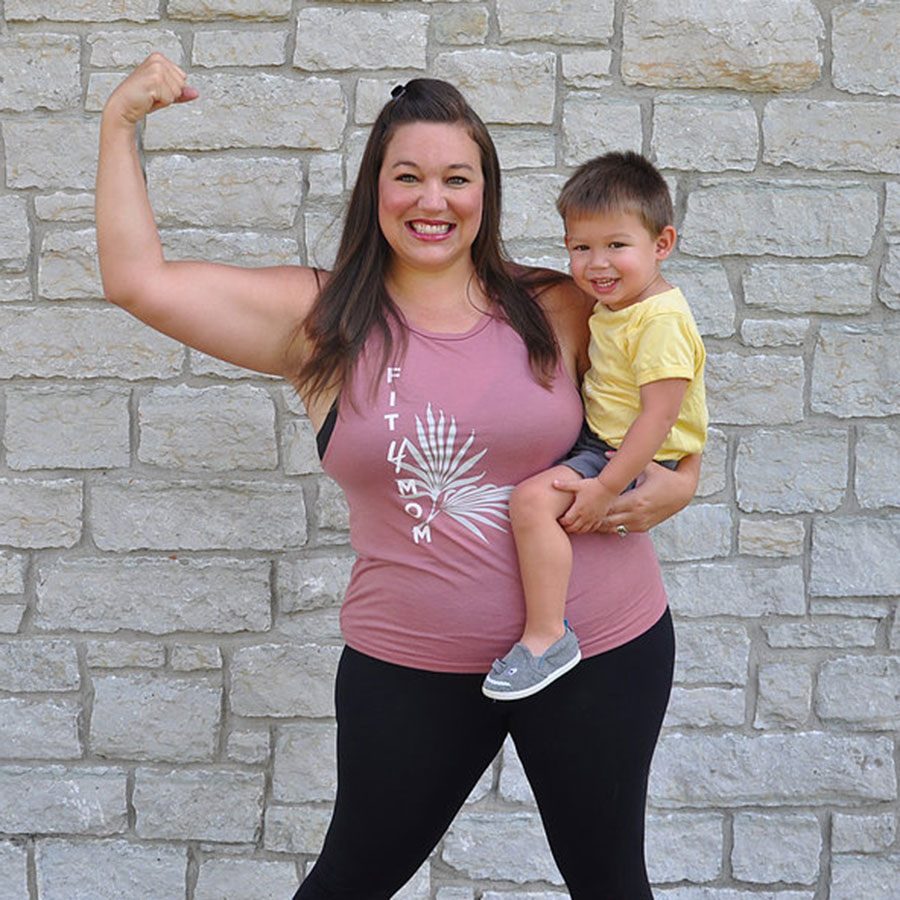 Fit4Mom Cincinnati offers a variety of programs for all stages of motherhood. For prenatal clients, Fit4Baby is an in-person workout with instructors who are all certified in prenatal and postnatal fitness. There is also a virtual prenatal program called MamaWell that takes moms through each trimester of pregnancy plus a post-baby "fourth trimester." The modules include gentle movement, nourishment, healing after birth, and more.
Stroller Strides (what I got to experience!) is Fit4Mom's flagship program. It's a full strength and toning workout that incorporates kids in strollers or baby carriers. All fitness levels are welcome after clearance from a doctor and modifications are available if needed. Stroller Barre is focused on core strengthening and utilizes yoga and Pilates methods. You guessed it: the stroller bar is the barre! And Strides 360 is for speed and agility work. Although it's not on the schedule in Cincinnati at this time, it's heavily cardio-focused and incorporates kids as well.
New moms can check out Body Back: an eight-week transformation program that includes HIIT classes, nutrition coaching, accountability, assessments, and more. This program does not incorporate kids because it is built for moms to hone in on their mental, emotional, and physical health.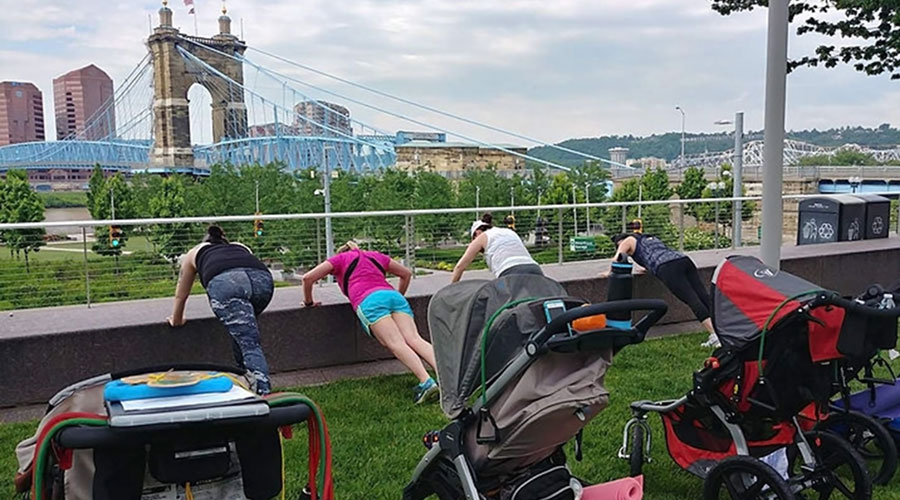 What makes Fit4Mom different?
As Colleen says, "We can take our programs ANYWHERE. We love outdoor fitness. There are so many studies that show Vitamin D deficiency in Moms are linked to postpartum depression. So getting outside in the fresh air is not only good for the kiddos, but it's incredibly important for moms too." All Cincinnati locations have both outdoor and indoor options, so there is always a safe and effective place to work out in every season.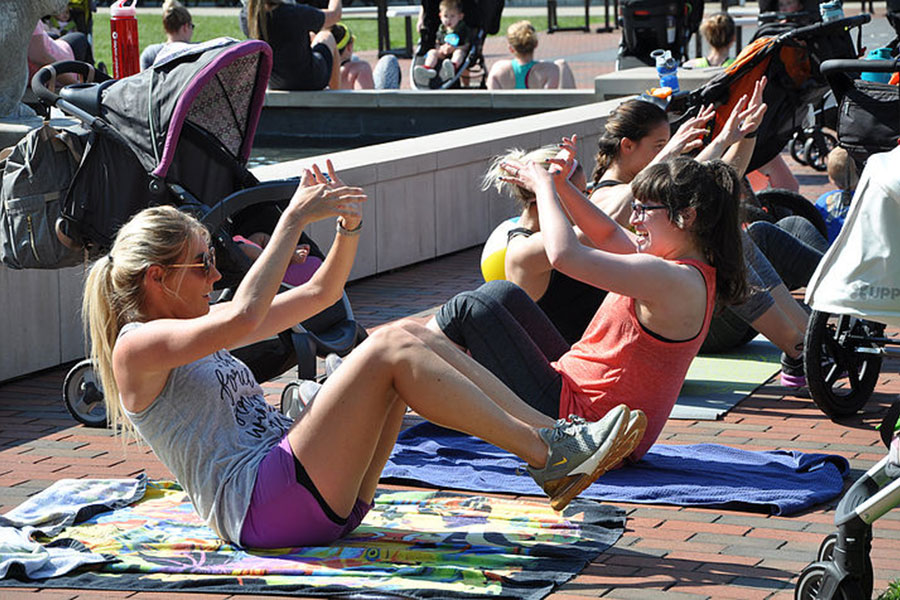 Aside from fitness classes, each location hosts a weekly play group, a Mom's night out event once a month, and a family community service event every quarter. In the past, the Fit4Mom community has worked with Ronald McDonald house and Matthew 25 Ministries. Their Facebook group serves as a communication tool and also a great resource hub for questions about things like potty training, pediatricians, and even pedicures!
"Our group is so welcoming and non-judgmental. If you roll up on NO sleep whatsoever, everyone gets it. If you need to stop during class and change a blowout or feed your baby… no one bats an eye."
Sign up online, moms. The first class is always free! All memberships and class packages were built with flexibility and family in mind. There is a wide range of month-to-month membership options, including a maternity leave package and a teacher package.
"As a brand new mom, navigating motherhood is challenging. It's trying to figure out how to add your health and wellness into a life that is now taking care of a little person 24/7. A lot of moms get nervous about taking their kids to kidcare or finding someone to watch their kids for them to workout. We take that out of the equation. We want to make it as easy as possible to get out of the house. You just show up in whatever state you and the kids are in and we'll take care of the rest. Whatever it is that you need that day; whether that be socializing and talking to other adults instead of a little person OR an hour where you don't have to talk to anybody and you can just sweat it out!"
And let me tell you, I left with more than a little sweat. Thanks, Fit4Mom, for showing me the many benefits of incorporating health and fitness directly with your kids!
Maggie Hauser
With a background in education and event planning, Maggie Hauser obtained her health coaching certification in 2018 while living abroad in Germany. She has worked one-on-one with (virtual) clients as well as piloted a meal preparation service for families. In addition to nutrition and hormone health, Maggie is passionate about reading, fitness and travel. Her greatest adventure yet is that of becoming a first-time mom!