We did it. We went back to CrossFit. This time, a place in Symmes Township that is new to the scene and came highly recommended by one of our buds, Drew.  
If you are unfamiliar, CrossFit is an exercise philosophy and a competitive fitness sport. It incorporates modalities from high-intensity interval training, plyometrics, Olympic weightlifting and powerlifting, gymnastics, etc. There are over 13,000 gyms in affiliation, and is known for being… intense. So, when we agreed to check out another crossfit gym, we did so for the sake of the article, but were frankly a bit frightened and intimidated. Our nervousness and fear quickly fell away as soon as we walked through the doors.
The Background
What we knew going in: Sonic Boom was opened by a married duo, Shane and Shannon Noteboom, both collegiate soccer players at Westminster College. Shane dove right into training athletes after graduation and began coaching CrossFit in 2018. Both of them turned to CrossFit for the community (we hear this time and time again). It makes perfect sense: you get a bunch of motivated, driven people in a room and friendships blossom.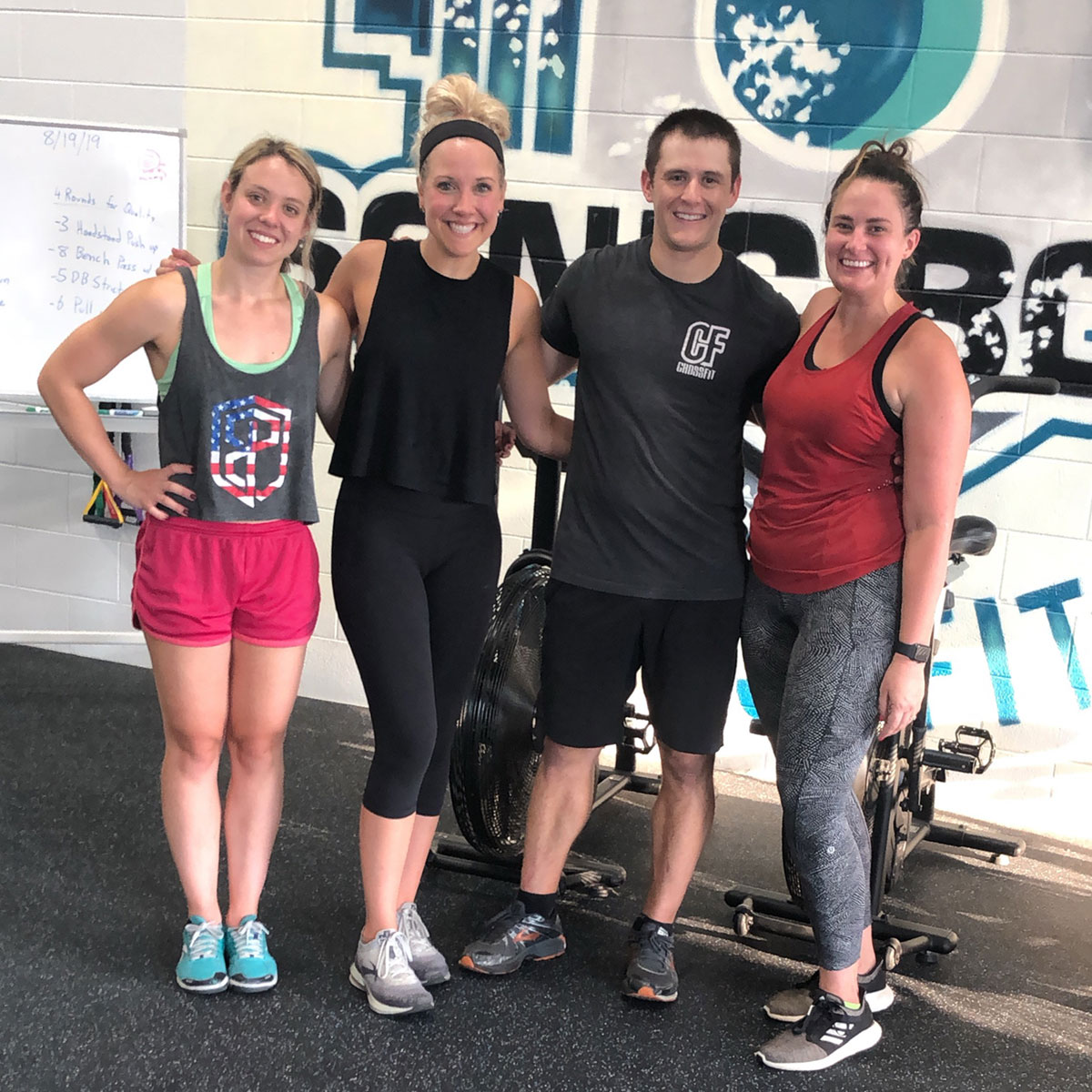 What to expect
What we didn't know heading into Sonic Boom was how thorough of a job Shane takes getting to know each and every person that walks through the door before allowing them to even hit the gym floor.  
When you first come to Sonic Boom, you sit down with Shane for a one on one consultation so that he can get to know you better: What brought you there? What are your goals? What are your strengths/limitations? Experience level? If you're new to Cross Fit, you'll first need to sign up for 3 introductory classes to learn the foundational movements. You'll also do a complimentary consultation with their in-house physical therapist. Once you have your meeting, consultation, and attend your 3 intro sessions, you are then assigned an ambassador (another member) that partners up with you as you hit the floor for your first workout!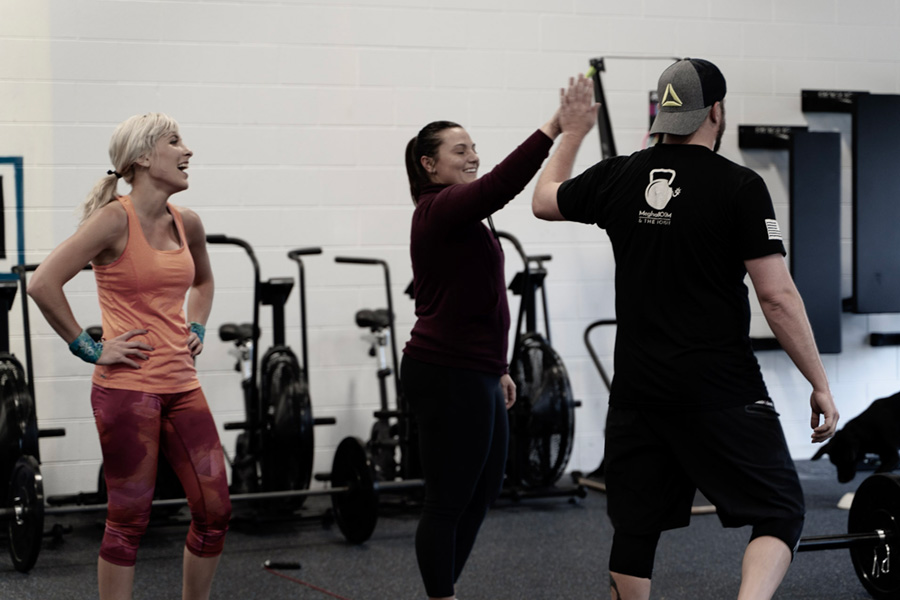 The notes from Shane and the PT are put into their system so that when you sign up for a class, the coach knows exactly who is walking in and how they need to tailor their workout that day. When we were there, there was one gal who came in with an issue, and the coach had her doing a completely separate workout than the rest of us. Talk about personal attention. They also have a stretch/romwod room where people can do some stretching before or after class (or on an off day). 
Our Experience
Lucky us, we hit them on a day where the WOD (workout of the day– it's a CrossFit term) was focused on running, or what they called, "Run for Fun".  And it was approximately 90 degrees outside, with 90% humidity. Yummy. After a thorough warmup consisting of dynamic stretches, we hit the pavement and made it through 5x timed 400 meter runs at 80% with a 1-minute break in between. And that was just the first half of the workout. 
The rest of the workout was focused on performing quality reps of strength exercises. We did pull-ups (banded for these gals), seated overhead presses with free weights, free weight bench press, handstand pushups (we just held a handstand against the wall which was a feat of its own!). Each of these exercises could be (and absolutely were) modified.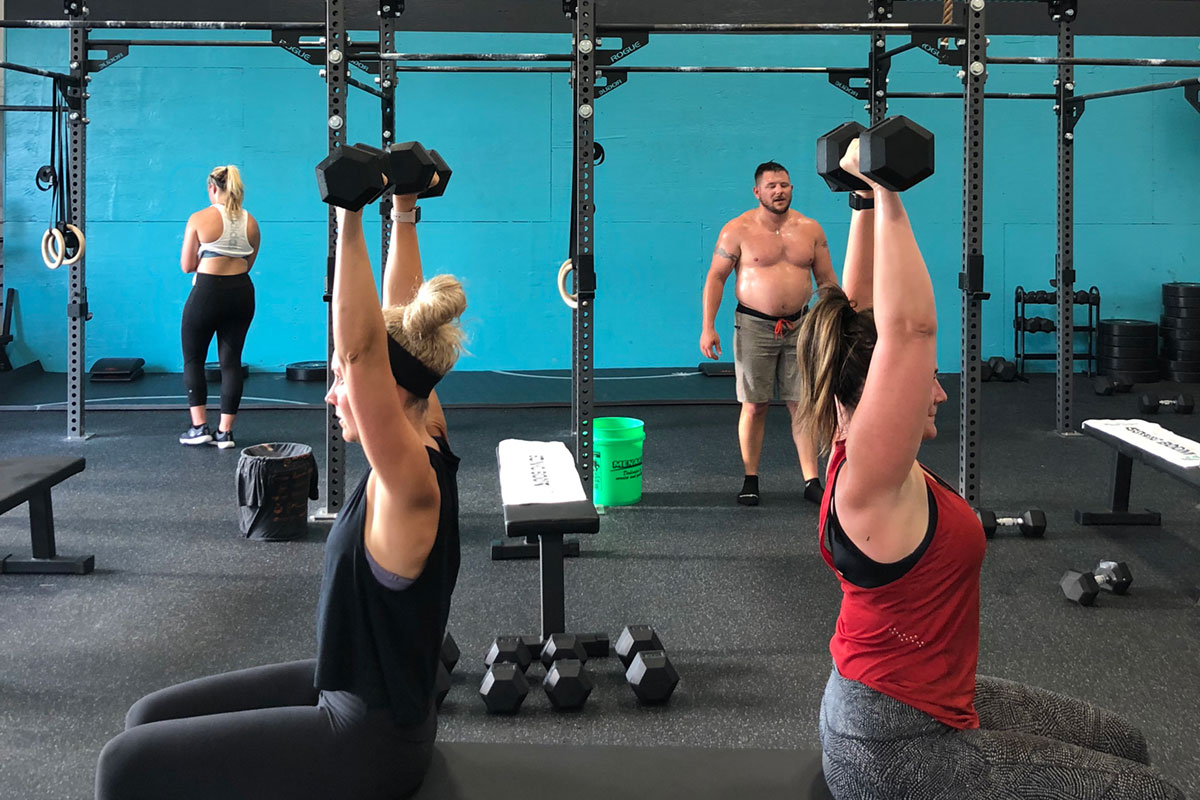 Fine Details
It was a heck of a great workout. Despite not being 'crossfitters', I think we did great and I would totally come back to Sonic Boom again and again. The class was small (about 8 of us), so Shane was able to give us hands-on coaching. I'd recommend Sonic Boom Crossfit to anyone who is looking to get into CrossFit for the first time (that introduction is pretty unique), or to anyone who wants a bit of a more intimate setting. They have great space, but it's definitely smaller than most of the other CrossFit gyms that I've seen (in the best of ways). Visit their website (https://www.sonicboomcrossfit.com/)  to learn more, and to schedule your initial consultation.
Molly Davis
Molly Davis is the co-founder of Quidwell where she assists women in finding their personalized version of health. Outside of Quidwell, she is an account manager for a local boutique social media agency where she helps businesses grow through creative practices and influencer marketing partnerships. A self-diagnosed fitness junkie, it's hard to find a fitness class that Molly does not enjoy: from boxing to weight training, dance to yoga. In her spare time, you'll find Molly bopping around town to various studios, hanging out at a local coffee shop, or exploring the latest restaurants with healthy eats.