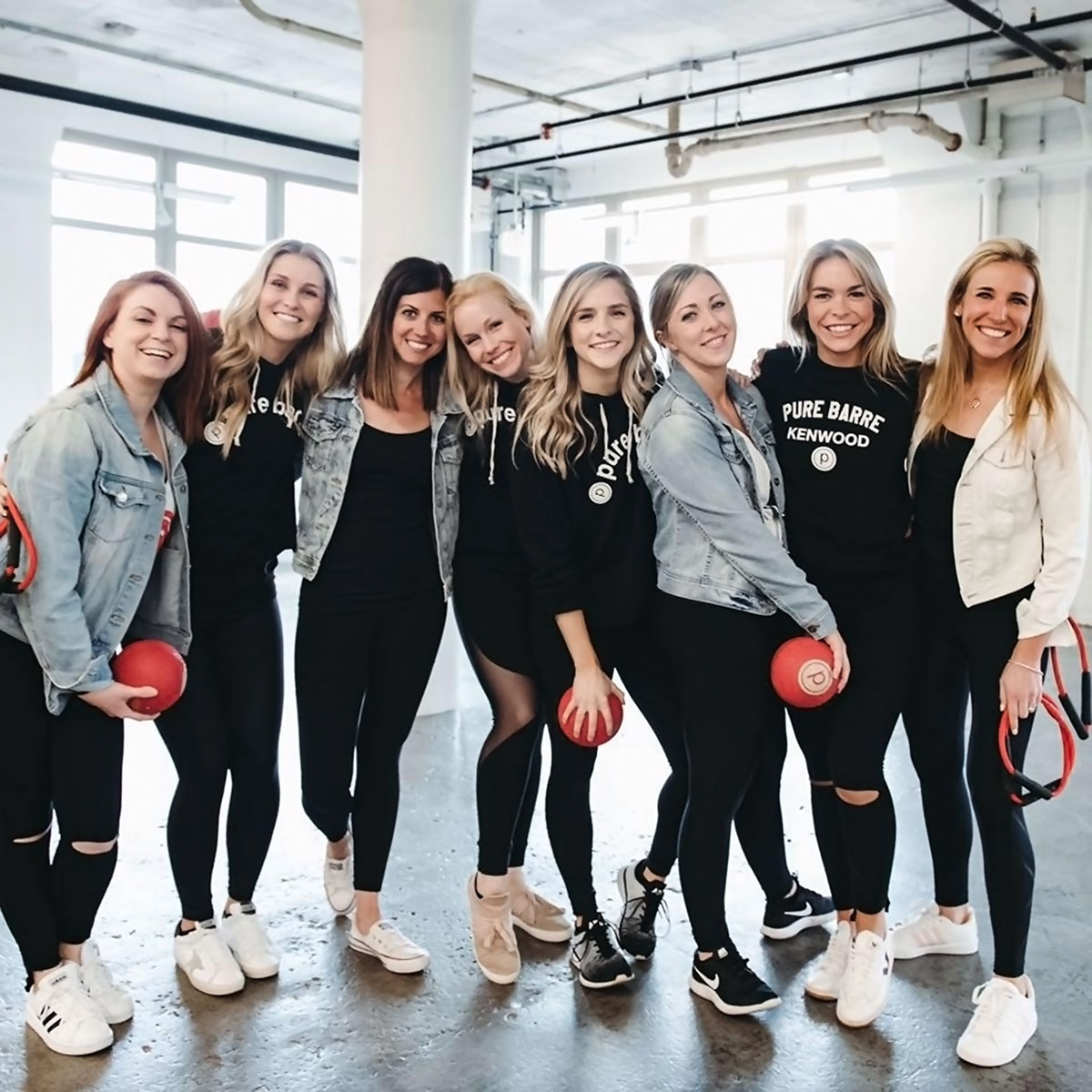 Real talk. How many times have you been guilty of scrolling through Instagram, coming across someone you follow and thinking "man, they have it all, they are so perfect, life must just be great for them." I'm going to go ahead and make the bold assumption that we have *all* had a similar thought at one point in time. For me, that person was Anna Rose, owner of Pure Barre Kenwood. She's successful, young, absolutely gorgeous, and is constantly posting pics of her adorable pups and her fun travels. So, when I had the chance to *finally* come take one of her Empower classes and sit down for coffee with her after, I was floored by the reality of her story, and somehow walked out of there adoring her even more than before.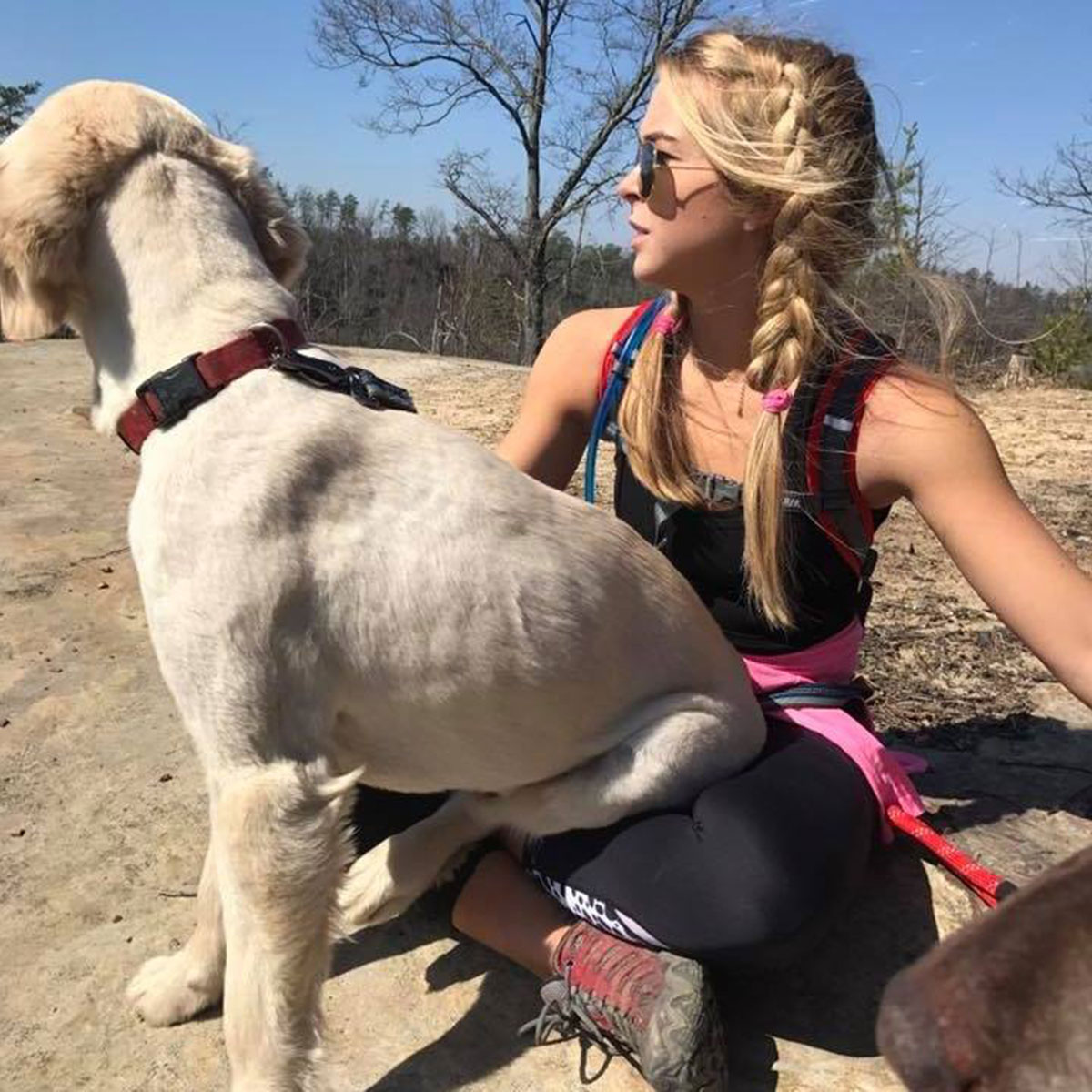 Back up. Let's talk about the class.
Pure Barre is and will continue to be one of my O.G.s. It was the first boutique group fitness class that I ever took, and every time I go, I am continually amazed by their ability to reinvent themselves by adding additional formats, change up class structure daily to challenge frequenters, and garner fast results for their clients. Anna's Empower class was no different. Their Empower class is a twist on their traditional barre class, incorporating a platform step, and ankle weights. Let's just say that if you are looking for booty gains, search no further. My glutes were sore for days after.
"Pure Empower is a cardio-centric total body workout, where our Classic technique meets dynamic strength training to create a high-intensity barre workout."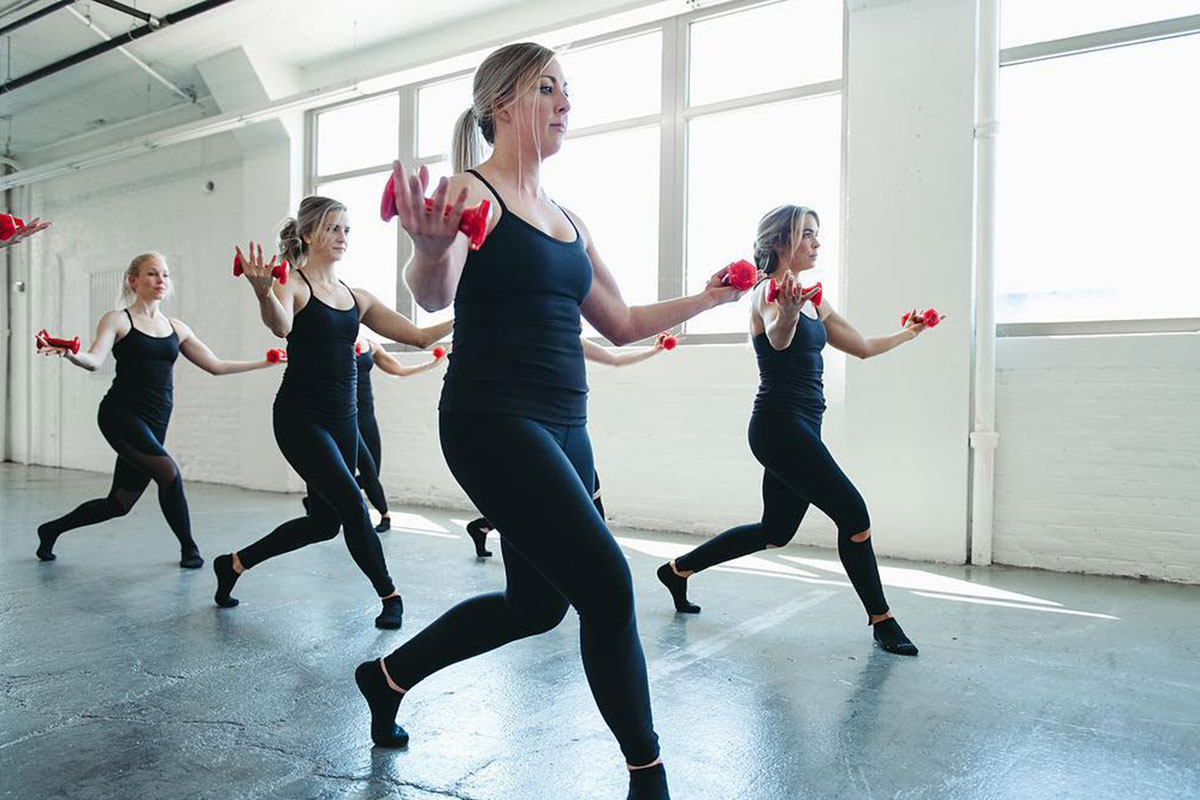 To quote the site: "Pure Empower is a cardio-centric total body workout, where our Classic technique meets dynamic strength training to create a high-intensity barre workout. Our 45-minute Empower class blends Pure Barre Classic with cardio-centric movements using ankle weights and a small step bench to elevate your heart rate and improve cardiorespiratory fitness."
The Gal Behind The Barre at Pure Barre Kenwood
Like myself, like so many of us, Anna has been through some shit. But what amazed me most was her ability to maintain her cheerful, positive outlook on life. When I asked how she does it, she shared that it was Pure Barre and the community she has attracted in the studio that got her through her darkest of days, and that continue to lift her up during hard times.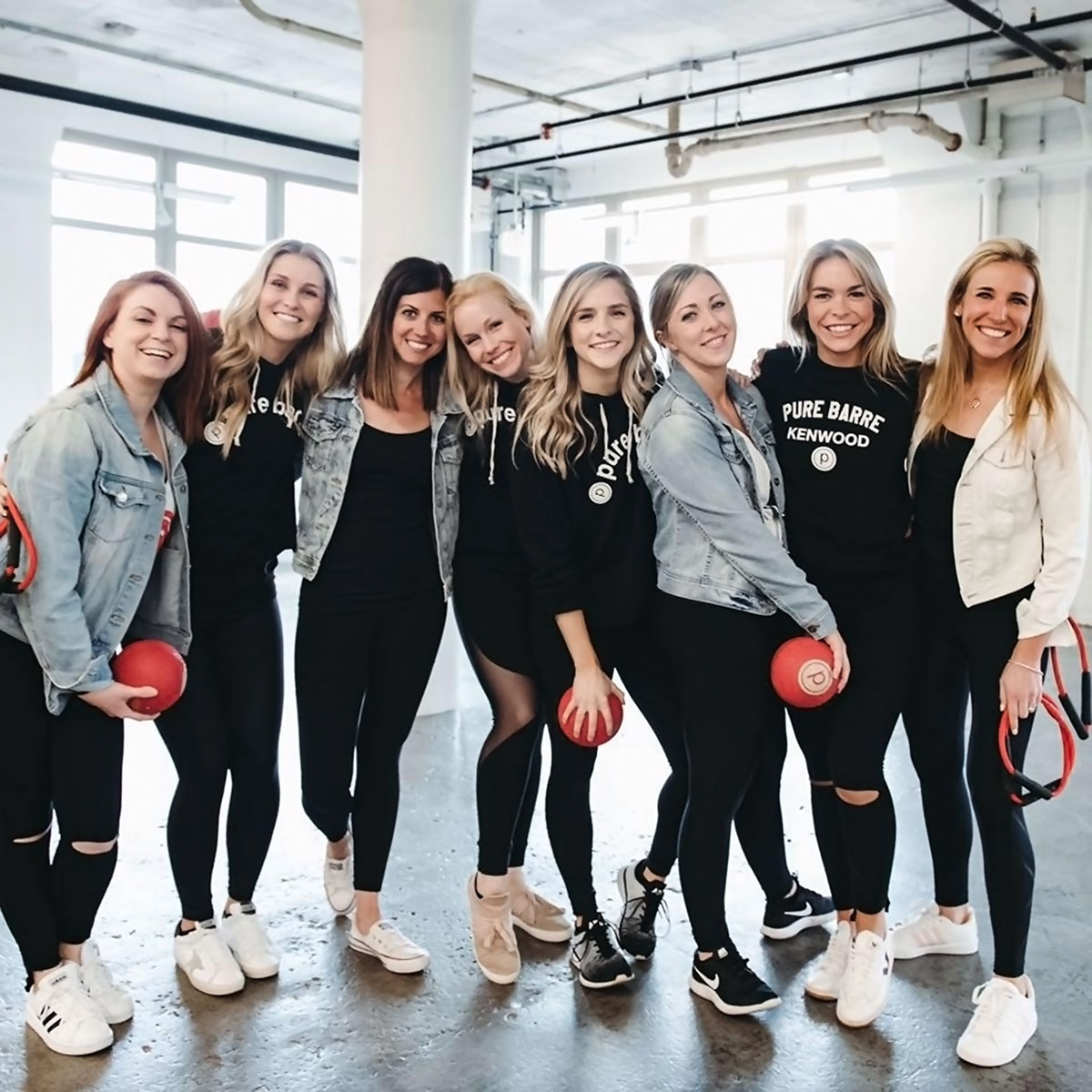 We all know that "exercise creates endorphins, and endorphins make us happy" (Elle Woods), but you need so much more than a good workout to get you through. It's evident that group fitness, and in this case the community at Pure Barre Kenwood, has the ability to connect people and create friendships and bonds that are real. Anna credits her PB community for helping her maintain her naturally bubbly, optimistic personality. You can truly feel the love amongst these women when you walk through the doors.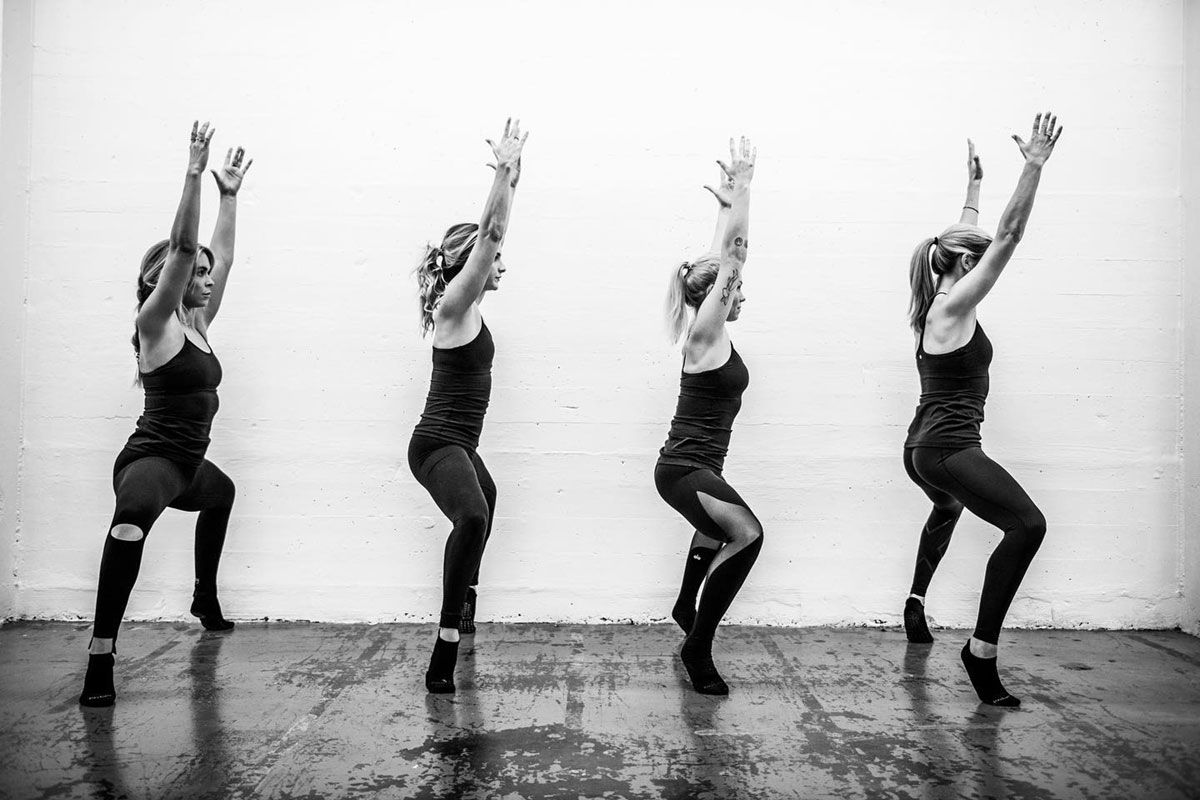 Our Experience
Nestled in the back of the building, the studio was unexpectedly more secluded than I thought it would be, being right in the heart of everything on Kenwood Road. When you walk in, the first thing that hits you? The gorgeous athleisurewear almost too cute to sweat in by brands like Alo Yoga and Beyond Yoga. If you can make it past these racks, you are then hit by the adorable smile of (in our case) Anna herself. It's so clear that Anna Rose was BORN to be a Pure Barre studio owner. She makes you feel welcome and special and it's no wonder she has attracted such a loyal community of women.
When we entered the studio space, it was buzzing. Women were chatting while stretching, greeting each other as they walked through the door, and gathering all the equipment needed (for the empower class, you need a platform and ankle weights). The class was full, and Anna glided us through a seamless 45-minute class that exacerbated nearly every muscle in my body.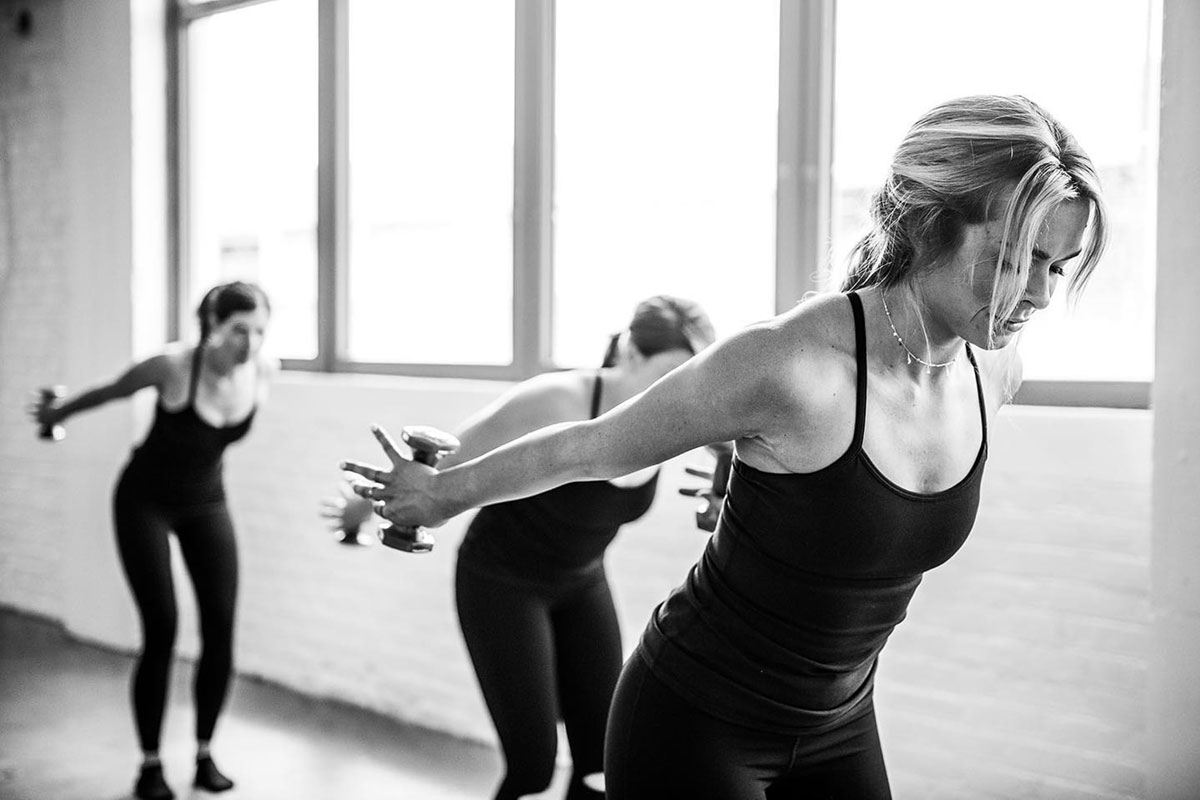 What to expect
As for all group fitness classes, we always suggest showing up at least 15 minutes early to fill out all paperwork, get a quick tour of the space, tuck your things away, gather your equipment, find your spot in the class and grab a quick stretch. For the empower class, expect to move more than a traditional barre class, and to really test your strength and endurance. The ab sequence was long (in a good way) and your booty will burn from utilizing the platform for squats and lunges. Fair warning.
Tips to make your first class a success
Wear leggings or tighter fitting pants, and a more fitted top so that the instructor can help aid you in engaging the correct muscle group.
The studio is tucked behind the building, so pull in to the right of the building and drop down to the back and you'll see the entrance.
This studio in particular you should NOT feel intimidated about going solo. I mean it. Everyone is SO friendly and accommodating. You won't feel awkward or confused as a newbie. But fair warning, many of the gals in my class look like models, which in my case encouraged me to keep holding plank more than anything.
This class would be good for you if you are looking for a full body workout that is low impact, you like the thought of not leaving a class in a pool of your own sweat (although you will sweat more than your traditional barre class), and you like the community aspect of group fitness.
If you are brand new to Pure Barre, we recommend starting with their Free Foundations Class, which will break down the movements for you. Speaking from experience, the first few classes you take you will most likely not "get it". This foundations class will speed up the education process allowing you to get straight to business and feel the effects after a few classes.
To take your first class, or find out about membership options, visit their website here.
Follow Pure Barre Kenwood on Instagram and on Facebook
Molly McCafferty
Molly McCafferty is the co-founder of Quidwell where she assists women in finding their personalized version of health. Outside of Quidwell, she is an account manager for a local boutique social media agency where she helps businesses grow through creative practices and influencer marketing partnerships. A self-diagnosed fitness junkie, it's hard to find a fitness class that Molly does not enjoy: from boxing to weight training, dance to yoga. In her spare time, you'll find Molly bopping around town to various studios, hanging out at a local coffee shop, or exploring the latest restaurants with healthy eats.