Overcoming Fear with Purpose: Jess and Bassey COVID Diaries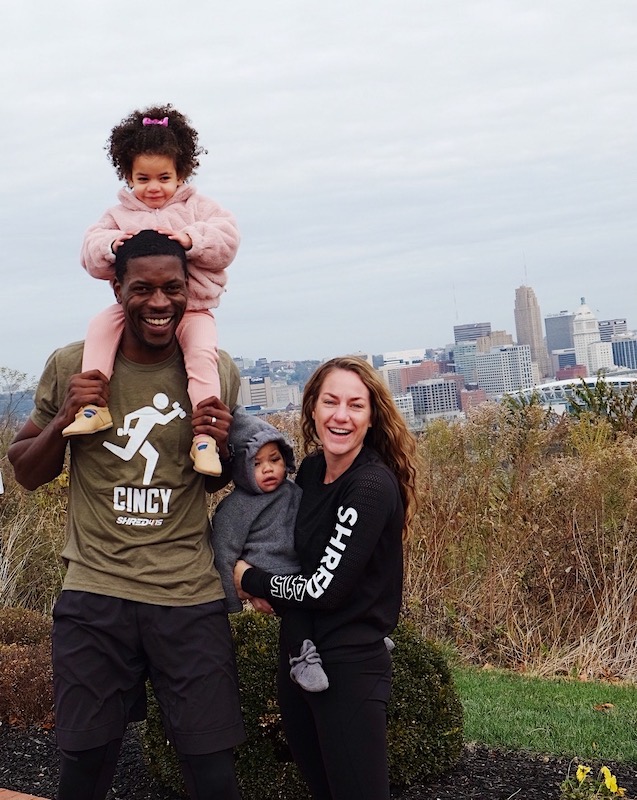 This post is part of a series titled, The Quidwell COVID Diaries. This series shares real life stories of Cincinnatians during this time: the good, the bad, and the ugly so we can all hear and share what individuals across our city are experiencing.
We're Bassey + Jess Eno-Idem, we live in Hyde Park, and we are currently quarantined with two toddlers while both working from home.
Our days start early with the kids as we've tried to be intentional in maintaining a routine. Finding a balance of family while doing our full-time jobs from home has been the biggest change for us.
Since the start of the lock down the routine we like most is dinner as a family and wrapping up the day with an evening walk. Once our kids are in bed, we start our other job, opening up Shred415 Redbank.
How are you feeling right now?
We are hopeful, scared, and thankful for our health, jobs, and family.
What's been the biggest challenge?
Opening a business in the midst of a pandemic. Fear has been the biggest hurdle, it's powerful and we quickly lost sight of our why in the first week. It felt suffocating and took our power. We have since leaned into our faith, values and community to keep us going.
Where are you finding joy?
Being present and watching our children. They only know happiness and love, so they bring us joy every day. Also, this community we are surrounded by… we know they want us to win and that fuels us.
How are you staying healthy? Mentally and physically?
Balance of home cooked meals and moving our bodies. Mentally the work is within meditation, focused on being present and talking through our fears, concerns, and 'what if's'.
A favorite moment of quarantine?
Deeper connection with our neighbors, they are our family right now.
Meriden McGraw
Meriden McGraw is the co-founder of Quidwell where she works to optimize the health of women. Outside of Quidwell, Meriden combines her master's level education in mental and public health with her training in mind-body modalities to teach individuals and groups techniques for optimal wellbeing. Meriden holds various certifications in pranayama (breath techniques), positive psychology, mindfulness, and yoga. On an average day, Meriden can be found practicing yoga, drinking kombucha, dragging her husband to strength training workouts, and taking her pup for a walk.