Hitting a Food Wall? Try these Make-Your-Own Recreations of Fast Casual Spreads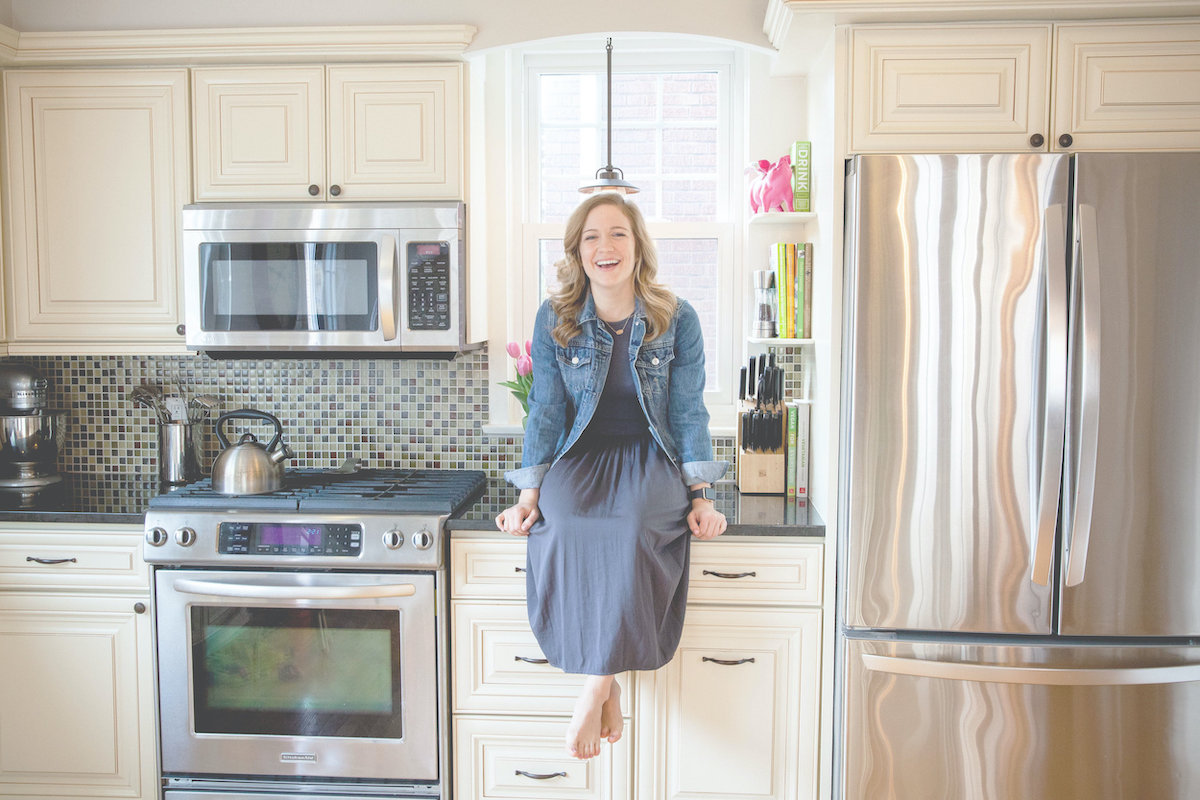 Hitting a food wall? Facing a meal prep rut? Really not sure what to "make" anymore? Feel like your carryout rotation has been exhausted…?
I got you. Lately, my new favorite thing to resurface in the kitchen has been at-home, make-your-own recreations of fast casual meal spreads. I'm talking Bibibop Asian Grill, Chipotle, Panera, and most recently, coming up soon…Aladdin's Eatery.
I would be lying through my teeth if I said any of these renditions were "just the same as" or "even better" than the in-restaurant delights, but I can say that they have provided several things:
A source of entertainment/activity for myself and my family (even if that family consists of me, Johnny, and a cat)
A unique challenge when I realize we ran out of dressing ingredients and I have to get creative with olive oil and a few spice blends
A sense of achievement when i do get the nod of approval and request to "please remember this recipe"
Here are a few that have gotten the #3 designation and will absolutely be making our rotation again soon:
Panera's Salmon Berry Salad
(TBD on the actuality of this as a real Panera menu item, but if it isn't, it should be…stat)
Serves 2
2, 3-4 oz pieces of wild-caught salmon
1 tsp dijon mustard
1 tbsp soy sauce or liquid aminos
1-2 tsp brown sugar
4 cups baby spinach or mixed greens
1 cup Brussels sprouts, shaved or finely chopped
1/2 cup mixed berries
1/4 cup mozzarella or feta cheese
1/2 avocado, chopped
Handful of crackers, crumbled or slivered almonds
@clevelandkitchen beet dressing (or a similar berry vinaigrette)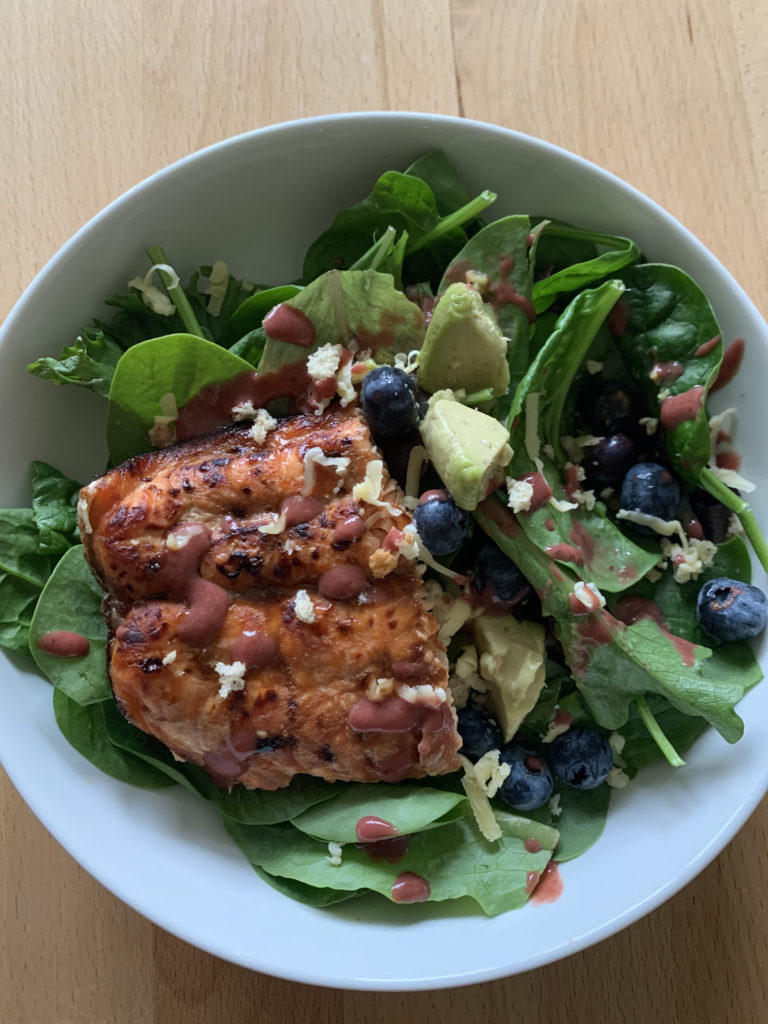 Lightly brush the salmon pieces with the dijon, soy sauce and brown sugar. Air fry for 10-15 minutes until it has reached desired doneness. Combine the remaining ingredients, add salmon and crumble crackers or almonds to complete!
Bibibop Pork Noodle Bowl
Serves 2-3
1-2 pork tenderloins
1 tbsp olive oil
Salt and pepper to taste
2 cloves of garlic, minced
1/4 cup soy sauce or liquid aminos
1/4 cup brown sugar
1/2 cup water
1 tbsp corn or arrowroot starch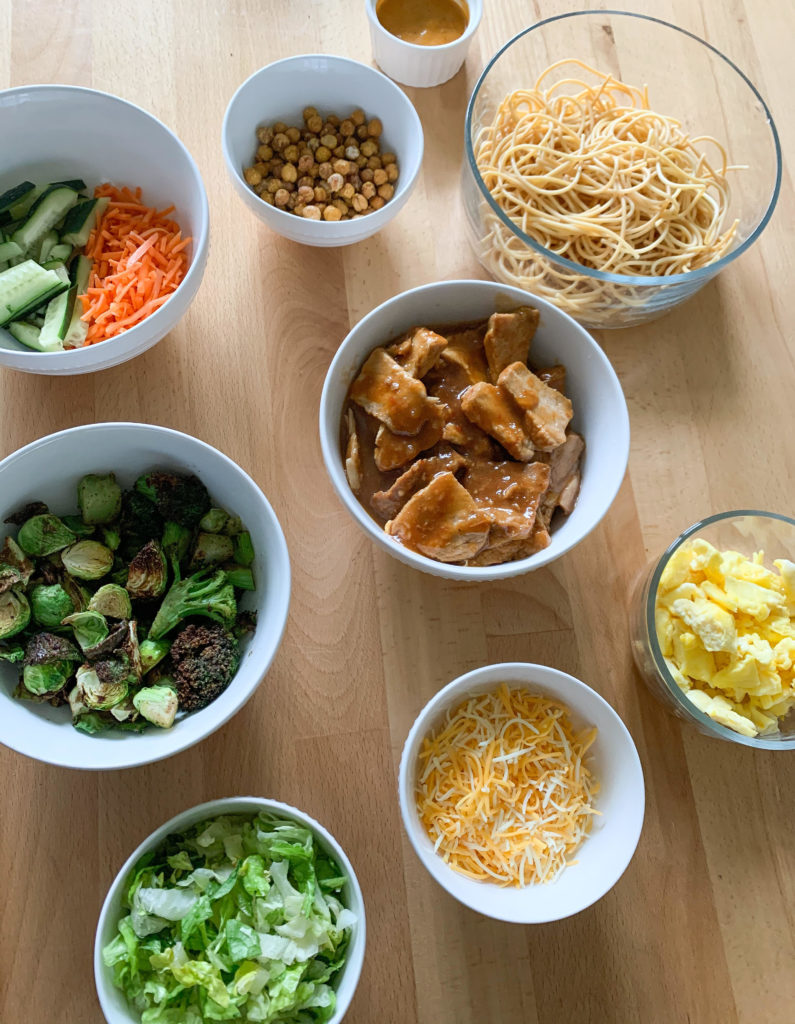 Saute pork in a bit of olive oil either over the stove top on a cast iron skillet or in instant pot in the oil with an even dusting of salt and pepper. Finish cooking either in the oven or instant pot in the mixture of garlic, soy sauce and brown sugar (oven for about 20 minutes and instant pot for 15 minutes on manual). Once cooked to temp, stir the corn starch in the water until dissolved, mix with pork chop mixture to thicken the sauce and complete the dish.
Serve with cooked noodles (we like the chickpea flour Banza pasta spaghetti!), chopped lettuce, sliced carrots & cucumbers, roasted broccoli, shredded cheese, pickled onions or saurkraut/kimchi, and a bit of scrambled egg!
Walking (Turkey) Taco meets Chipotle
To make: I followed an easy ratio 1lb turkey to 1 cup salsa (or use tomato sauce!) in the instant pot —  saute the meat in 1 tbsp oil + 1/2 cup chopped onion & 1 tsp minced garlic, add in 1 cup of salsa + 1 tbsp of your favorite taco seasoning — set on manual/high for 8 minutes.
While that was cooking, I rotated between the fresh/frozen/canned items on the grill pan (lightly coat or spray the pan and set to medium-high heat on the burner) — first up, frozen corn. A breeze. And to think, this was the first time I actually used Trader Joe's elote corn seasoning to season corn. Next — canned PINEAPPLE. Grilled/charred/perfectly carmelized and still juicy. Finally, fajitas with fresh sliced peppers and onions; also carmelized to perfection giving this dish the right amount of kick and savory flavor you're looking for.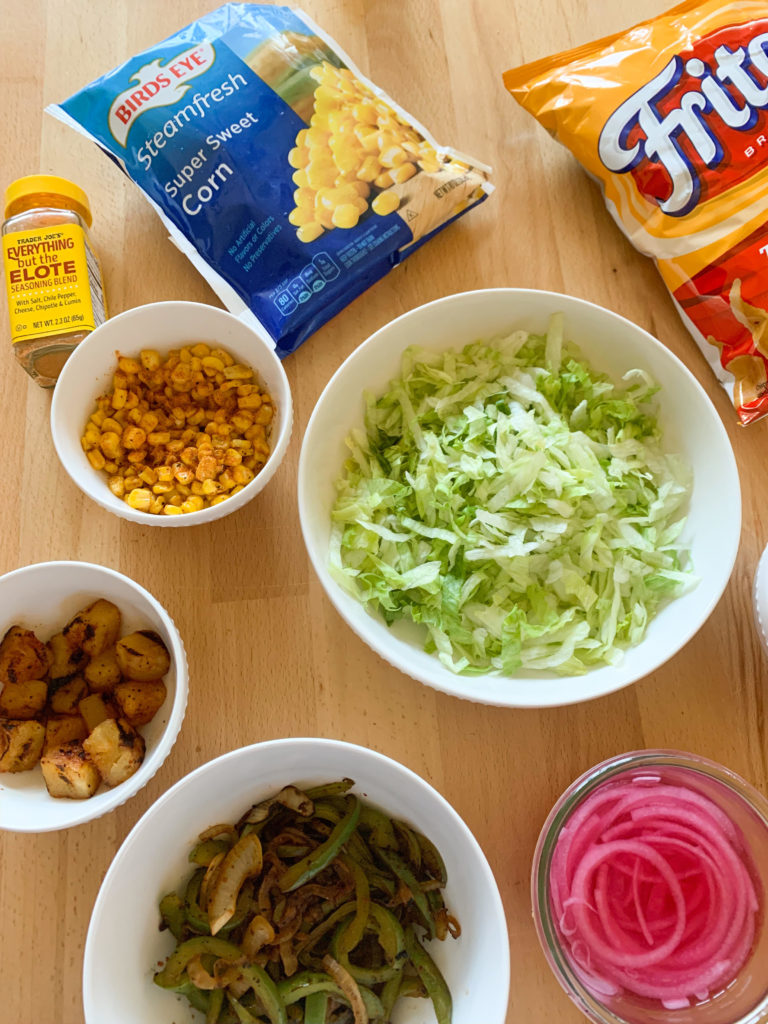 Layer: fritos (in or out of bag), greens/lettuce, turkey meat, fajitas/onions, grilled frozen corn + elote seasoning, pickled red onions, green verde hatch salsa, pickled red onions, grilled pineapple (total #gamechanger!!), and shredded cheese — I forgot the extra guac, but use your imagination & improvise appropriately.
Now that you're fully drooling and ready to add these to your upcoming dinner menus…I know what you're thinking —  these dishes might sound a bit "involved" or like they have a lot of ingredients…ok maybe…but I promise the multitude of ways you can use them is limitless!
Plus, when you expand your repertoire and dip into frozen or canned options for things like frozen corn or broccoli and canned tomatoes and salsas, you won't feel like you're breaking the bank (or your fridge door) on the overwhelming amount of fresh items you have to use up in a few days time!
The best part?? These "buffet" style dinners are a surefire way to avoid the "I feel like I'm cooking a different meal for everyone" game because each family member can mix and match their favorite items — now that's a win 😀
Kayla Hansmann
Kayla Hansmann is a local dietitian and fitness instructor working with individuals one-on-one, in corporate worksite wellness, as well as various community settings. With experience from Cincinnati Children's Hospital to adult chronic disease management, she is focused on providing comprehensive and personalized nutrition to all individuals in various stages of life to achieve their personal goals and best state of health. Kayla has written and spoken on various nutrition topics in her personal blog, Cincy Fit Foodie, as well as Whatthefit, Cincy Lifestyle, Youcanpoundthis, and more! -- she loves making the world of food creative, realistic, and fun (with a lot of corny puns along the way)!