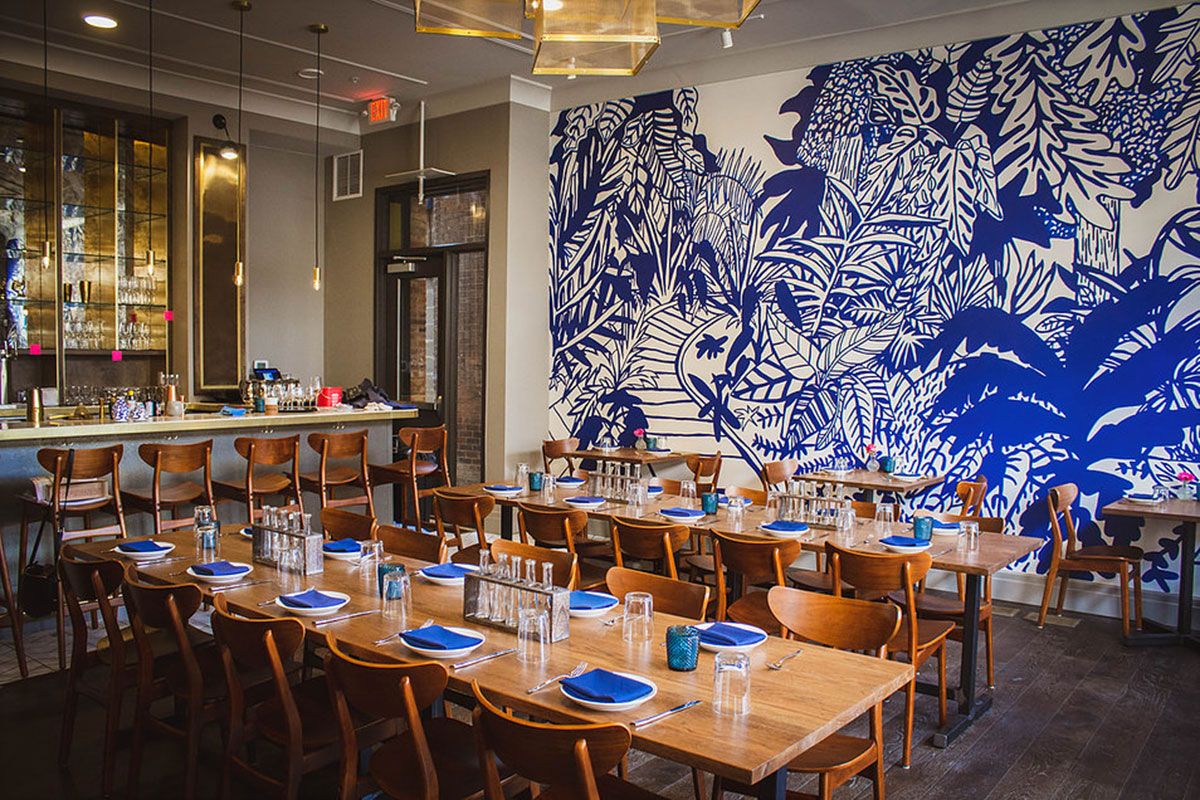 Social O.T.R is a restaurant across the street from Findlay Market that serves up herb topped Aperol Spritzes, seasonally fresh heirloom salads, perfectly cooked pork belly and a heap of social change. Social O.T.R. is a workforce development restaurant. In conjunction with a local non-profit called CityLink Center, Social trains individuals with various barriers to employment in culinary and professional skills and then helps find them work. Scroll to the bottom of the article for hours, pricing, parking details, and food recommendations.
Ryan, my husband, has quite possibly one of the best birthdays out of all 365 options. July 3rd. It is guaranteed that on that date everyone is festive, most of his birthdays are spent at the lake, he always gets fireworks, and he always has the day after his birthday off work. Jealous.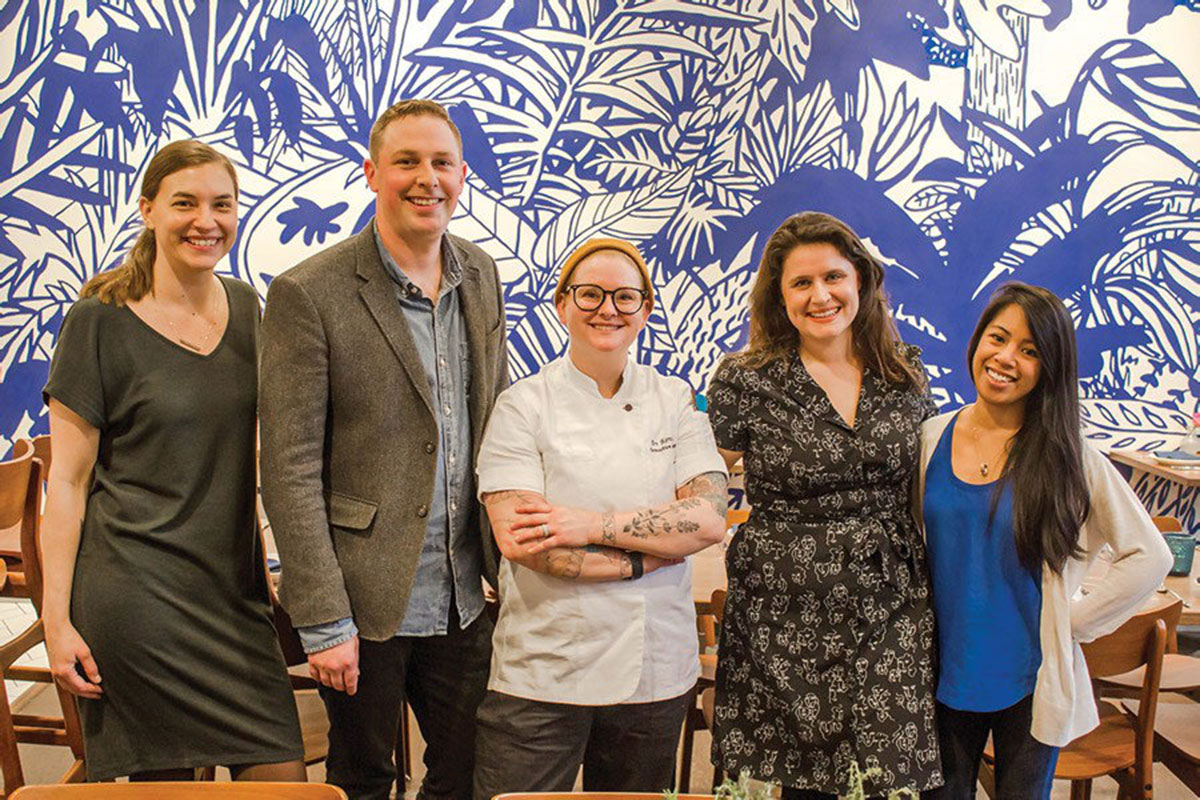 This year, instead of heading to a lake, we stayed in Cincy and ended up having dinner at Social O.T.R.
Molly and I had actually first visited Social a few weeks ago to interview General Manager, Anthony Berin. We were too early for dinner so sufficed for happy hour drinks and oysters (tough life). I was glad to return to experience a full meal and as promised it was fantastic. Even better than the food is the story behind the restaurant and its mission.
In the heat of the kitchen, there are lives being transformed
Behind the herb topped Aperol Spritz, the seasonally fresh heirloom salad, and the perfectly cooked pork belly is a heap of social change. Social O.T.R. is a workforce development restaurant. In conjunction with a local non-profit called CityLink Center, Social trains individuals with various barriers to employment in culinary and professional skills and then helps find them work. They learn to chop, dice, prep, and cook under the tutelage of head chef Jen Kempin. Jen is a graduate of the culinary institute of America and also has a master's degree in food systems and food studies for NYU. In addition to learning how to whip up dishes, participants in this program are also taught the soft skills necessary for success such as time management, planning, problem-solving, conflict resolution, and money management.
Anthony told us, "One of the biggest issues still in our industry is pay."
When a participant graduates from the program Social and CityLink help find that individual a job that pays at least the minimum wage of $12.50/hour. We have to break the minimum wage cycle. We're doing that here. Our graduates are good. They're prepared to be really good employees." After helping individuals find jobs, the teams from Social and CityLink follow graduates for at least 18-months with ongoing wrap-around support like childcare, transportation, and guidance, the same support provided while in the program.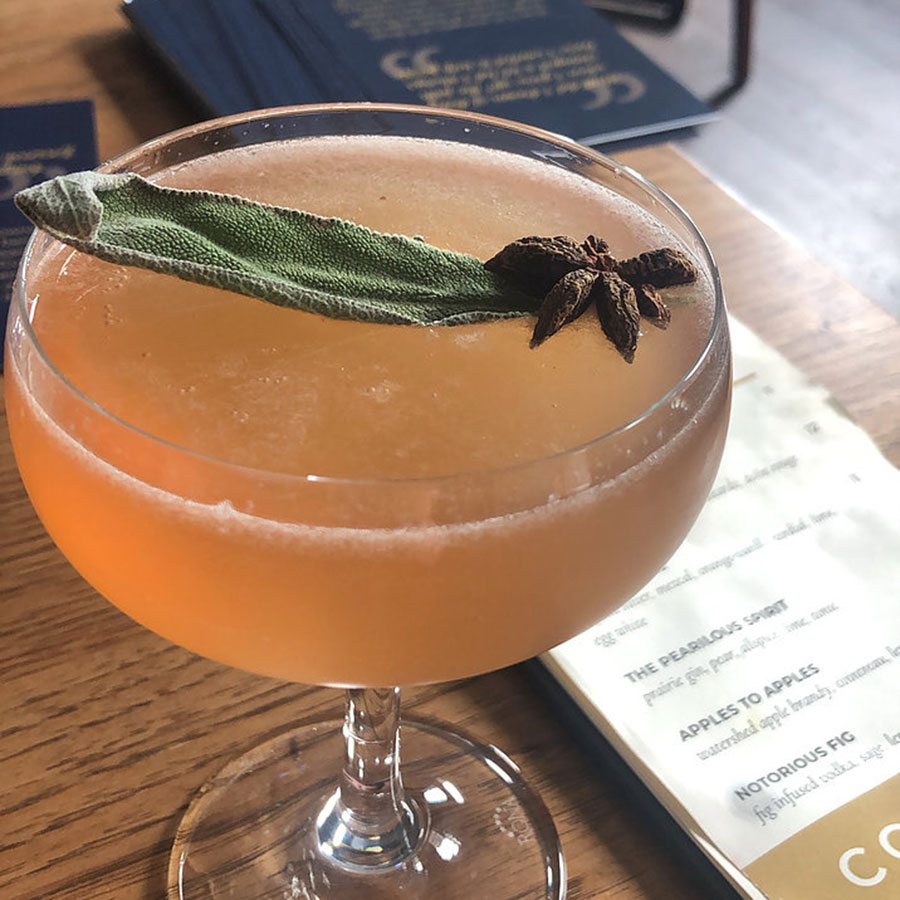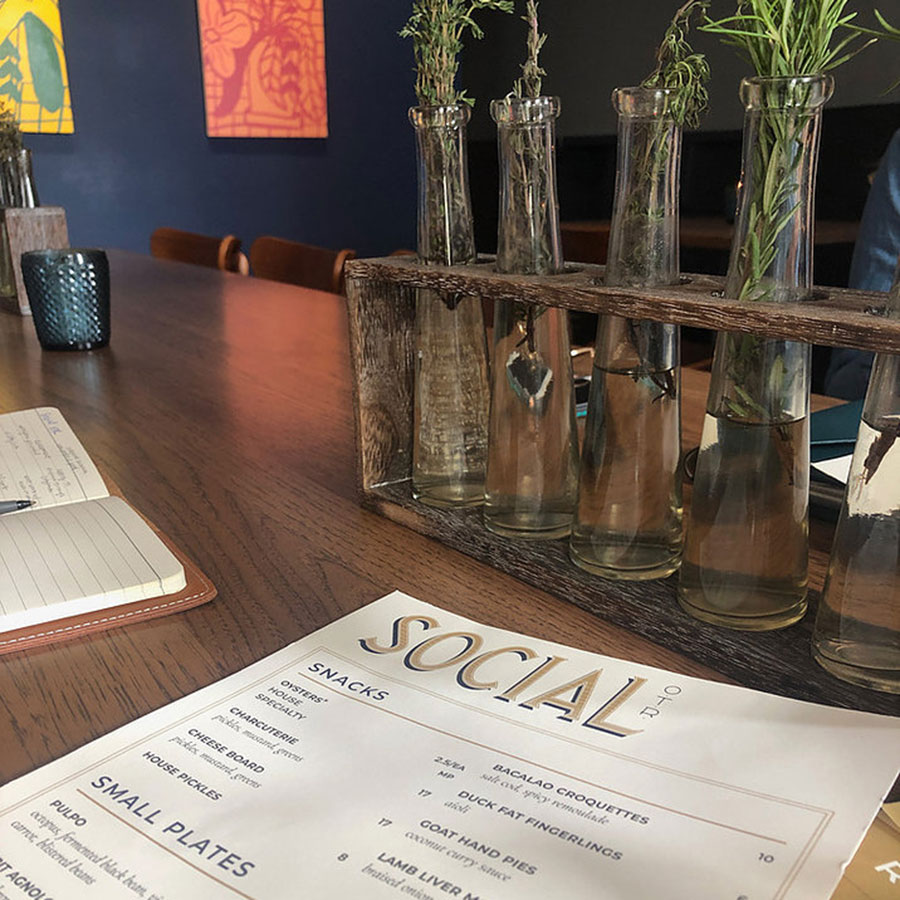 As City Link states, "Poverty leaves no corner of our city untouched – affecting the lives of individuals, families, children, our businesses and our community as a whole. The challenge is complex and requires new ways of thinking and approaches." Underemployed individuals in our community face a high number of barriers to employment including but certainly not listed to education, childcare, transportation, past criminal records, trauma, and untreated mental and physical illness. This sneaky social enterprise hidden by decadent dishes is helping individuals and families out of cyclical poverty while also helping the restaurant industry fill the plentiful jobs available in Cincinnati kitchens. While the restaurant was started through numerous local and national grants, Anthony told us in just a few years (and maybe sooner if all goes well) the restaurant will be able to fully fund itself and the behind the scenes programming.
One of my favorite parts of visiting was getting the check. First time saying that. But this check comes with a half page card stock that tells the story of one of the individuals currently in the program. Intentional and purposeful.
What To Expect
Come as you are whether that's in an evening gown before a show or in workout clothes post Market Muscles. Any dress code goes here. Social is open Tuesday-Thursdays from 5PM-10PM and Friday-Saturday 5PM-11PM Most of the seating is indoors, but there are a few small tables out front that can be used in the warmer months. There is metered parking out front and two parking lots across the street at Findlay Market.
The price is about $15-25 per entree and the back portion of the restaurant is a bar that has great happy hour deals on oysters and bevs on weekdays. There are healthier options and more decadent ones as well (see cookie jar info below). Whatever you order, you can leave feeling good that you helped support the change necessary in our city for ALL of us to be healthy and thriving. I recommend you support this change through ordering an ancho average sprItz, a cheese board, and a cookie jar for dessert. Homemade whipped cream included.
Meriden McGraw
Meriden McGraw is the co-founder of Quidwell where she works to optimize the health of women. Outside of Quidwell, Meriden combines her master's level education in mental and public health with her training in mind-body modalities to teach individuals and groups techniques for optimal wellbeing. Meriden holds various certifications in pranayama (breath techniques), positive psychology, mindfulness, and yoga. On an average day, Meriden can be found practicing yoga, drinking kombucha, dragging her husband to strength training workouts, and taking her pup for a walk.