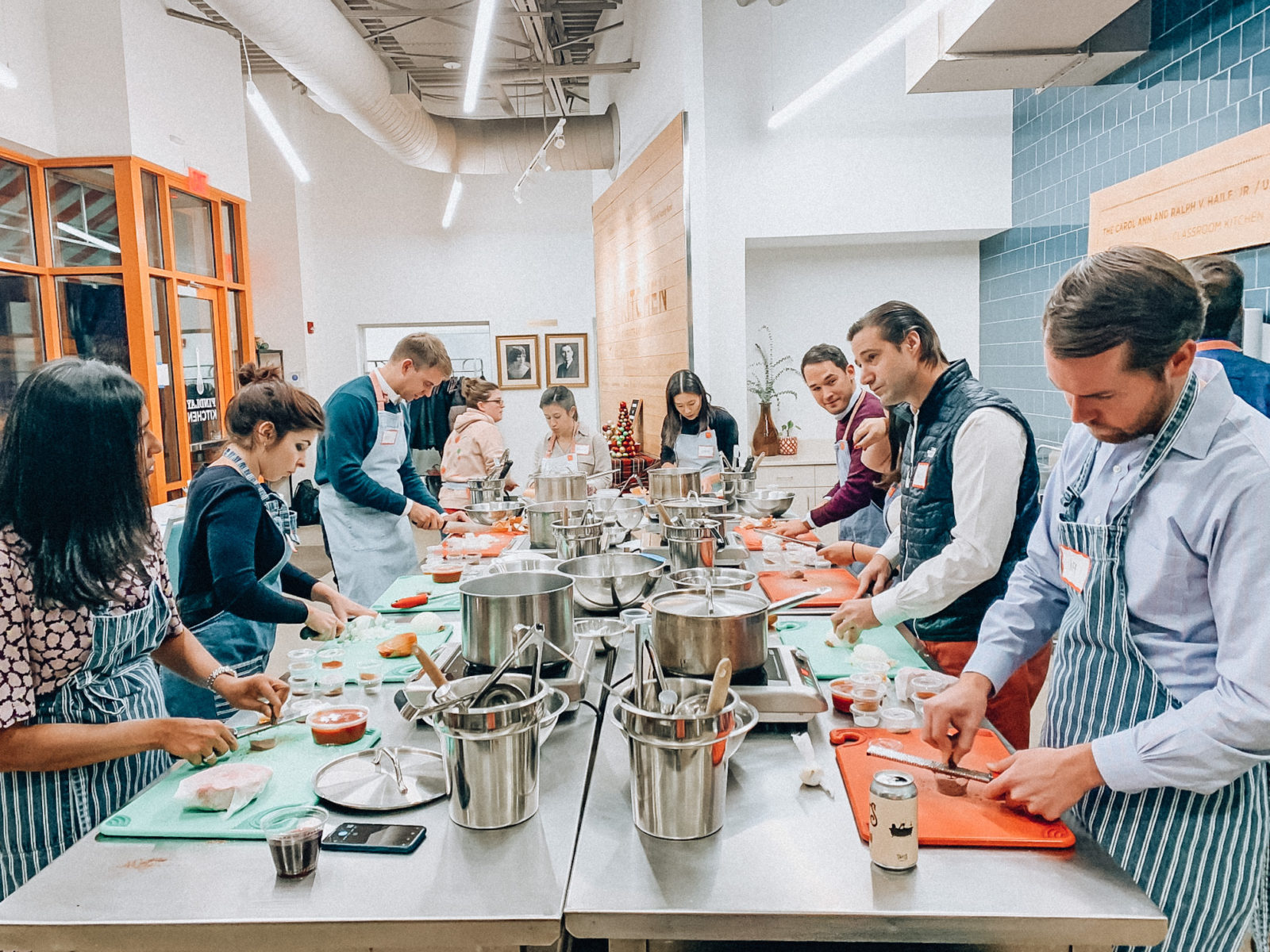 Cook good food. These three simple words are the meaning upon which Tablespoon Cooking Co. (Tbsp) was founded. When chef & owner Jordan Harmons started Tbsp three years ago, her aim was to help make cooking fun, less intimidating, and accessible to all skill levels while also helping people create a tasty finished product that could be easily recreated at home. As Jordan states, "At Tablespoon, our professional chefs will use their industry training and knowledge to teach you tricks and tips to cook better food at home. However, our number one goal is always that you have FUN while you're joining us for class."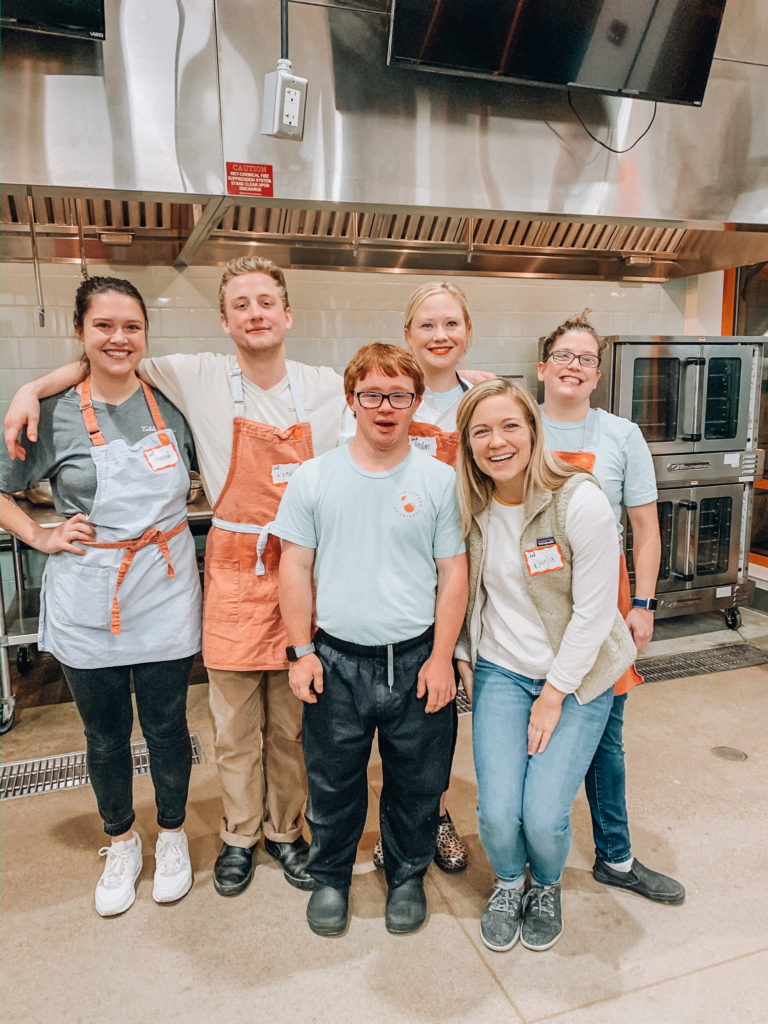 What does Tablespoon do?
Classes Tbsp's bread and butter (pun intended) is hands-on cooking classes. The list of class offerings is long and includes offerings like a Fresh Pasta Workshop, Tacos & Margaritas night, and one-off formats like how to make Filipino Classics. Tbsp's lineup also features special guest chefs such editions like Filipino Classics with Chef Mapi De Veyra, Bread Classes with Sixteen Bricks Head Baker Ryan Morgan, and Burger Making with yours truly. The variety appeals to individuals and couples of all ages and cooking levels.
Private Events In addition to classes, Tbsp allows room in the schedule for private events (read: a night of cooking for you and your chosen group with a menu + drink spread of your picking). These events include anything from work outings and corporate networking events to 90-year-old birthday parties to Bachelorette parties and bridal showers.
Cookbook Club Tablespoon also holds a once monthly Cookbook Club. Held at the Cellar at Oakley Wines, participants sign up to make a dish from that month's chosen cookbook. Everyone brings their dish to the event to be enjoyed alongside other foodies and friends — read more about the club, here.
Catering Tablespoon provides a number of catering options including evening event spreads, and home holiday party menus. Tbsp's team prides itself on providing meals that put average sandwiches platters, salads, and boxed lunches to shame.
Individual Clients In addition to group catering, Tbsp's staff also prep scratch-made meals for individual families and clients on a weekly basis. These meals are available for delivery or pickup.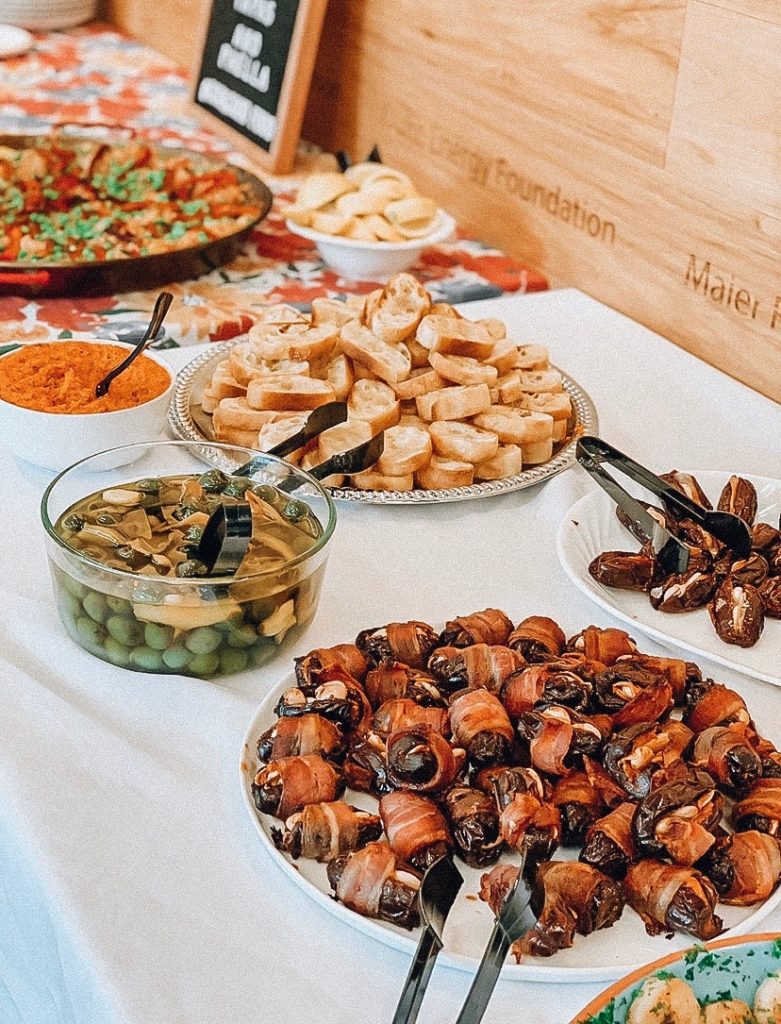 "Wow, that all sounds great! Get me in!!"
Here's the kicker. Classes sell out, fast. Like, in under an hour fast. The best way to stay in-the-know is to join the email list so you know when classes go on sale. Make sure to set your alarm for the go live time, and plan accordingly.
Recognizing the high demand and need for a growing scheduled, Tbsp is currently working on expanding. To date, the company has been operating out of the incubator at Findlay Kitchen, but is in the process of moving into a space of its own just a few doors down from the current location – 1731 Elm Street. This dedicated space will allow Tbsp to expand classes and other offerings. Stay tuned for more!
My slightly biased experience
My personal experience with Tablespoon might be slightly biased as I have the pleasure of working with Jordan and the team on a regular basis. What got me hooked initially, though, was the *fun*, realistic and non-intimidating approach to cooking. They encourage participants to ask ALL the questions, provide opportunity for hands-on learning, and promote practicing the fundamental skills over and over (they provide extra dough, eggs, flour…whatever it is you need for re-dos) to gain confidence. I love watching participants graduate from feeling glued to following a recipe to feeling confident and relaxed in the kitchen.
A lot of people that know my educational and professional background, scratch their head when they see me assisting with a Donuts or Pizza-making class at Tbsp. Yeah, I get it, a dietitian making donuts in a deep fryer might seem contradictory. But I believe making your own donuts from scratch is much healthier than buying a highly processed product. And, in a world of convenience, drive-thrus, and takeout menus, it's super refreshing to cook with a company that brings joy back into the process and focuses on using real food ingredients to create meals and snacks you feel good about eating.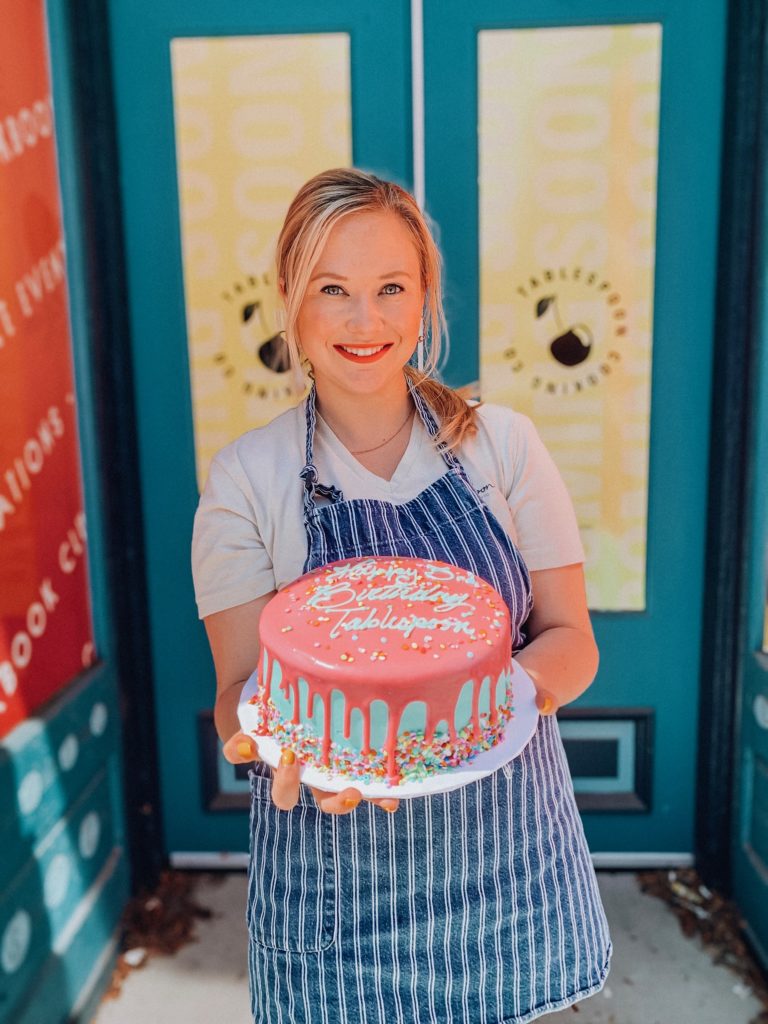 What to expect
I already told you to book early and book quick. If you do score a ticket, Tablespoon will send you a pre-class email telling you need to know details like:
what to wear: casual attire, closed-toe shoes,
what to bring: a smile, open-positive attitude,
where to park,
information and questions on food allergies/intolerances (Tbsp works to accommodate any dietary restrictions),
who else is attending class with you,
and, of course, asking if you're celebrating anything special that particular evening so everyone in class can celebrate you!
On the night of the event, there'll be time pre-class for mingling and socializing. You'll be greeted at the door by a Tbsp staff and shortly after finding your seat you'll receive a sample of Tbsp's famous snack mix which includes bites like goldfish, cheezits, chex, and spicy Cheetos. You'll also be offered a glass of wine, carefully selected based on seasonality, or locally sourced beers from Taft's & Rhinegeist.
A staff member will orient you with a class schedule, and then you'll jump right in to cooking. A class typically starts with a chef demonstration of a particular skill or portion of the recipe followed by attendee replication with staff guidance. This pattern is repeated until all recipes are complete. You can expect to make several recipes from start to finish during class. Following recipe completion, you'll eat…and, yes, there is always wine and beer available for your consumption throughout class. And, not to spoil any surprises, but many participants favorite part of the meal is the grand finale treat, a warm, fresh-baked dessert.
If you are reading this and you haven't started salivating yet…have I even done my job? Hardly. If you want more information, make sure to follow along on Instagram and on Facebook. Both are well-worth your scrolling-time! Questions? Email hello@tablespooncookingco.com or hit up chef in charge Jordan @jordanhamons.
Kayla Hansmann
Kayla Hansmann is a local dietitian and fitness instructor working with individuals one-on-one, in corporate worksite wellness, as well as various community settings. With experience from Cincinnati Children's Hospital to adult chronic disease management, she is focused on providing comprehensive and personalized nutrition to all individuals in various stages of life to achieve their personal goals and best state of health. Kayla has written and spoken on various nutrition topics in her personal blog, Cincy Fit Foodie, as well as Whatthefit, Cincy Lifestyle, Youcanpoundthis, and more! -- she loves making the world of food creative, realistic, and fun (with a lot of corny puns along the way)!